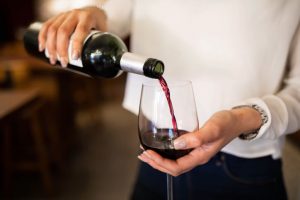 Ahh, new years' resolutions. I am not entirely sure what happened, but after a major blow out of wine and cheese on a very jolly Christmas ski trip, I made the decision it was time for dry January. I have never done this before, nor do I believe in new years' resolutions as it always seems to set us up for disappointment, but I felt compelled to give this a go.
According to the Dry January website, last year over 2 million people cut down their drinking for one month, but how many people will actually make it through dry January?
So many people I know said I was crazy. Two young children and you are not having any wine? What is wrong with you woman? How are you going to survive? There have been a few, very close moments to opening a bottle of wine but my husband managed to distract me somehow. 'Oh look at that deer out the window'. I naturally turn round and say 'oooh where?' and my moment of weakness has passed.
According to daysoftheyear.com, 17th January 2016 was the most popular day for people quitting their new years resolutions, including dry January. Well, here we are on 29th January and I'm on the home straight. I have friends over on Saturday night and am determined to keep going with my booze free period. Surely I can't fail on 30th January. That would just be silly. I must say, I have surprised myself. I so often start things and never finish them. Abit like the fifteen books sitting next to my bed. I have read the first three chapters of all of those books. Then I buy more. I am fully aware of this problem. I have bought two more books today…Whoops.
Although, I fear two apologies are in order.
Firstly, to Sainsburys. My weekly shop has been lower than usual due to lack of alcohol. Previously, I would have felt the need to justify my drink delivery by telling the Sainsburys' driver that we have friends coming over, like, all weekend. Does he need to know that? Probably not, but he always nods as it's the polite thing to do.
Secondly, to the local pubs. Pubs have described this month's 'dry January' as a nightmare. The number of pubs has slumped from 69,000 in 1980 to fewer than 50,000 today. In 1979 pubs sold 29.2m pints of beer a day, but this fell to 10.9million last year. The industry has partly blamed the government-backed 'dry January' campaign for their downturn in profits.
So how does it feel to be alcohol free?
Well I must say, I feel good. My skin feels great and I am less tired. Plus, I have more energy to practice my dance moves to Justin Bieber in the kitchen. They say that after being alcohol free for one month, participants had lost an average of 3lb and had reduced blood glucose levels by 16% and cholesterol by 5%.
To celebrate my success, I have dates in the diary with friends and family to have a wet February! In fact, I was feeling so happy dry January was over, I almost went for a run.
Then I decided it was too windy…