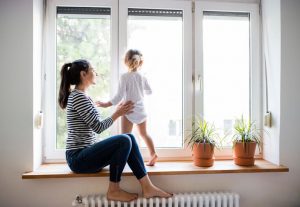 As mothers, we just can't go wrong with a stripy 'Breton' top, navy blue jeans and white converse. Effortless, simple and stylish. It really is our mummy 'go to' outfit for everyday or a weekend favourite. In fact, it's fair to say that few designs or trends have become as 'classic' as the Breton top and it's continuing popularity means that it has, without question, become the staple mummy look. Who's guilty?
I wanted to unearth where our love affair with the 'Breton' came from. The traditional cream-with-navy-stripe 'La Mariniere' was made the official uniform of navy seamen in Brittany following the 1858 Act of France. Its boat neck allowed sailors to dress quickly; its horizontal stripes (21 – one for each of Napoleon's victories) to easily spot an overboard shipmate. However, it was Coco Chanel who triggered its ascent to sartorial sainthood. Spotting it on sailors while holidaying on the French Riviera, it was Coco herself that popularised it amongst the yachting set – for both sexes, remarkably – and used it as inspiration for her 1917 nautical collection.
I am unsure where our obsession with the Breton top started for us mums or how to stop it. It seemed to creep up on me overnight during my first pregnancy and I never looked back. If I open my chest of drawers, it is full of stripy tees. My husband enquires, why do I need so many damn stripy tops and I have convinced myself they are all slightly different variants of the same thing. "Oh look, this one has a little pink stripe on the bottom. See, I told you it was different."
It has got to the stage whereby I sometimes need to check what a friend is wearing as we will often turn up in the same outfit. However, in a bid to switch things up, I have now officially thrown away my battered old white converse and replaced them with a pair of superga trainers. But I know what you are thinking, this isn't exactly revolutionary.
When it comes the the Breton tee, one name stands out who continues to convince us that the Breton remains the mama tee of choice. You know the ones…our dear friends at Boden. If I receive the magazine in the post, I just can't help myself dribbling over the pages of multi-coloured Breton tops. Red, blue, grey, green and the list goes on. This is mummy porn, right?
As if that wasn't enough, I've started receiving other random clothing catalogues in the post. I wonder how they find me but my husband says it's because they know I am an impulsive buyer. Whoops. He could have a point! One of the brochures is full of grey knitted jumpers with a red star. Now I'm thinking of switching from stripes to stars. Sometimes I frighten myself…I am such a risk taker!
The issue I have now is that when I pop round to see my mum, not only is she wearing the Breton top; so is my nan. Things have to change.
There was only one solution. Jumping onto the Selfish Mother shop and buying not one, not two but three new tops. The Breton is on the back burner for now. I feel much better about this situation because I know that every time I buy a Selfish Mother item, I know I'm doing some good. Selfish Mother shares a chunk of the profit from the t-shirts and sweatshirts to the Women for Women International charity.
All hail, the new mama tee. Your welcome.