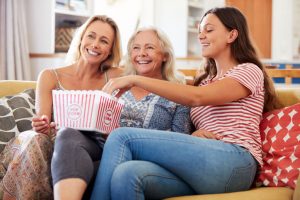 For anyone who's been stuck in the cinema sandwiched next to their mum which watching something like, The Wolf of Wall Street, you know how important it is to find the right kind of movie to watch with the parents at your side. Gulp! That's why I have gone through a small selection of my personal favourites for you to watch and enjoy with your mama this Mother's Day on Sunday 22nd March 2020.
This list will give you a sneak peak into all my favourite actors of all time, including Julianne Moore, Diane Keaton, Julia Roberts and of course…Ryan Gosling!
Here is my top ten for Mother's Day afternoon or early evening:-

1. The Kids Are All Right
The Kids Are All Right looks at the various ways we are defined by our families: It's about a brother and a sister, raised by two moms, whose suburban tranquillity is disrupted when they track down their "donor dad" and invite him into their lives. Mostly, though, it's fun to think about how amazing it would be if Annette Bening and Julianne Moore were your mums in real life!

2. Tully
A comedy from Academy Award (R)-nominated director Jason Reitman ("Up in the Air") and Academy Award (R)-winning screenwriter Diablo Cody ("Juno").
Tully is a warts-and-all look at motherhood, with Charlize Theron playing an exhausted mother of two (with one on the way). When she hires a "night nanny" to help out with childcare, she starts to reconcile the woman she's become with who she was before she had children.
3. Lady Bird
Lady Bird, about a high school senior growing up in Sacremento, is the type of movie that makes you want to call your mother and apologize for all of the stupid things you did when you were a rebellious teen. For her performance as a beleaguered mom, Laurie Metcalf received a Best Supporting Actress nomination.
Lady Bird is an affecting look at the relationships that shape us, the beliefs that define us, and the unmatched beauty of a place called home.
4. The Family Stone
Feel good factor with an all-star cast. An oldie but a goodie!
The Family Stone is a messy, convoluted family comedy that gets lost in itself. The story follows Everett Stone as he brings his girlfriend home for Christmas to meet his family, and the shenanigans that ensue. The Family Stone works hard to warm the cockles of our hearts. The cast is attractive. The sentiments are commendable.
The film has an all-star cast that includes Sarah Jessica Parker, Claire Danes, Diane Keaton, Rachel McAdams and many more! You don't except the ending and Sarah Jessica Parker really did have a good role in this film.
A great, family feel good movie you'll love.
5. The Way, Way Back
The Way Way Back begins with four people in a car Trent (Steve Carell) driving, his girlfriend Pam (Toni Collette), a divorced Mom, sitting beside him. Trent's teenage daughter Steph (Zoe Levin) lies across the backseat listening to music; Pam's son Duncan (Liam James) sits in the rear-facing seat in the trunk of the car, known as the way way back, hence the title of the movie.
Duncan is a 14-year-old boy who lacks confidence and friends. He is forced to go on a family vacation with his mother, mother's boyfriend, and his 17-year-old daughter. Being shy does not help him make friends, but he refuses to stay locked up inside all day long. Little did he know that sitting at a picnic table at a waterpark was going to change his entire outlook of his summer, but also his confidence. I love this movie. It will have you laughing and keep you completely engaged.
6. Wonder
Heartwarming and Inspiring. August "Auggie" Pullman (Jacob Tremblay) is a 10-year-old boy living in North River Heights in upper Manhattan, New York, with his mother Isabel (Julia Roberts), father Nate (Owen Wilson), older sister Olivia "Via" (Izabela Vidovic), and dog Daisy. He has a rare medical facial deformity, which he refers to as "mandibulofacial", and has undergone 27 different surgeries as a result. Auggie has been home-schooled, but as he approaches fifth grade, his parents decide to enroll him in Beecher Prep, a private school.
Before the school year begins, Auggie meets with Mr. Tushman (Mandy Patinkin), the principal, who arranges a tour for him with three other students: Jack Will (Noah Jupe), Julian Albans (Bryce Gheisar), and Charlotte Cody (Elle McKinnon). When school starts, Auggie is initially ostracised by nearly the entire student body, but soon forms a close friendship with Jack. You'll love this extraordinary story to prove that can't blend in when you were born to stand out.
7. Mother's Day
Follows the lives of different mothers on Mother's Day. Sandy (Jennifer Aniston) is happily divorced until she learns that her ex-husband eloped with a much younger woman. Now she must learn to deal with big changes in her life as her two boys now have a stepmom.
Sisters Jesse and Gabi get an unexpected surprise from their mother, who is not happy to find out Gabi is a lesbian and Jesse is married to a man of colour. Miranda has no kids and is focusing on her career. Kristin (Robertson) is enjoying life as a new mother but feels pressure from her boyfriend to get married. Bradley is trying hard to be the best parent for his two girls since their mom passed away last year, but he wants to pretend that Mother's Day doesn't exist.
8. Crazy, Stupid Love
At forty-something, straight-laced Cal Weaver (Steve Carell) is living the dream—good job, nice house, great kids and marriage to his high school sweetheart. But when Cal learns that his wife, Emily (Julianne Moore) wants a divorce.
Cal, who hasn't dated in decades, stands out as the epitome of un-smooth. Now spending his free evenings sulking alone at a local bar, the hapless Cal is taken on as wingman and protégé to handsome, Jacob Palmer (Ryan Gosling). In an effort to help Cal get over his wife, Jacob opens Cal's eyes to the many options before him.
Cal and Emily aren't the only ones looking for love in what might be all the wrong places: Cal's 13-year-old son, Robbie, is crazy about his babysitter, Jessica. Despite Cal's makeover and his many new conquests, the one thing that can't be made over is his heart, which seems to keep leading him back to where he began.
9. The Blind Side
Taken in by a well-to-do family and offered a second chance at life, a homeless teen grows to become the star athlete projected to be the first pick at the NFL draft in this sports-themed comedy drama inspired by author Michael Lewis' best-seller The Blind Side: Evolution of a Game.
Michael Oher was living on the streets when he was welcomed into the home of a conservative suburban family, but over time he matured into a talented athlete. As the NFL draft approaches, fans and sports radio personalities alike speculate that Oher will be the hottest pick of the year.
Sandra Bullock won an Academy Award for playing Leigh Anne Tuohy, the real-life adoptive mother of star football player Michael Oher, in this film based on the inspiring true story. Watch this one when you want to cry your eyes out and believe that there is some good left in this crazy world. Heart-warming and uplifting. Sandra Bullock is brilliant as always!
10. Erin Brockovich
My all-time favourite move! Based on a true story, this one follows the life of Erin Brockovich who was a mother hell-bent on battling the big-time energy corporation, Pacific Gas and Electric (PG&E) responsible for contaminating the drinking water in Hinkley, California.
The real life Brockovich convinced more than 600 people to testify against the company and was instrumental in building the court case against the company in 1993. Watch when you and mum need to see the good guys win.
A must see, time and time again!