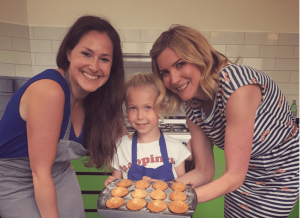 When it comes to baking, I'll be the first to admit that it's not my strong point. I love creating dinners from the contents of the fridge, like ready, steady, cook – but baking. That's another matter. I normally can only rustle up is a batch of rice crispie treats, which someone then told me cannot even be classed as cakes. They are so easy even my seven-year-old normally makes them better than me.
So, when we were invited by Belvoir Fruit Farms to come along to a cookery demonstration with celebrity MasterChef winner, Lisa Faulkner, my assistant laughed and said that I had to go! And hey, what better way to improve your cookery skills than to be under the watchful eye of a MasterChef champion.
We arrived in Islington, London on a beautiful, sunny day for what was going to be a really super, fun afternoon. No guilt required as my daughter and I had some real quality, half term fun together.
Lisa showed us how to make Madeleine Hot Air Balloons with a splash of Belvoir Elderflower Cordial. Lisa was very hands on, giving my daughter all the support and encouragement she needed to make her madeleine cakes. My daughter decorated them herself (no help from mum) with coloured icing. They tasted delicious! The recipe can be found on their website, along with a few other delicious recipes using Belvoir Elderflower Cordial, if you fancy having a go yourself.
I hadn't heard of Belvoir Fruit Farms until they made contact with me, so I was keen to find out more about what they do. Nestled deep in the English countryside in the idyllic Vale of Belvoir, they've been making fruit cordials and presses since 1984. Pressing fresh fruit and infusing flowers to mix with spring water. Deliciously refreshing. Amazingly, they still use the same elderflower recipe developed by co-founder Mary Manners all those years ago.
Throughout the afternoon we sampled their cordials, which they also suggested are very nice to drop into a glass of prosecco or a gin and tonic. Now you're talking!
So, what did the day bring? I learnt that I am still not a very good baker, but Lisa was extremely kind and told Erin and I that we did a super job. There's such a science to baking, and sometimes it goes right and sometimes it doesn't. Erin was so proud of her end result and that was what really matters.
Take part in the Elderflower Harvest
I had never really taken the time to notice elderflowers until this day. Belvoir Fruit Farms have built a community where anyone can enjoy picking the elderflowers to bring a bag of their pickings to one of the five Belvoir stations to hand in. This is a great outdoor activity to try with the kids. Once you drop off your bag of elderflowers at one of the Belvoir picking stations, you are rewarded with a payment depending on the weight of the bag. A great way for the kids to earn a little extra pocket money. You can find out more on the Belvoir website.
Lisa Faulkner's first cookery book, Recipes from my Mother for my Daughter, was a Number One Sunday Times bestseller, which you can buy here.