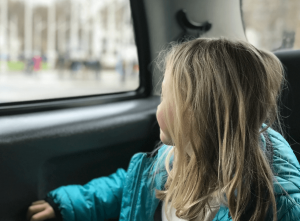 I recently learnt a valuable lesson. After coming out of an event in North London, I spent ten minutes standing on the curb trying to hail down a black cab in the pouring rain. Sometimes it's hard not to feel silly standing there waving your arm in the road and no one comes. Eventually…one came, but we all looked like drowned rats.
As a woman in tech, I do love an app and when mytaxi UK contacting me about trying out the service, I jumped at the chance. I told them my recent story with the kids, standing in the rain without a tube stop not close by. All I wanted was the safety of a licenced black taxi at a time which suited me. I hadn't realised or tried there was an app that would enable me to do that. I was happy to give mytaxi UK a try and give it my honest opinion.
I always like to know the back story of where ideas come from and mytaxi was founded by two guys (Niclaus Mewes and Sven Külper), who had a vision to bring the international taxi market into the 21st century and redefined it around the world. To date, the app has been downloaded more than ten million times and is now available in over 40 cities with a network of more than 45,000 affiliated taxis. Last year, Daimler-owned taxi app myTaxi saw an increase of 150 per cent in app downloads last year, with nearly 80 per cent of London's 23,000 licensed black cabs now registered to use the platform.
Last week, the kids and I headed into London straight after school break up for Easter holidays as a special treat. We downloaded the mytaxi app which is live on a digital map. mytaxi UK connects customers to black taxi cab, allowing you to pay through the app rather than by cash, which is perfect for busy people to get around town quickly and easily. We ate our lunch at a restaurant and near the end of the meal, I booked a mytaxi through the app to collect us for a fun afternoon in the city.
As the last mouthful of food was digested, a message pinged on my phone to inform us that our driver was outside and ready to collect us from the restaurant. The app is also smart. If we were running slightly late, there was an option to notify the driver to give him a message that we would be there in five minutes. Another good benefit. It's easy to see why this app is so convenient. Every taxi journey can be paid for directly with the smartphone. The receipt is not a slip of paper to misplace in my purse, but a PDF in your email inbox.
Our mytaxi UK driver Micky, dropped us to Dreamworks Tours: Shrek's Adventure as recommended by a friend. It was interactive, engaging and fun with a walkthrough experience to a faraway land. The target age is 6-12 years although younger children are still welcome and there were plenty of little ones on our tour. The 4D bus ride is one of the best bits and one of the highlights of the attraction. There's a fab surprise at the end too!
We then went into Sea Life London Aquarium as it is right next to Shrek's Adventure with great close up views of The London Eye. So, if like me, you're heading that way, it makes sense to combine one or more attractions, so look out for special offers.
Sea Life London Aquarium is home to thousands of unusual creatures, from crocodiles and sharks to penguins and seahorses, so it's not just endless arrays of fish swimming in tanks. The Aquarium is set over 3 floors, with 14 different themed zones and 500 different species. The kids thoroughly enjoyed it and loved the sharks! Book online in advance if you can as you will save money and afford the queues as this is a popular tourist hotspot.
After an brisk walk through the Sea-Life gift shop (like they need another cuddly toy?), we made our way home after a thoroughly adventurous day. All in all, a great day out in London, made even easier with mytaxi UK. Extended thanks to Merlin Entertainment for the tickets to Dreamworks Tours: Shrek Adventure and Sea Life London Aquarium.
We wont forget this adventure in a hurry.
Get a 1/3rd off mytaxi UK this Easter
If you want to use the mytaxi UK app this Easter, you can get 1/3rd off to and from selected locations in London until Sunday 15th April 2018.