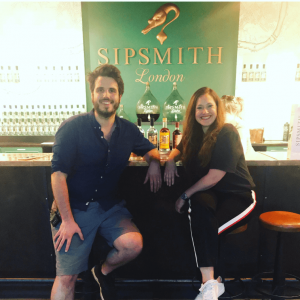 I thought I was dreaming. An email dropped into my inbox that I am so grateful it didn't fall into my junk folder. It was from Rob, the Social Media Manager at Sipsmith (yes that is a real job these days). He invited me and a few friends to come for a tour of their gin distillery in Chiswick, London. He promised gin and I politely accepted his offer.
I had never been to a gin distillery before and since Sipsmith was genuinely, my favourite gin (I think they had noticed my many Instagram stories about their brand), I welcomed the opportunity to take a peak into their London distillery to see how they make this wonderful tipple.
In 2009, Sipsmith set-up London's first traditional copper distillery since 1820, launching the rebirth of ultra premium craft Gin production. Sipsmith prides themselves on their hands-on crafting of small batch premium Gin, which showcases the hallmark characteristics of premium London Dry Gin, including gorgeous bouquets of sweet botanicals and fresh Juniper.
It was wonderful to hear about how two childhood friends, Fairfax and Sam, came up with the idea to start Sipsmith, creating a London Dry Gin that is fresh, clean and beautifully balanced with a sweet botanical bouquet complete with Juniper, baked lemon tarts, and white pepper.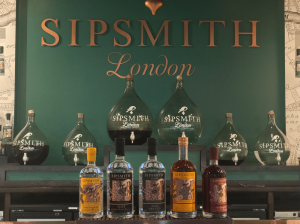 On arrival at the distillery, the place was vibrant with people who had also book to enjoy the tour. Rob tells me how gin lovers have booked months in advance and they are pretty much fully booked night after night! Sipsmith really has brought the party to Chiswick!
We were welcomed with the perfect summer drink – Sipsmith London Cup (like a Pimms but ten times better!). London Cup was delightfully refreshing, perfectly balanced and fruity – loaded with ice, lemonade and fruit. Oh my goodness, this is my new favourite drink! Click here to read about how to make the perfect London Cut with Lemonade.
We learnt why Gin was known as 'Mother's Ruin'. This was because in the mid eighteenth century, the effects of gin on the family and economy were disastrous. Considered the poor man's drink due to its affordability, gin drinking had started out as medicine but due to its easy availability, men became impotent while women became sterile causing the London birth rate to decline drastically.
Much of the gin was drunk by women, consequently the children were neglected, daughters were sold into prostitution, and wet nurses gave gin to babies to quieten them, hence the phrase 'mother's ruin'! Who knew?
We were then introduced to their three copper ladies, Prudence, Patience and Verity. The ladies stand pride of place in the distillery and make the magic happen along with their expert distillers. Rob gave us a thorough explanation of how their award winning spirits are carefully hand-crafted. It really is quite an art in itself, much like seeing a michelin chef at work.
Naturally, there was plenty of tasting on offer too, including their brand new Strawberries & Cream Syrup for gin to create this delicious fruity twist on a G&T. This went down very well on the tour! For more information, visit the Sipsmith website and you can sign up for a distillery tour here.
If you are an true gin lover, you can join their sipping society. A unique gin membership that gives you the opportunity to taste the very best of our Distillery's hand crafted gin creations. Every other month, they bottle our favourites and send them out to your door!
We thoroughly enjoyed the tour and look forward to celebrating Sipsmith's tenth birthday next year (hic)….
Sipsmith will be at the Wilderness Festival in Cornbury Park, Oxfordshire from 2-5th August 2018, so if you are there, do so say hi and tell them Guilty Mother sent you for free gin*! (* not guaranteed – lol).