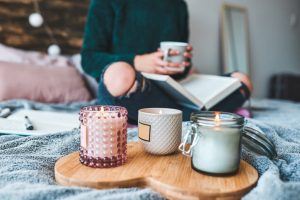 Did you know that some of the world's most successful CEOs say reading is the key to their success? So, can we really afford not to read? In an interview with The New York Times in 2016, Bill Gates shared that he reads around fifty books per year. Reading is, he said, "the main way that I both learn new things and test my understanding". Furthermore, Warren Buffett became America's most successful investor because he used his voracious reading habit to learn everything there was to know about every industry.
Interesting. But they are not the only people who love to read and recognise it as a transformational habit. Emma Watson, Oprah Winfrey, and Barack Obama also find solace in books. Why? Because they know that every single problem they encounter has been faced before by someone else. Someone somewhere found the solution and wrote it down. Successful people are smart enough to know that books are the best education, and they don't have to reinvent the wheel to make great changes.
Bill Gates, however, remains one of the most inspiring example by far. Despite having a busy work schedule, he says that he still manages to devour at least one book a week and advocates that anyone else who wants to be successful should do the same. "Whether I'm at the office, at home, or on the road, I always have a stack of books I'm looking forward to reading."
At the beginning of his career, legendary investor Warren Buffett spent 80% of his time reading. His resulting understanding of a broad array of industries gave him the edge over his peers. And he never got out of his voracious reading habit. In the HBO documentary, 'Becoming Warren Buffett', he said, "I still probably spend five or six hours a day reading."
In today's online world you may consider that book clubs are dying out. However, any influencer with a following on social media, their podcast, or an email newsletter is perfectly positioned to distribute a digital book recommendation with the click of a mouse. Granted, the actual book is usually physical, but that's the other factor behind book clubs' rising power: in a world of Netflix to lure us in, getting to open a physical hardback or paperback book has become a real treat.
As further inspiration, one of my favourite actresses, Reese Witherspoon's launched an Instagram-powered book club, Hello Sunshine. Since 2015, her book club has since grown to over 800,000 followers and is now considered hugely influential. Featured books are becoming best sellers! – The Alice Network and Little Fires Everywhere just to name a few. 'Hello Sunshine' is more than a book club with the media company now adapting Little Fires Everywhere for Hulu, they have other TV projects in the works at NBC, Apple TV is creating a film at TriStar/Sony Pictures, and also has a multiyear partnership with Audible for monthly audiobooks of its picks. So may inspiring projects, all stem from a book. Other inspirational, well known book clubs include Emma Watson's Our Shared Shelf.
Launched just a few months ago, WILDWOMAN is a book subscription box aiming to deliver one non-fiction self-help book each month. Donna, founder of WILDWOMAN, the UK's first non-fiction, book subscription box for women is the ultimate self care package brought to your doorstep every month. After suffering with her own mental health challenges including common anxiety disorder, Donna herself found solace in books.
So, perhaps the power of books should not be underrated? Book clubs can be found everywhere both online and offline, particularly on Instagram, where the hashtag #bookstagram has 26 million posts and counting.
However, an article released by the Guardian earlier this year shows how physical book sales have fallen in 2018 for the first time in five years. This surprise fall for the UK publishing industry suffered £168m in paperback and hardback book sales. Stephen Lotinga, chief executive of Publishers Association attributes some of this to the increased sale of audiobooks alongside the surge of Amazon Audible, but stresses that this isn't the only reason. The rise in podcasts, music streaming services, offline Netflix and Prime Videos and of course E-Books all contributes.
But Lotinga is not afraid; "I'm not concerned that this could be a watershed moment for the printed book, we are not there yet," said Lotinga. "We have not seen a huge shift into subscription services, piracy is low, people still love physical books". And despite this decrease in sales, the Observer in late 2018 stated that hardback and paperback book sales are still 51 times more than that e-book: "Clearly, not all analog favourites can be as easily replaced by new digital formats."
Perhaps we should not fear that reading is dying. For it seems to be the opposite – it's thriving.