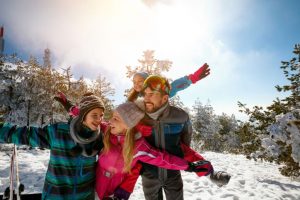 1. The best thing about family skiing holidays:
There are not many sport activities I can think of that you can do as a family for a whole week. Skiing is one of those holidays where you can all be together on the mountain having fun every day. You'll also find that because you are concentrating on either improving your technique or helping your children with their skiing, you won't be flicking through your phone or checking emails, so for me, it's quite a liberating holiday.
It is also a pretty ageless sport. My six-year-old daughter is already nearly overtaking me on the slopes, so as she gets faster, I will have to improve my technique to keep up! Even when I do get older, I want to be that person that poodles around the slopes in her sixties.
2.What do you and your children get out of a winter holiday in the mountains:
We get to quality spend time together. Going skiing is the only holiday I can think of, when everyone (if a certain age) can ski together. Skiing teaches children some really useful life skills including building confidence, independence and perseverance. As parents, it is heart-warming to watch them improve their ski skills throughout the week which become cherished memories.
3. What is important when you choose a resort to ski in as a family:
Consider what works for you as a family. For example, if you are opting for self-catering, it will be much cheaper, but for me, it is not really a holiday if I am cooking and cleaning for my family every day. I really want to cherish that time to either be skiing or having fun with the children, so I would choose a catered chalet.
If you have young children, the key is to focus your trip around great childcare. Happy children mean happy parents, so review the area, childcare options, distance of snow club or crèche from your chalet, plus walking distance to the main ski lift area. If the children are in their ski boots and it is a good 500m walk, they could be tired before they've started! Finally, cover off the necessary amenities, such as a doctors and chemist, so if you or the family are unwell, it is easy and to get yourself treated and well again as quickly as possible.
If you are considering driving, the northern part of the French Alps is much easier to drive to. I would recommend some chalets at in Ardent (approximately 15 minutes' drive from Morzine) with The Family Ski Company. You can drive door to door in around 12-13 hours from the channel tunnel (including stops) and we have done this many times.
If you have tiny children, a stop-over at The Holiday Inn at Dijon might is advisable. It is then just a 4 hour drive the following morning and you come into the mountains in daylight which is nice for the children to see the stunning scenery.
4. My advice to a family going skiing for the first time:
Choose a company that will take care of everything for you, such as Family Ski Company or Esprit Ski to name a few. Learning to ski isn't the easiest sport to master and you will get tired of an evening, so choose a catered chalet with childcare services that takes all the stress away. Once you've mastered the basics of skiing and built your confidence, you'll spend the rest of your life improving your technique!
On a final note, remember to get yourself 'ski-fit by hitting the gym three months before your holiday with plenty of squats and lunges. You'll be a better and more confident skier for the effort.