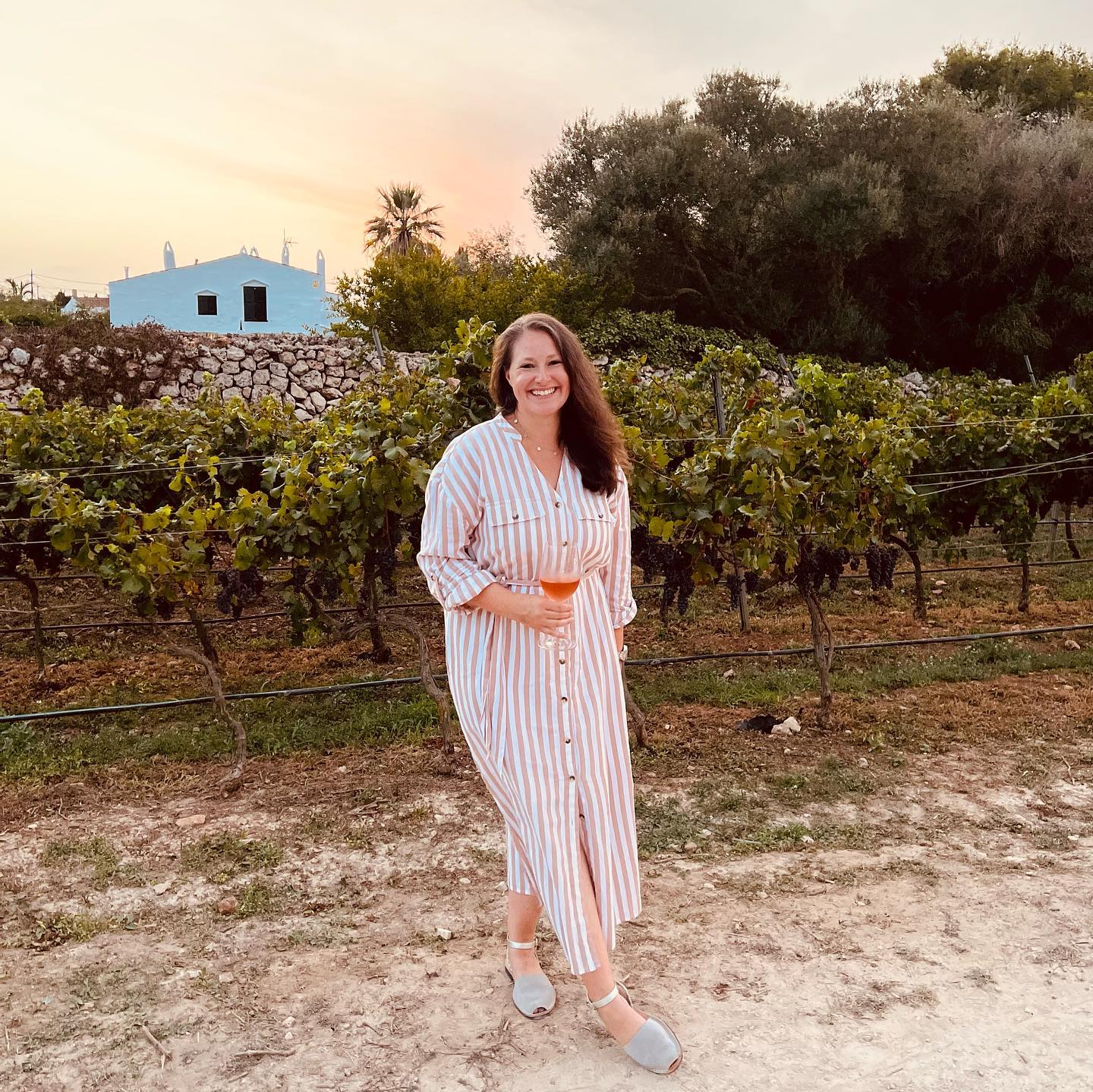 This summer, we headed off to one of our favourite sunshine destinations, Menorca, in collaboration with Menorca Private Owners. In short, Menorca is a truly perfect island for families. My husband and I started coming to the Island as young children when (although we didn't know each other at the time), both our parents had property here back in the 1980s. Now, for the last thirteen years we have been coming here with three children of our own. I can honestly say, that even after all these years, Menorca's original landscape doesn't change much and has always retained its natural, rustic charm.  Perhaps this is why we love this island so much. The warm and gentle waters are perfect for the kids (Es Grau is my favourite spot as you'll read on) and considering Menorca it is only a 2.5-hour flight from the UK; it really is perfect for long holidays, short breaks or travelling with toddlers.
The Island is spilling over with child friendly accommodation and as we like our own space, we normally choose a three or four bedroom villa from Menorca Private Owners. A company we have been a customer for over a decade as they give a great, personal service with villas to suit every need. And, naturally, as we love the service, we just find ourselves re-booking time and time again.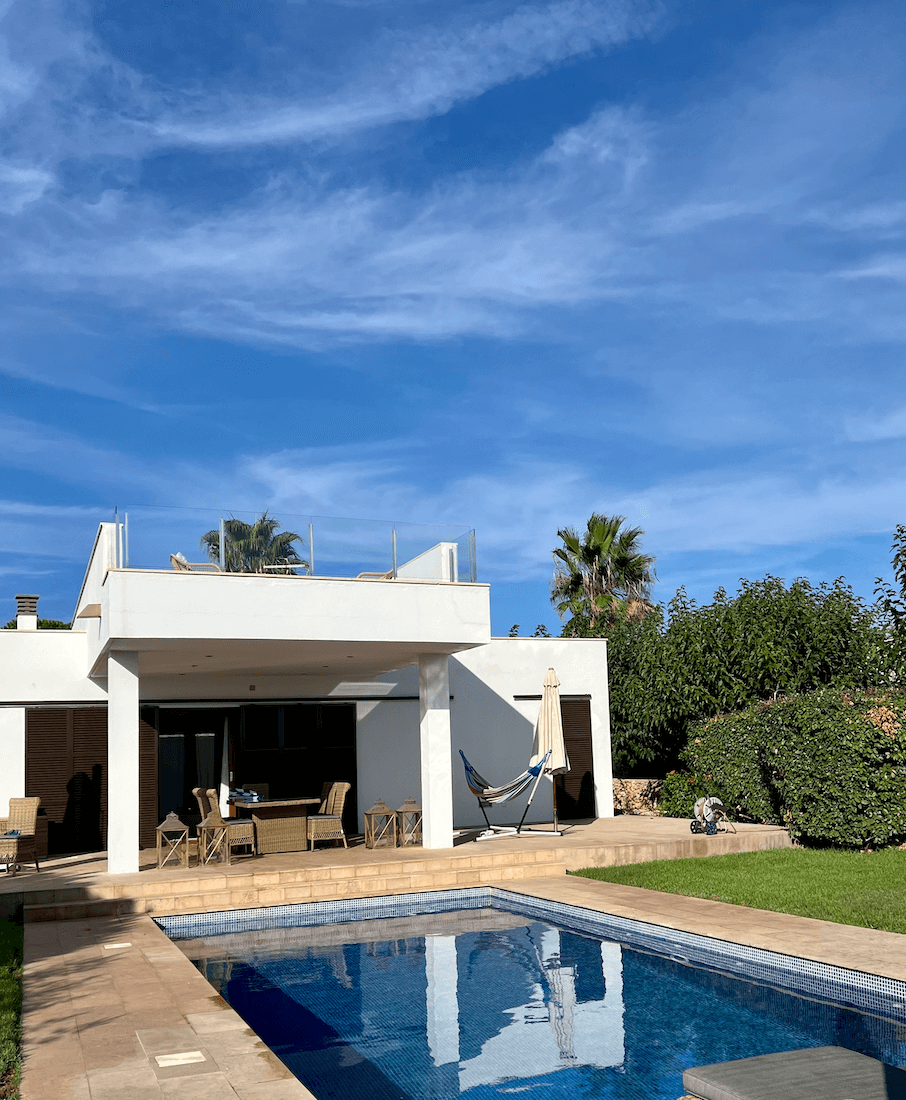 To tell you more about the Island, Menorca feels like a well-kept secret. Quite a few people I have spoken to, said that they have always wanted to visit Menorca but were yet to make the journey. Here are a few reasons why it could be a great place to add to your wishlist for 2023. Away from the limelight of the other Balearic Islands, Menorca has been gaining popularity in recent years as a less-developed alternative to Ibiza and Mallorca. Menorca is an island of unspoilt beauty, with rural villages dotted across rolling hills, handmade rock walls and sandy beaches. It really needs to be on your list as a 'must visit' destination at least once in your lifetime.
Menorca has more beach coastline than the whole of Mallorca and Ibiza combined. With 200km of shoreline and nearly 200 coves to explore, pristine white sand and turquoise waters, the island will satisfy any beach lover seeking their little slice of paradise. Most of the beaches are pristine or very lightly developed, meaning you're always guaranteed to find some peace and quiet somewhere, even in high season. And as the most easterly island of the Balearics, Menorca boasts the best sunrises with its uninterrupted views across the beautiful Mediterranean Sea.
The largest north coast resort is Arenal d'en Castell, with several large hotels around a perfect shell-shaped bay, while neighbouring Son Parc has the island's only golf course. Cala Galdana is also very popular with tourists as its beach has the most beautiful setting. Picture perfect and backed by cliffs. Younger children will also enjoy the gentle water slide there! I would personally recommend staying near Binibeca beach, one of the most beautiful, rustic family friendly beaches on the Island. Furthermore, for the older kids, Menorca is rapidly developing as a centre for water sports. With strong prevailing winds, Fornells is one of the best resorts to enjoy windsurfing, sailing and kite surfing.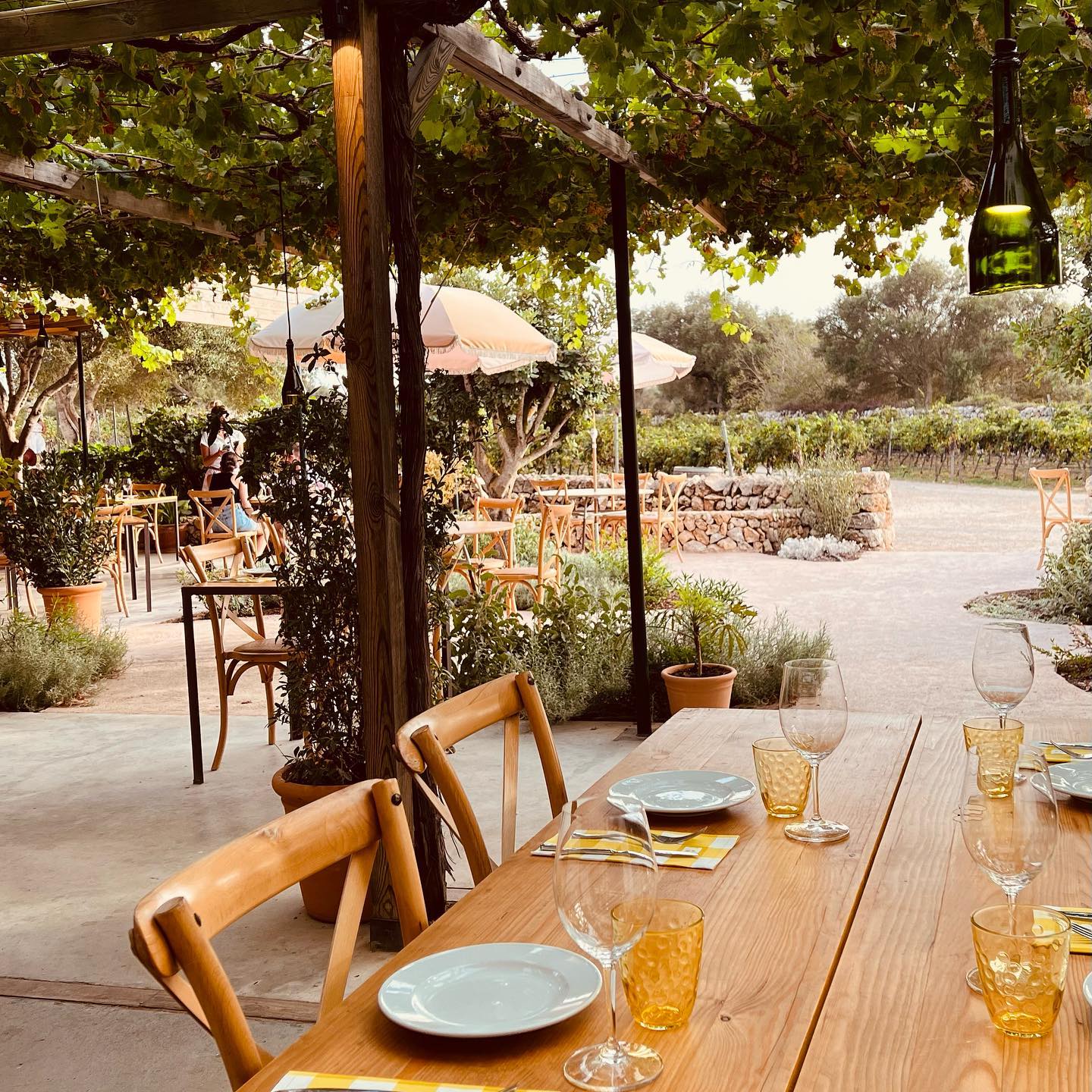 My Top 10 Places to Visit (in no particular order)
Cala Pregonda is a scenic place to visit, although it can be a little bit of extra effort it takes to get there. The bay is only accessible if you have your own vehicle. Cala Pregonda is special because its sand has become light pink as a result of the large presence of the pedra vermella (red stone). Between the cliffs, the crystal-clear water contrasts with the reddish tones.
Port Mahon features one of world's largest natural deep-water harbours: The waterway has length 5 km (3 mi) and max width 900 m (2953 ft). The water remains mostly clear due to being slightly enclosed. In 1715, the British established a Royal Navy Dockyard on the harbour's northern side (opposite the town). It served as Royal Navy's principal Mediterranean base for much of the 18th century. Today it is still in use as a Spanish Naval base. Dockyard buildings from the 1760s are still seen on Illa Pinto (former Saffron Island) including the famous Naval Storehouse. The best times to come and enjoy the port is either going into the main square for breakfast or come into Mahon early evening for dinner and stroll across the port. We always finish with an ice cream or a crepe after dinner!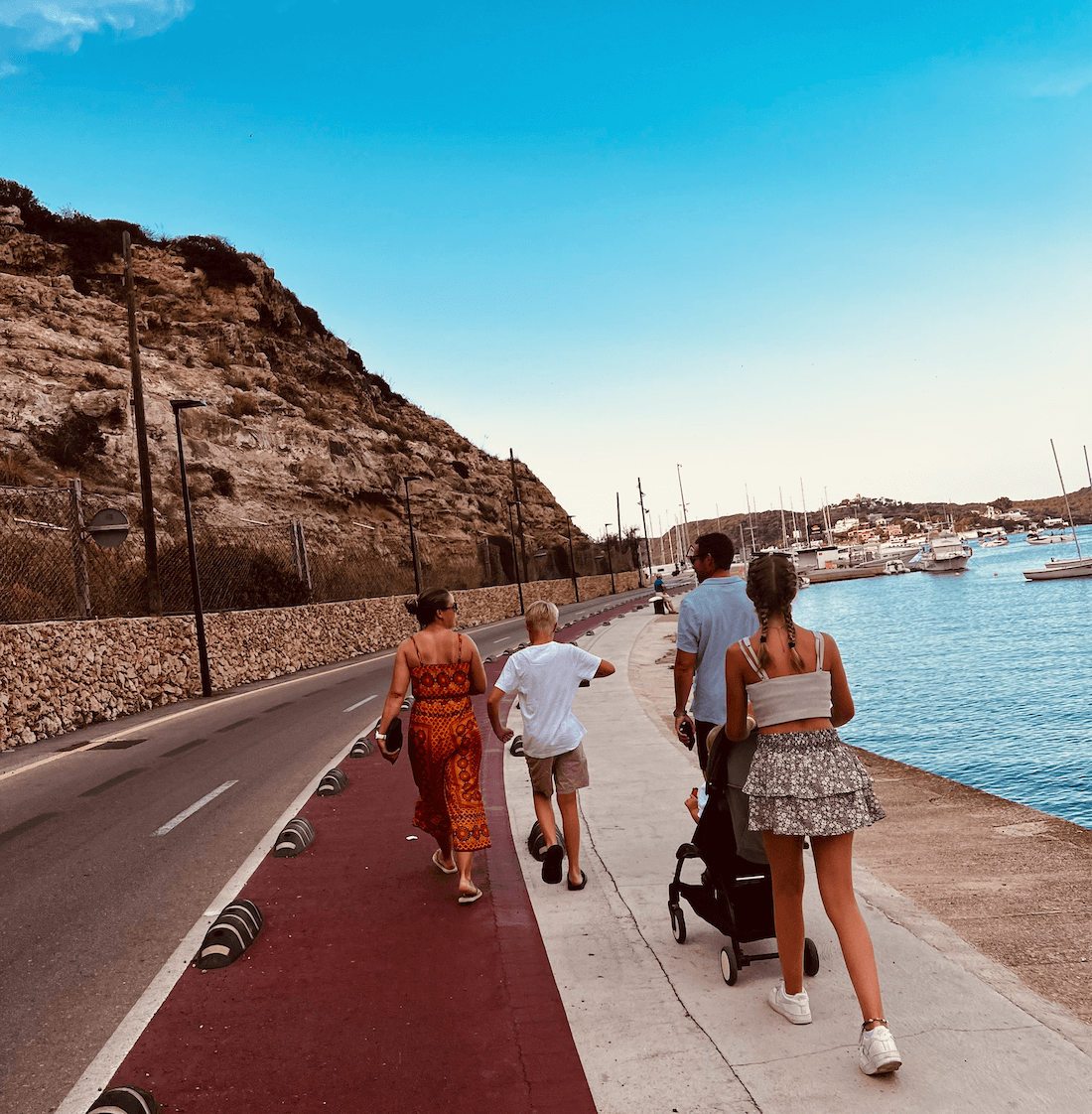 Binibeca is a small village located some 10 kilometres south of Mahón (Mao) and it's considered to be the most beautiful village in Menorca. Binibeca Vell is a small commercial centre which has a great selection of restaurants, bars, various shops and a supermarket. We really enjoyed the Sa Musclera Restaurant set in an inside courtyard which had a something for everyone, including a variety of fish and tapas dishes. After dinner, we walked around the white washed labyrinth-like streets is some of the most photogenic scenery on the whole island of Menorca. This tiny fishing village of Binibèquer Vell has turned into a picture postcard. Well worth a visit. Such a lovely surprise to find. My top tip is to ensure you visit late afternoon; early evening as can get very busy. Equally, parking is very limited, so if possible, visit around 5pm, take in the ambience, have a few drinks and enjoy some relaxed dinner as the sun sets.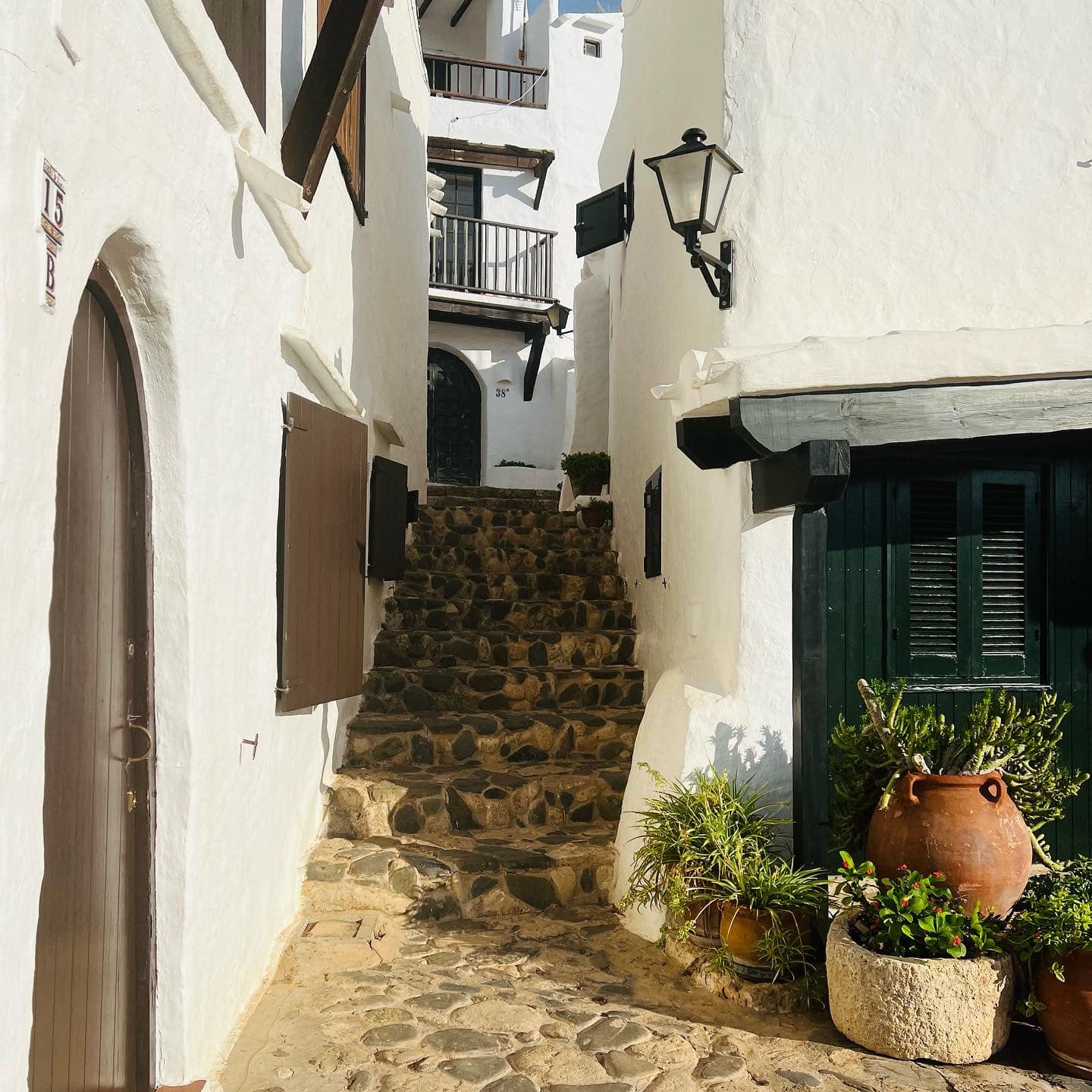 As one of Menorca's top wineries, we have been intending to visit Bodegas Binifadet for many years and on our travel here during August 2022, we finally made it.  This was our date night as we had a relative back at the villa to watch the children. The terrace had a wonderful, relaxed atmosphere and it was great to see families here too.
500m northeast of Sant Lluís, you can amble around vineyards at your own pace, or book in a one-hour guided tour that concludes with a tasting of three house wines with tangy Menorcan goat's cheese. Tours run at 11.30am, 3pm and 6pm in English, and 1pm, 4.30pm and 7.30pm in Spanish (no afternoon tours September and October). We booked an early evening dinner on the terrace (always book at least a few days in advance). The food was fantastic. A mix of traditional Spanish dishes, fish and meat were all on the menu, which was enjoyed with their local rose wine. Delicious. Bookings can be made on their website.
We loved it here and will definitely be coming again.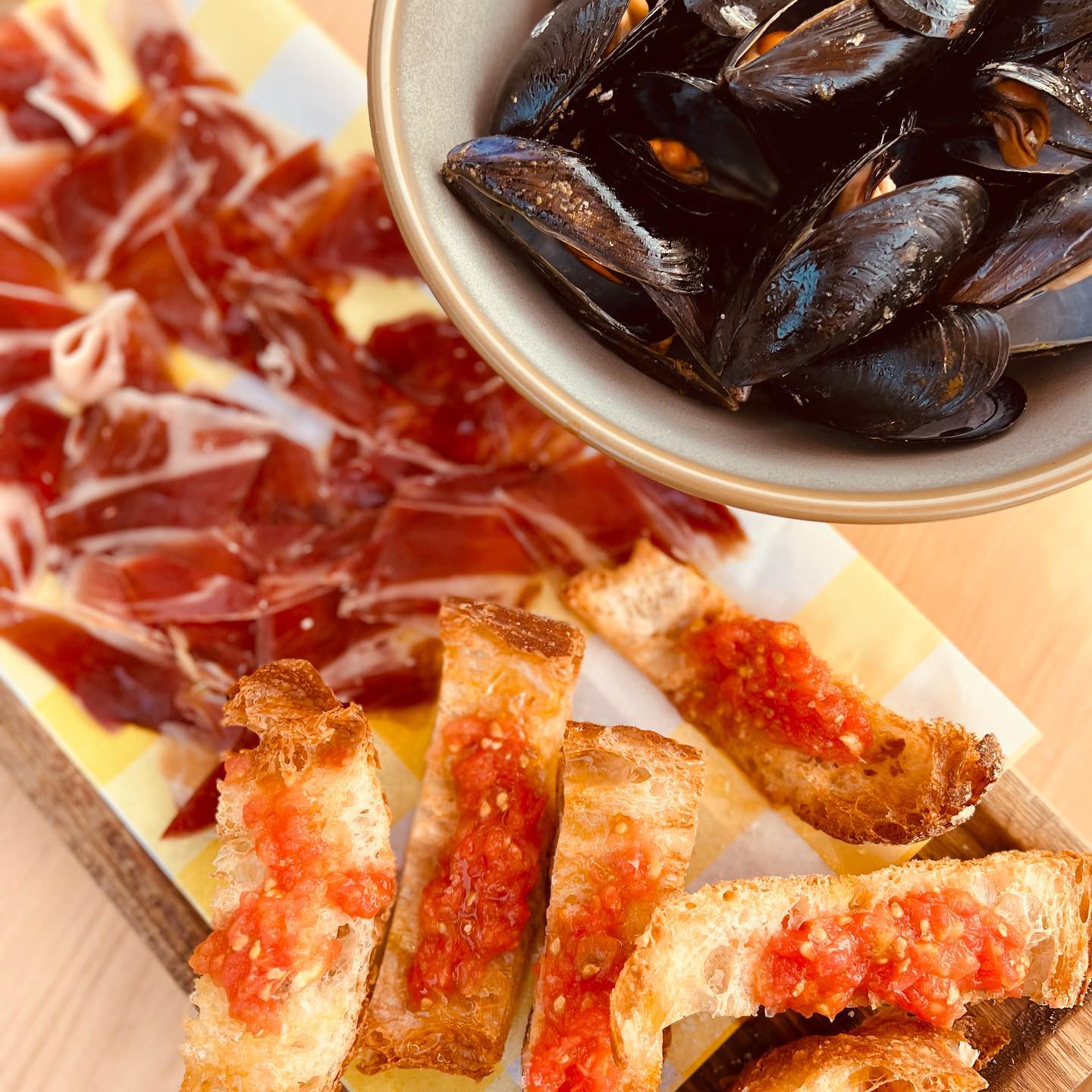 From Mahon centre (Maó),  you have to follow the signs to Es Grau, which is a short drive away. From there, you can leave your car in the village and it is a short walk to the beach. The beach itself begins in the village. There's plenty of parking where you can park your car near the beach. You have to cross a small bridge which is all part of the experience of arriving at this scenic beach. This is the perfect setting for little ones as the water is so shallow, you have to go out some way until you reach deeper waters. This is the place where I really feel I can relax!
For older kids and adults, there is kayak rental, so you can enjoy the surroundings of Es Grau further. There is no better way to explore the sea! Other great thing to do here is to catch a small boat across to the Illa d'en Colom from the Es Grau port. You can book a taxi boat (which you sometimes now have to book in advance). The small boat will pick you up and it's a short ride across to the island for you to spend the day there. Such a fun experience for the children too! Remember to pack all your lunch and drinks with you as once you arrive, you will only have the beach to keep you occupied! The taxi boat will then come back at the agreed time to pick you up. Highly recommended.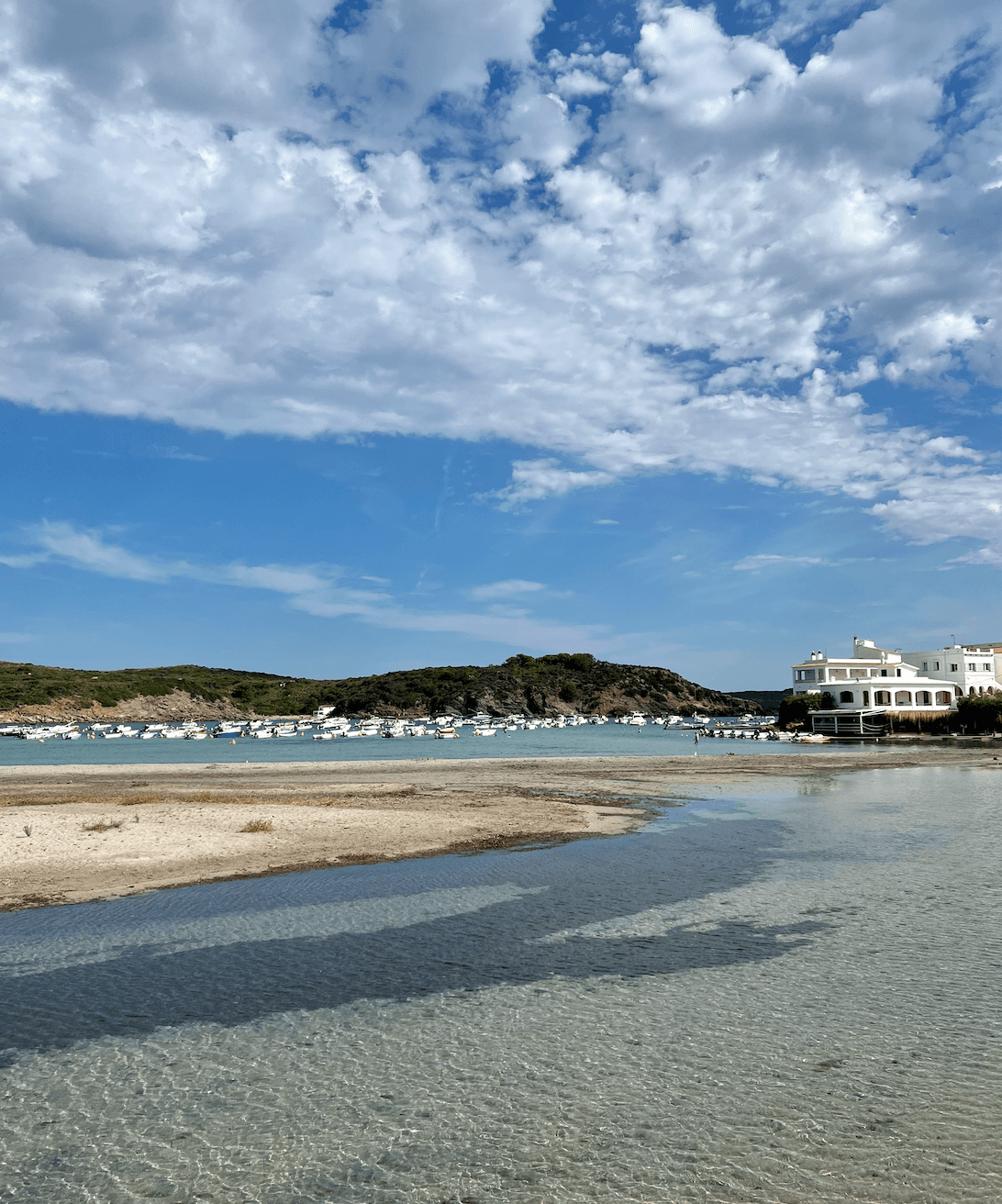 Cala Binidalí sits at the landward end of a curving inlet of the Mediterranean. Its soft sands are surrounded by sheer cliffs of bedrock and native flora clinging on where it can. As a result, the crystal clear waters off Cala Binidali are very well sheltered, and offer good opportunities for those looking to spend some time snorkelling. It is also a good spot for ramblers looking to explore on foot. Though relatively deep, Cala Binidali is only a narrow beach, meaning it gets full very quickly during the summer months. Accessed via a series of steps from the designated car park, it's not ideal for those with pushchairs or wheelchairs, though both the beaches of Binisafua and Binibeca provide good alternatives a short drive further along this spectacular stretch of coastline. Well worth a visit if you can.
We visited plenty of beaches during our Menorcan stay including Punta Prima, Binibeca and Son Parc to name a few but even so, Cala Galdana remains a special place to visit. For families, the easy-access beach and amenities in town is appealing. Plus, younger children (up to the age of 12) will enjoy the two flumes here which they can go on while adults watch and enjoy a coffee. Despite coming here for over thirty years now, I am still in awe of the natural beauty of Cala Galdana beach. It is no surprise to know that Cala Galdana is one of the most photographed resorts in Menorca, with its horseshow bay with a backdrop of steep densely wooded limestone cliffs.
Es Castell's harbour, Cales Fonts, is bursting with waterfront bars, cafés and restaurants, perfectly in sync with the laid-back lifestyle in the town. We normally come down to Calas Fonts for an early evening meal as it's a magical setting with dozens of restaurants to choose from. We had paella at Nou Siroco but you might also like to try Trebol, or try Es Llenegall for some informal tapas.
If you happen to visit Es Castell in the summer, you might be lucky enough to catch the Es Castell Fiesta which takes takes place on 24th, 25th and 26th July. It's a wonderful event and loved by islanders and visitors alike. The Menorcans love their festivals and especially the chance to show off their stunning native horses. The most eagerly awaited moments are the "Cargols", when riders circle specific points along the parade route and especially the "Jaleos", where riders bring their horse onto their rear legs. We have enjoyed the fiesta a number of times, so well worth coming down for it, if you travelling to Menorca during the fiesta periods.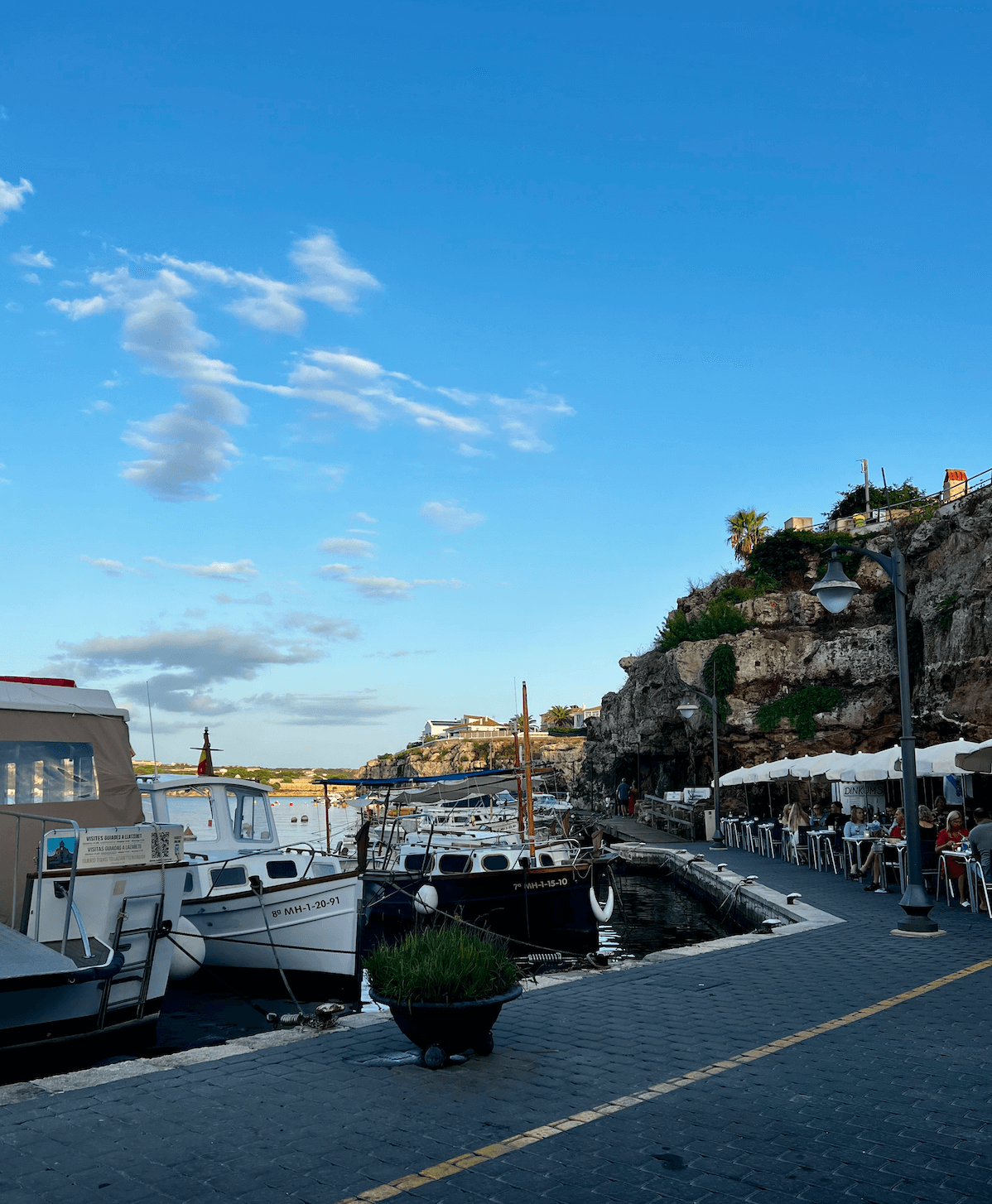 Bambú Menorca at Binibeca
Bambú is a new restaurant in sleepy Binibeca. Sadly, we ran out of time to make it here, but I hear it's very good. I would say that Bambú is aimed more at couples or older children but has a relaxed vibe for a summers evening. They offer a complete experience with multiple spaces to enjoy sea views in a vibrant yet relaxed environment. Their menu offers fresh, seasonal dishes with international influence and Asian touches. Perhaps a good venue for a well-earned date night! Their food options offer a fresh Mediterranean style, with international influence and Asian touches. Healthy and delicious dishes using quality ingredients, including produce from their own herb garden.
Es Canutells is a beautiful and small beach. Many low cliffs surround it in the southern area of Menorca. Canutells cove is an urbanization on Alaior south coast, between Cales Coves and Binidalí. The shore itself is broad, 50 meters long and 40 meters in height. So, you might need to go early in the morning if you want to place the towel close to the coastline.  Not only is Es Canutells small and picturesque but it also has a jetty which my kids loved jumping off and snorkelling. The bay has medium size cliffs and is plenty of nice caves. Some of them are underwater; thus, don't forget to take diving goggles to explore the area from the sea. You will see many kinds of fish like mullet fish. No need for bringing home food if you want to spend the day in that cove. Bar restaurant Es Canutells is perfect!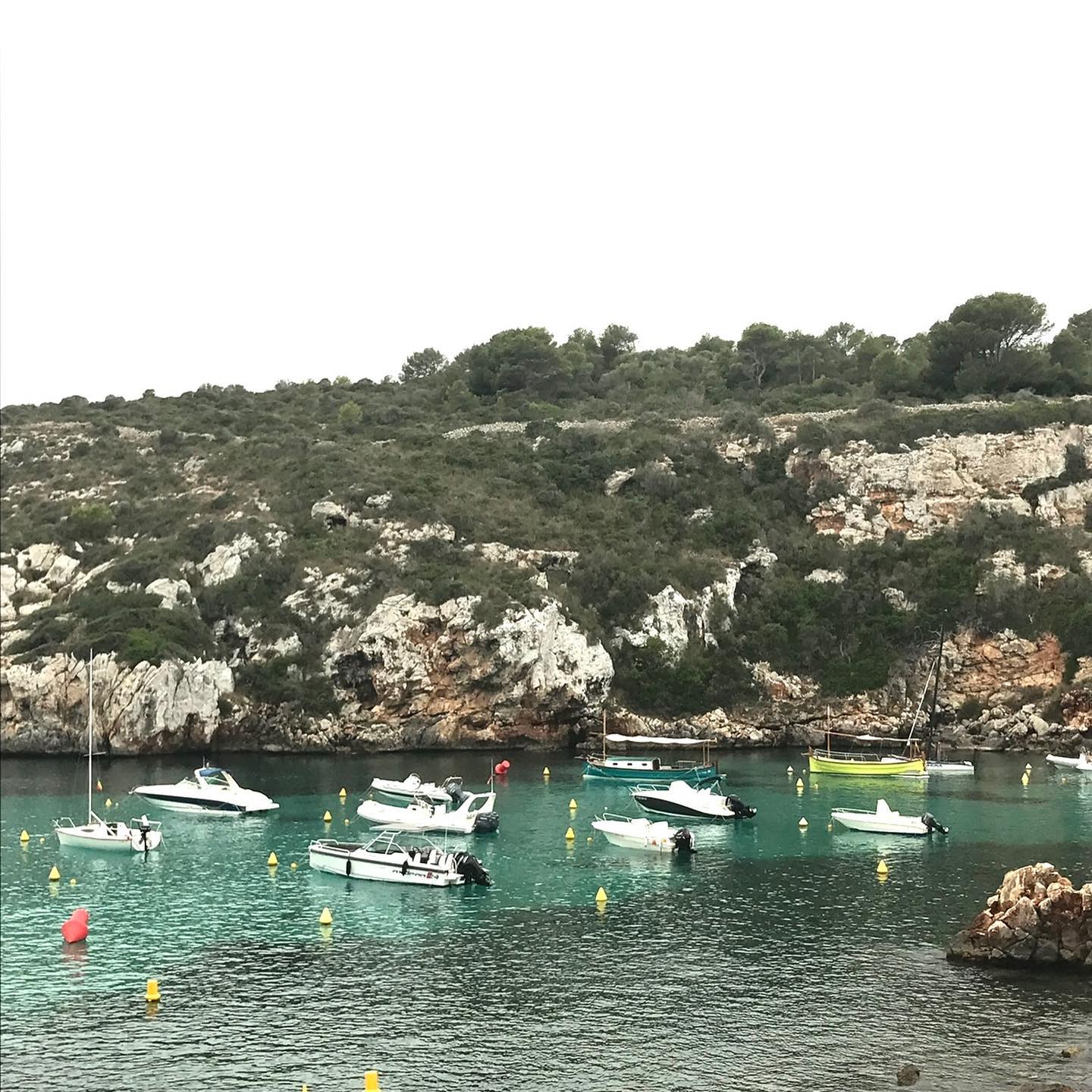 I hope these ten hotspots are useful if you are planning a trip to nature's paradise, Menorca. In summary, unspoilt by tourism, Menorca is blessed with turquoise waters and the softest white sand. In fact, Menorca's beaches are deemed to be the Caribbean of Europe. The island is home to more than 100 beaches and coves, linked via walkable coastal paths. We adore the architecture of this country, especially in the town of Mahon (Maó) which mixes elegant Georgian-style mansions with Baroque elements and Spanish architecture. This really is a true all-year round destination and Menorca can surprise you in any season with plenty to see and explore.
I appreciate it's a big world out there with plenty of places to visit, but Menorca will always hold a special place in our hearts. Nothing can stop us from dreaming about next adventures here!
 Click here to start searching for your perfect  holiday villa.