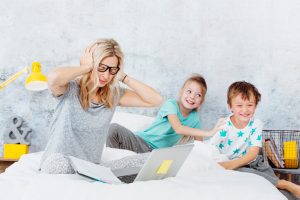 Guilty Mother readers. OK, let's take a moment to define what the word guilt really means. 'Guilt is caused by thinking that we have done something wrong. We think we have done something wrong because we judge ourselves or someone else judges us.' This definition is very interesting as most of the time, this guilt is how we judge ourselves and how true is that?
We women are incredibly hard on ourselves, asking questions like, am I working hard enough? Am I Loving enough? Attentive enough? Strong enough? Maybe we should stop quizzing ourselves and focus on our little victories. The amazing things we accomplish every day, rather than focusing on our failures or forgetfulness.
Sometimes we set the bar so high to have this impossible standard of 'having it all'. Successful career, family, gym time, home time and endless lists of administration. I seem to have accumulated so many lists, on a wide scale.
As an example, my lists can range from…
Buy 8 birthday cards (various ages)
Buy 8 presents to accompany the cards
Call electrician about outside lights (or lack of)
Pay VAT
Finish Ocado shop that I keep adding to my order (must checkout)
Buy grey tights (not for me)
Renew swim lessons
Book gym crèche
Book cattery
Get rid of cat
Write blog
Renew passport
Book check up for dog's arthritis
Put at least 3 loads of washing on
Get Pest Control back (Mr. Mole is back, I repeat, Mr. Mole is back)
Take glass to recycling (well overdue)
Book car for next service
Baby gift for a friend
Book dentist appointment for my son
Pick up prescriptions
Arrange tree surgeon for the woods
Take Penguin costume into school
Take item into school for the colour of the week 'orange'
How we all can be a little more Guilt Free?
Over the years, I've come to realise that being a working mum isn't about getting the work/life balance 100% right. I am not sure I ever will – but l accept that I am doing everything I can – as well as I can.
If you haven't already, create a great support network around you. It is worth its weight in gold. Have a great team of great women around you that you can call on when you need help.
I get so frustrated if I forget something and wind myself up but maybe I should cut myself a little slack. So what I forgot one thing? I managed to remember the other 22 items on my list. I will forgive myself and you should too.
Time for Mother
I use to feel guilty for going to the gym, taking an hour here or there, but now I think differently. I am a better and less stressed mother to be around if I have taken an hour or so to myself. It seems so self indulgent but the reality of it is that my health is the element that binds everything together. If I am not in the best health and wellness in myself, my family will suffer too.
So take time whenever you can and I would highly recommend a long weekend booked for you and your husband a few times a year (if you can). It will give you time back as a couple and give you something exciting to look forward to.
Accept the crazy, wonderful life this is and embrace the imperfections. I sure things would be terribly boring if I remembered everything all the time.
I love being a little like Carol from the Brittas Empire, it's part of the fun!