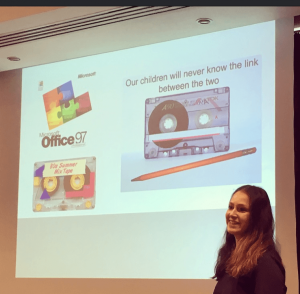 Guilty Mother was delighted to be the opening guest speaker at Women's Enterprise Kent event on 2nd March 2016, in partnership with Kent County Council. They offer a range of events for Kent businesswomen and I think this is incredibly useful and important for female business owners and start-ups. Even after twenty years of my business career, I continue to learn something new every day.
These events cover a wide range of topics, including social media for business, videography, cloud accounting, search engine optimization, web development and selling overseas. Future programmes are reliant on funding allocated by the Government Equalities Office, and subject to a a successful bid by Kent County Council. Therefore, so it is really important for Kent businesswomen to share views and experiences on social media about how useful they have found or would find these events, so they can continue in the long term.
I was given a precise briefing for my speaking slot, which was to provide an uplifting, motivational story for the event attendees. I had some great, positive feedback that some of the guests found my presentation to be just that. I felt passionately that I wanted to bring the subject of women in business to the forefront of everyone's minds. Reminding ourselves how wonderful and strong women can be. Would you agree that there can be a perception that we have to act more like a man to get ahead in business? Embracing our natural skills as a woman is what we all need to embrace and maximise to thrive in the workplace. It was very clear from the Women's Enterprise Kent event that we are all excellent communicators, collaborators and most of all, us girls love to share. Because women are natural networkers, these events can deliver great opportunities and help you to build a growing business network.
As many of you will know, Tuesday 8th March 2016 is International Women's Day. A global day to celebrate the social, economic, cultural and political achievements of women. International Women's Day reminds us that women and girls do not enjoy the same rights as boys and men. Until that is the case, IWD will shine the light on the importance of women and girls participating in society in the same way as the other half of the population. Showing the incredible and inspiring achievements that women have made and to foster recognition for the vital contribution that women make every day all over the world – from the UK to Afghanistan.
So what did I love about the Women's Enterprise event? I love to see how women come together to inspire each other and realise the power of change, one woman at a time. The confidence and inspiration that International Women's Day can spark in other women can be the first step towards female empowerment.
So, on a closing note, without a shadow of a doubt, together, we are stronger.