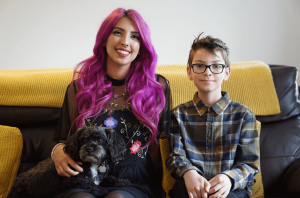 It is not every day that I come across someone who really strikes me. Yammy is one of those individuals. When I was initially asked if I would like to interview Yammy (Yasmin Uddin), I wondered what it would be like to chat to someone who has such a huge, influential social following. Leeds-based gaming and entertainment content creator Yammy has 2.5 million subscribers on YouTube and over a half a million on Instagram.
I was interested to hear how Yammy has converted her love for gaming as a teenager into her career. I mentioned how I had been a huge fan of Legend of Zelda but I am unsure how impressed she was in return. I am old school when it comes to gaming and to be honest, perhaps I had underestimated just how far the gaming industry has come. In fact, let's say it is officially booming.
Online gaming has come a long way over the past two decades ago. Particularly since I had my first Commodore 64 console. People are now live streaming gameplay and providing real-time feedback to the developers through online gaming. Yammy Xox is a gamer, vlogger and blogger who is best known for her content on the popular games, Minecraft and Roblox. Yammy is amongst the top content creators on YouTube whose primary focus is centered towards gaming. Thanks to her fun personality and gameplay skills, she has been able to climb the ladder of success on YouTube with an incredible 3 million followers across her social platforms.
In this interview, I spoke openly to Yammy about her appearance on The YouTube Originals Spotlights series alongside two other UK female creators. Quite honestly, I think it is a brilliant idea to show a life behind the lens. A look at how these female creators have become so successful. Yammy came across as authentic and warm on our interview, which in turn, made me see exactly why her followers would admire her so much.
These intimate 20 minute documentaries lead us into a life behind the games console. Today marks the launch of Yammy's appearance on The YouTube Originals Spotlight series, something she said she was delighted to be involved in. Yammy used this opportunity to introduce her family, including her son Dante; someone that Yammy had previously kept fiercely private. Throughout the video, viewers can enjoy a closer glimpse at Yammy's life and her family.
In addition to Yammy, if you watch the latest YouTube Originals Spotlight series, you may also recognise a few other familiar faces, including Brighton fashion designer and beauty blogger Saffron Barker (2.5 million subscribers) and comedian and spoken word artist ClickForTaz (1.4 million subscribers). All three of these women allow the spotlight series to open up a different side to our famous female YouTubers.
I spoke to Yammy about how was happy to openly discuss her teenage pregnancy and welcomed her son at the age of sixteen. She talks about her teenage pregnancy and how Dante has become a huge inspiration for her. During the video it is also clear to see how Dante sees his mum as an inspiration in return. Until now, Yammy has always protected her son's identify, but feels that now is the time to show Dante to the world and plans for him to make some appearances on more of her gaming videos moving forwards.
No-one ever really knows how their journey is going to develop and it has been really interesting talking to Yammy about how the path she has; she feels; was always meant to be. From having a young baby, to becoming a content creator, not once did she fear that she couldn't do it. Yammy tells me how the most important aspect of being online, for anyone, at any age – is to be authentic. To be your self. I thought this was sound advice from Yammy, and I'm so pleased to hear such positive messages to pass on to our next generation of gamers.
I hope you enjoy the YouTube Originals Spotlight series. A rare opportunity to bring you closer to Yammy than ever before.