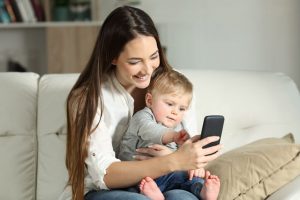 Technology has become such is a big part of our lives. Although some people may focus on some of the negative elements, from a business perspective it's made us more mobile than ever before. Allowing more parents to have flexible working from home, or indeed, from anywhere in the world. Furthermore, it has plenty of benefits for our children whether it is educational, entertainment, information and, for teens, socialising, which is important to them.
After sharing my views on BBC Radio Kent on 26th May 2016 on the Julia George programme, we asked 'should children under sixteen should be allowed a smartphone'? The topic has since made me reflect on my own device usage.
We are used to hearing adults complain about how much time children spend on our 'borrowed' iPads or similar, but how many youngsters could make the same complaint back their parents?
As a digital mum, immersed in technology, I often find myself trying to read or reply to emails whilst my two children are around my shoulders asking for my attention. Sometimes I may respond by saying "just give me a moment" or 'hang on a second". More recently, I have become more conscious of this situation and making more of an effort to put down my device, turn my attention to them and ask them what they need.
Furthermore, I was desperately trying to detach myself from the joys of Facebook or 'Boastbook' as I like to call it, the most addictive social media platform of them all. I deleted the Facebook app over a year ago, meaning I don't receive any notifications, only jumping onto Facebook via Safari, as and when I want to – on my terms. It is a battle against myself. Mother vs Facebook and I am winning…just about.
So when us parents are staring and scrolling on our devices, what exactly are we looking at? It is a difficult question as there are so many various answers. Nick Kuh, a Brighton based software developer has created a free iOS and Android app called Glued, which challenges family member to compete against each other to reduce screen time. The app was developed and inspired from a disagreement he had with his 13-year-old son about the about of time he spent on YouTube or Instagram. Nick and Finn had an argument before dinner one time about his son's addiction to his iPad. Nick ended up confiscating the iPad before they sat down to dinner and they all sat down in abit of a strop. As soon as they sat down for dinner, Nick's phone bleeped and he couldn't resist the temptation to check the pointless tweet or message. As he pulled his phone from his pocket to check it, his son Finn pointed out what a hypocrite he was.
Although my children are not teenagers yet, it would seem the app, Glued, is a fantastic concept. It can track parents and teens connected device usage and help us identify the family's worst culprits. Smartphones? Let's see how smart this phone is and we might find that's not the children after all…
You can share your views or comments on this blog post on Facebook (of course). www.facebook.com/guiltymother
If you would like to listen again to my BBC Radio Kent interview with Julia George, follow this link http://www.bbc.co.uk/programmes/p03v969n