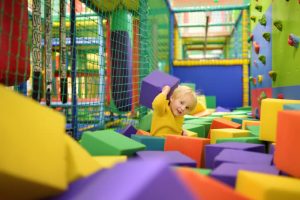 My children love soft play. Unfortunately, I don't.
When the rain starts to fall, a soft play centre is the parents 'go to' place. And just like me, everyone else thought it was a great idea to turn up here. I mean, why wouldn't it be? The wonderful sounds of screaming children, a crying baby and someone shouting 'food for table 14'. Unhygienic with sticky tables, limited seating and average food. Oh yes, lovely, what time does it open? Sounds perfect.
On arrival, I can feel the stress levels rising inside me. Whilst some parents find this place an absolute god send – I find it hell. After a busy week at work, a soft play centre is the last place I want to be. With kids running everywhere, it is like an assault course just trying to get back to my seat with my hot coffee without scolding any of the children hurtling past me. Once I make it back to my seat, within two minutes of sitting down, my son runs out crying with his hand on his head saying "a bigger boy knocked into me and his elbow hit me in the head". I don't blame anyone for this but at times, the children just get abit over excited. Accidents happen. My four-year-old son is going through the stage of 'being the wrong size'. Constantly being knocked over whilst his older sister seems to gracefully navigate the soft play area without any issues at all.
This makes me wonder if the enjoyment of soft play is dependent on the age of your children. Soft play covers such a mixture of age groups, the big kids tend to power past the little ones and this often inevitably ends of tears.
After the first incident with my son, I then have the panic of not being able to find him again. I know it's only a minute or two but sheer panic rises in me and my initial, ridiculous thought is that, someone must have stolen my child. My friend reassures me that the gate is locked at the front of the play centre and he can't escape. I know I need to relax but I just can't. Whilst waiting for him to appear from a ball pit or slide, I just can't wait any longer. I'm going in. I will be THAT parent that goes inside the soft play to locate him, calling his name. Word of warning, you need high-waisted jeans for this activity. Low rise jeans are not an option here as you'll either be showing off your pants or your bum crack. Don't think the dads are not looking at your bum crack…they are.
Inside the play pit, I look around me through the ropes to see other parents looking relaxed and some even…reading a book. Why can't this be me? I spoke to my friend who has twins who are aged eight this year. She is so relaxed. I ask her, "Emma, how do you find this relaxing?". She says "the girls are growing up now. I've done my time running after them into the ball pit. If you ask the girls nicely, they will happily find your son for you." Excellent. Now I have two mini helpers.
Just when I thought play centres couldn't get any worse, my sister in law just reminded me about the time she found a poo in a ball pit. So, on that closing thought, I've come to the conclusion that if you want to go to soft play, that's fine, but choose your time wisely, tread carefully in the ball pit and arm yourself with plenty of hand sanitiser.