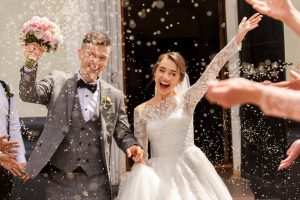 Wedding season is upon us and it seems highly appropriate to talk about Spanx. I remember my first time wearing them for a friends wedding. I was hot, I was sticky and wondered how long I could keep these damn things on.
By the time we sat down for the wedding breakfast, I was feeling uncomfortable, wondering how on earth I was going to consume three courses of food whilst squeezed into this undergarment. A quick nip to the ladies' room, I removed my Spanx, shoved them into my handbag and at last, my organs were free. No one would know this of course, until later at the table when someone asked me for a tissue from my bag and I passed them my Spanx. A few glasses of wine may have been consumed beforehand.
Now; that's just one of my personal experiences with Spanx and I think we all agree, we give a huge fist bump to founder Sara Blakely who invented Spanx in the first place. What a genus she is. When looking for the perfect undergarment to wear with a party dress with no visible knicker line, Sara couldn't find what she was looking for, so she invented the Spanx brand. Since then, in an article published in Forbes in June 2014, it claims the company generates revenues of over $250 million and is now available over 50 countries worldwide.
So is Spanx our secret weapon to hide the flab or it is just making us feel like our bodies are being squeezed into unnatural shapes? I know in my heart we should thank Spanx for slimming down thighs, nipping in waists and smoothing out stomachs for nearly two decades, but part of me wants to be free. Seven out of ten British women admit to owning a pair, and even some of our most curvaceous celebrities from Jennifer Lopez to Kim Kardashian won't brave a red carpet without it.
Spanx now has 200 products in its range which fall under three categories. medium support, which 'smoothes your figure and offers a close, yet comfortably forgiving fit'; Super support, which 'shapes your body and flattens your stomach'; and Super Duper support, which 'powerfully transforms your physique targeting specific problem areas with zoned compression'.
And although we call Spanx our 'secret weapon', perhaps we should look at how secret it really is. Many famous women have been caught with Spanx on view. This includes fellow mother, Zara Phillips who unwittingly revealing her Spanx while curtseying to the Queen at Royal Ascot. And who could forget poor Kate Garraway, legs akimbo as the ITV presenter was lifted into the air, flashing her flesh-coloured control pants to millions on Good Morning Britain earlier this year? Whoops.
So does Spanx make us feel any better about ourselves? But perhaps the burning question we ask ourselves is; where on earth does all the fat go? I think that will forever remain a mystery. Most of us just pray it goes to our boobs.
Whilst talking and giggling with a girlfriend today, I told her I was going to write my blog about Spanx. She reminded me not to forget about mentioning pregnancy Spanx. In all honesty, I thought she was joking. So she told me to Google search for Mama Spanx, which I did, and boom, it appeared. Do we need to wear Spanx when we are pregnant? Perhaps it is just me that asks this questions but aside from what Guilty Mother thinks, it would seem clear that pregnancy shapewear is fast becoming a maternity must-have. Widely available in every shape and size for women who feel they need extra help from their underwear to smooth, enhance and reshape what lies beneath.
In a quest for the perfect silhouette, we continue to squeeze ourselves into the equivalent of a sausage funnel. And the best part? People at weddings tell us we look fabulous…and we love it.
But here's a lasting thought. What if you're planning on getting lucky that night and and you're still wearing your Spanx? Nobody really wants a Bridget Jones moment unless you're up for a laugh, so just remember to pop off to the bathroom beforehand to take them off and let romance resume.
Let's talk about Spanx baby, lets talk about you and me…