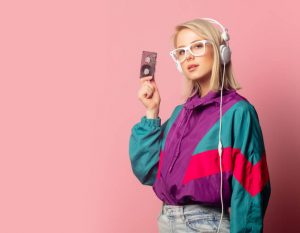 Good news folks. The nineties are back.
I didn't think it could happen but history is repeating itself. It seems that we can't just get enough of the good old days. Welcome back to a worn in pair of Doc Martens, high waisted jeans and your favorite flannel shirt. Gun-N-Roses and Blink 182 is on the road again while the Backstreet Boys are currently in the studio. I even heard on the grapevine that even the Spice Girls might be planning a mini-reunion. Let's take a look at my top six trends that are back…
1. Dungarees
Think Marky Mark (Mark Wahlberg) who wore them with no t-shirt along with Calvin Klein underwear on show for good measure. Officially made cool again by none other than Zoe AKA Dress Like a Mum. I tried to wear some dungarees so I could look and feel like a 'cool mum; only for my husband to glance at me and ask me if I was twelve? Hey ho, does it matter what he thinks? I might wear them in secret.
2. Doc Martins
Doc Martins are making a comeback, or perhaps they just never went away. After falling revenues after the 90s sales boom, the British company was sadly sold exclusively under the AirWair name. By 2003, the Dr Martens company came close to bankruptcy and all but one of the UK factories had to be closed with 1,000 employees losing their jobs. However, things look like they are on the up for the much loved brand.
3. Flannel Shirts
I have a few comfy check shirts in the wardrobe, which I love to wear on their own or with a t-shirt underneath. It is strange to think this is the same outfit I wore when I was fifteen, but this seemed to happen completely unintentionally. The only difference being that the t-shirt I had on when I was fifteen was Motley Crue. Now it's a Selfish Mother branded Mama t-shirt.
4. High Waisted Jeans
Let's be honest. When it comes to jeans, us mothers have been through them all. Bootleg, flared, classic dark wash denim jeans, maternity 'tuck it all in' jeans through to skinny jeans. But now the high waisted 'mum jean' is back. We are talking about the full, loose look light denim jean once adored by most of the cast of the original Beverley Hills 90210. Remember those days?
5. Platform Shoes
I went to an 18th birthday party a few weeks ago and most of the teenagers were wearing high waisted jeans, platform shoes or doc martins. I felt like I was having a flashback moment. It was so surreal. When searching for for word 'Dolcis' today, I genuinely could not believe it when the website came up. They are actually still trading! All my platforms came from Dolcis. Legendary!
6. Culottes
I had a meeting in London for a PR company and the lovely woman who interviewed us for the brand activity was wearing black and white stripe culottes. Paired with a simple white t-shirt and gladiator sandals, it was a very cool 'PR' look. According to our friends at River Island, the wide trouser leg is the hottest trouser shape of the season, so you heard it hear first ladies.
There are however, some fashion styles may never be resurrected. Here are Guilty Mother's top three fashions I don't think will be back any time soon…
1. Chokers

Chokers, black lipstick and miniskirts – the teen witches of The Craft were the height of cool in the nineties, but quite honestly, when was the last time you sure someone wearing one?
2. Shell Suits
In the words of my best friend "crikey! That will never come back." The bizarre trend of matching jacket and trousers made from nylon were horrendous on those hot days. Oh the things we did for fashion. Those suits just sucked in all the heat. Mostly found in C & A, amazingly these outfits were in the sportswear section of the store. Now mostly available on Ebay…
3. Global Hypercolour T-Shirts
I'll always have fond memories of the global hypercolour t-shirt. Heat sensitive t-shirts that changed colour so everyone knew when you were sweating. Strangely, I was proud. "oh look, I'm sweating. How cool is that!'. My favourite was the purple t-shirt that turned bright pink when exposed to hot sunlight. Truly awesome. If you are feeling nostalgic and what to by one, they are amazingly still available at www.truffleshuffle.co.uk
As a closing though, no matter what happens, fashions and styles will often go round in circles, and I love that. I will miss my Fruit of Loom jumper, walking around with a scrunchie in my hair, whilst wearing shellsuit trousers and turquoise bumbag. I mean really, don't knock the bumbag. It's from seaworld.
Now…where did I put that bum bag? Actually quite handy for days out with the kids…