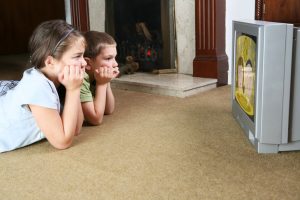 Many of us look forward to sitting down for the night in front of the telly and it is our way of relaxing as soon as the children are asleep. Or after we have gone back up and down the stairs to sort the kids out no less than five times. But do you remember a time when we only had 4 television channels? 80s television was completely different to what we experience today. When at midnight, the television actually went blank and a test card appeared. The smiling face of an eight-year-old girl, Carole Hersee and a creepy clown 'bubbles' appeared on the screen until morning. This test card, created by the BBC was shown in the United Kingdom and other countries for more than four decades. It was first broadcast on 2nd July 1967 at times when there were no programmes to be broadcast.
In today's world, with such an overwhelming amount of choice on our screens, are we watching too much? According to the RTS, as a nation of telly lovers, we watch an average of 24 hours of TV each week, spending an average of a seventh of our lives watching the telly! And, as you would expect, over a third of 18-24 year olds prefer to use tablets, mobiles or laptops instead of watching through a television set.
As channel surfers, we scan quickly through all the channels on our remote control whilst saying "there's nothing on." I say this almost every evening. However, the funny thing is, I don't remember saying that when there were only four channels. Probably because we would settle for whatever was available. In the eighties, we were all forced to watch the same programme. Whatever was the 'best of four' scenario. I was reading how there was a time when the National Grid regularly experienced an 800MW power surge after a dramatic episode of Coronation Street, which is the equivalent of 300,000 kettles being switched on for a calming cup of tea.
Perhaps four channels made life so much simpler and too much choice is overloading our brains? Sometimes I wonder if it might be better to go back? The phrase 'less is more' springs to mind. Some people, like me, love the nostalgia of the eighties and perhaps how simple things were back then. If you've watched the film Napoleon Dynamite, which is one of my favourite feel good movies about friendship, you'll recall when Uncle Rico is fixated with going back to the eighties. Perhaps uncle Rico is on my wavelength.
However, I'll be honest, channels such as CBeebies have been revolutionary when it comes children entertainment. What a god send that has been! I am sure we are all guilty on plonking our kids in front of the screen on a rainy day, so we can get some jobs down around the house. However, I recall when we were younger, we only watched television in the late afternoon, such as neighbours, home and away or grange hill. A Saturday morning was one of the highlights of the week. The Wide Awake Club with Timmy Mallett, Saturday Superstore and No. 73 to name a few. Oh, how I longed to be on one of those programmes in the audience; but never quite made it.
I know there are a lot of programmes which are complete drivel, but I also know and appreciate there has been some incredible, gripping TV which has got us all hooked. People have been raving about breaking bad, house of cards, billions, homeland, the night manager, Poldark and of course…Games of Thrones to name a few. The list goes on and on. I can't go anywhere without someone mentioning an amazing series they have been captivated by. But I have to confess; I haven't seen any of these programmes. If I mentioned that I haven't seen Game of Thrones, people look at me in horror. And what exactly am I missing? I heard it was just dragons and soft porn. So am I missing out and could FOMO be setting in? Or am I feeling slightly proud of myself for not seeing them? I was recently reading at article on The Pool, about JOMO, which translates to the Joy of Missing Out. Just because someone is watching something, do I feel I need to watch that too?
Now we are so overwhelmed with choice, no matter how much TV we watch, we still can't keep up. So would I want to go back to four channels? No, of course not. I'll just keep channel surfing my way through life and will continue to shout 'there's nothing on'…