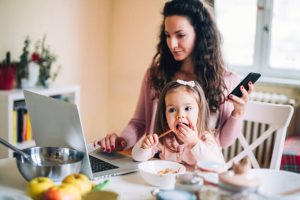 A working, guilty mother. Sure. That's me and like many working mothers, I juggle – a lot. But before I go on about how 'busy' I am, I should express that this is my choice. I've been working since I was sixteen after going into business with my brother, almost by chance. Twenty odd years later and we still run that company together, so as you can imagine, I am passionate about my job, our company and ultimately, I believe I am good at my job.
As a family unit, I believe my employment has a "positive impact" on my family relationship. Sharing the financial burden with my husband means living costs are shared and in doing so, we tackle things together as a working unit.
For years, my business was my baby. I've devoted almost half my life to it and I found it almost addictive until something changed. After being with my better half for nine years, in 2009 – we fell pregnant. My world changed and I was scared. Frightened because my business had been my baby…and now I was going to have a real one. I cried at my desk on my last day in the office to 'start' my maternity leave at forty weeks pregnant. The staff were very compassionate and as I cried, I hoped they didn't think I was a complete wally.
When we had my daughter it was a magical time and in a positive way, it did make me divert my attention from business to her for a short while. Three months later I returned to work. I probably could have dragged my maternity leave out longer, but when it's your own business, I just felt I had to go back. I blame no one but myself. That was my decision. But I didn't have to worry, my daughter was in the very capable hands of a wonderful childminder (now our nanny). But leaving her little face every day didn't stop me feeling guilty. I tell myself that I'm doing it for her, but now I've realised that's not 100% true. I also work – for me. I know that I am good at my job and I am not willing to give that part of me up, just because I have children.
And in case you were still feeling guilty, recent studies by Harvard Business School state that working mothers are good for their children. The study showed that data from 24 countries suggests that the daughters of working mothers have better careers, higher pay and more equal relationships than those whose mothers stayed at home. What's more, their sons thrive too and grow up to be better men, more involved at home, taking more time caring for their own family. So, if this is true, then I hope that by throwing myself into my career, it doesn't make me a bad mother. In fact, I hope it shows my children that they can achieve and be successful when they are older too.
My husband also made a very good point last night, whilst watching Anne Robinson's Britain programme; which this week focused on the subject of 'parenting'. When Anne spoke to some working mothers, they were keen to highlight that their children didn't know any different. So perhaps that's the point. Our children have always known things to be this way. This is 'normal' for them. But these choices don't make us feel any less guilty; we just learn to cope better. I have to accept that I can't always be there for both my children. When I receive an email about a school play, school trip, parent meeting– all the things that should be a pleasure, they equally create a headache of how to manage it.
I have to take a big gulp and know I will miss some of their plays or sports days when a meeting comes up that I simply cannot wriggle out – but I know my children will forgive me. They know that I would have been there if I could.
Children are sometimes very good at playing on a working mother's guilt. I missed my daughter's first reception sports day and she told me how sad she was about that, which still haunts me. However, I must say, as she's getting older, she's getting more understanding about my working situation and I really respect her for that.
This year I missed my son's first reception sports day. Because of bad rain throughout June, the school had to change the date no less than three times. The date they decided on was a date I was a speaker at a Microsoft event in London. How can I wriggle out of an event I'm speaking at? My husband stepped in and said he would go to sports day which was a relief. Afterwards he called me to let me know how well our son had done. I hated myself for missing it and I try to compress those bad feelings deep inside. I have to tell myself, it's OK.
Childcare is expensive and many women want to come back to some form of work, but it's sometimes too expensive for them to do so. It's simply more cost effective for them to stay at home. In turn, this means many companies, like my own, miss out on great female talent who are not returning to the workplace.
Not everyone makes the choice to go back to work and what's important here is that – it's your choice. Whatever the situation, we all contribute to the family unit in our own way.
We all work hard so we can contribute to the family income, have nice holidays, eat good food and drink decent gin. But whatever happens, let's all try to not feel so guilty for working. We are not bad employees because we are mothers. We are not bad mothers because we have a career.
Our choice, I hope, that means our little girls can grow up in a world more equal and our little boys will see their sister as an equal.
And either way, we are working because we are great mothers.