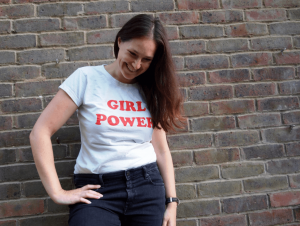 I've always been a strong believer in girl power and no matter how many people may think it's not important; it really is.
This was a topic covered throughout Michelle Obama's position as former First Lady and a subject most close to her heart. She believed that The United States deserved a leader who, "will ensure that our daughters are safe and respected," she said. "And that our sons understand that truly strong men are compassionate and kind. We deserve a leader who sees the dignity and humanity in all of us. We deserve a leader who sees our diversity not as a threat, but as a blessing." Girl power, it would seem, is definitely more than just a phrase. It's a term used to define female empowerment and independence. If there is one thing Michelle Obama would want us to take away from her time in her position, it would be to remind our girls that they are strong, valued and that they deserve every possible opportunity to achieve.
A major study in the US has since found that this message is vital. Researchers in the US have found that primary school-age girls lack belief in their own abilities compared with their male peers. Psychologists from three American universities carried out a range of tests with 400 girls and boys aged between five and seven to examine how gender stereotypes affected children's beliefs and ability. It discovered that once girls reach six or seven, they are far less likely to believe in female intelligence. Now is the time for us to remind young girls of their own brilliance and there is no reason why they should not feel equal.
On 21st January 2017, the Women's March also reminded us that equality is significant. These protesters didn't just march for equal pay, or equal positions of power, they also marched for an end to violence against women and topics they felt most passionate about, including education, healthcare and immigration. Some sceptics criticised the marchers for having mixed messages but perhaps that was the point. They marched on the matters that were important to them: empowerment and independence. Emotions were running high and even though I wasn't there in person (I should have been), you could almost feel the emotions through the television. The march was an encouraging beginning and it comes at an important time for women in the workplace. Leading asset owners and global advocacy groups seek to have women comprise 30% or better of board seats globally. At the current pace, this target will not be met until 2027 globally.
There is a chronic shortage of women in leadership roles. The government's target of 25% of women serving on the boards of FTSE 100 companies has not been met according to a Cranfield University Study.
Therefore, not only do we need to support our girls – we need to support our women. Organisations can help encourage changes in equality by offering women the support, confidence and opportunities they need to grow or progress within their roles, which is vital. Why? Because research from KMPG pointed to professional working women wanting leadership, decision-making, networking and critical thinking training to help them move into leadership roles. It also found that seeing women in leadership roles encouraged them to get there themselves, and support and encouragement are key to them progressing as leaders.
On 19th January 2017, over fifty people attended my launch event of Inspiring Women workshops in London. Held at the offices of global law firm, Reed Smith in London, the venue proved to be the perfect setting to inspire a new generation of female leaders. I have teamed up with former England rugby captain, Catherine Spencer, founder of Inspiring Women to deliver a range of workshops, talks and events for women in business.
The launch was supported by British Olympian turned leadership coach, Steve Backley OBE who was a keynote speaker at the event. Steve stated "I am delighted to support Catherine and Jo in the launch of their workshops. I have known Jo personally for many years and I am sure this will be an exciting and successful venture for both Jo and Catherine. I have always had an interest in performance, and today, I shared some insight from the Olympic games on what makes great people great".
Organisations can sign up for workshops and programmes which are specifically aimed at giving participants the knowledge, skills and attitude to not only understand leadership, but have the confidence and the edge to lead with distinction. Overall, workshops and training encourage more women to raise their hands which in turn will help them thrive in current roles or to progress to more senior management levels.
The start of 2017 saw Michelle Obama's inspirational closing speech about the power of self-belief, followed by the empowering Women's March, which served as a positive symbol of hope for women to move forward. They marched and showed the world what girl power really meant. I know there's a lot more work to be done, but as a starting point, women will spring forward faster if we support them in the long term.
So after you've digested all that information, I hope you'll agree, Girl Power; it's so much more than just a phrase.