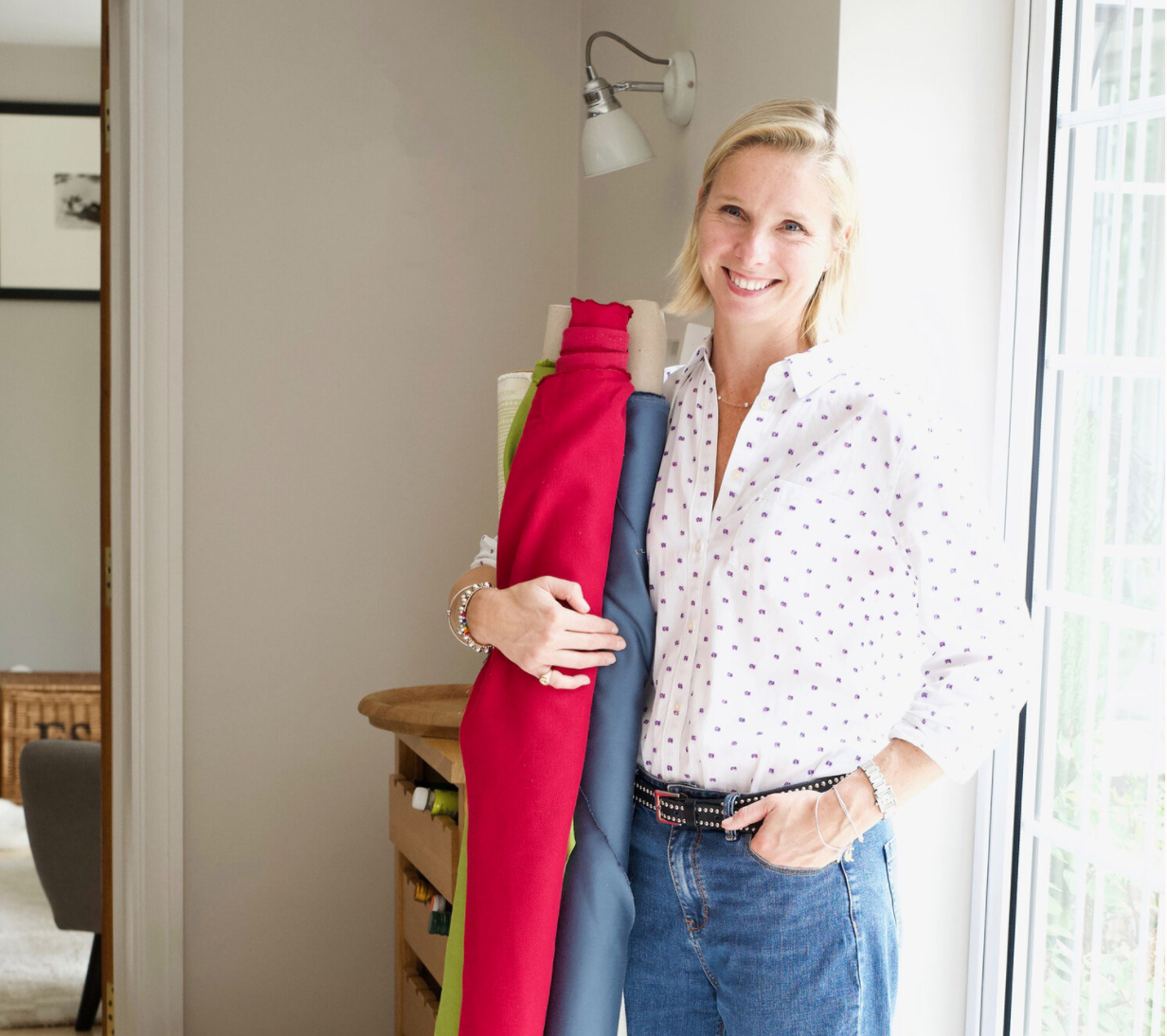 In this week's interview, I catch up with Chloe Cardew, who I have been working with on some home projects over the last twelve months. Chloe is the owner of Willow & Bert Interiors who make beautiful bespoke furnishings for homes around the UK. Chloe offers a at-home consultancy design service as well as made-to-measure window dressings, cushions and soft furnishings. Everything is carefully and thoughtfully made by hand. With Chloe's expertise, she can help you truly bring your home to life with gorgeous fabrics to suit your budget. Willow & Bert Interiors work with fabric houses in Great Britain where natural fibres and linens give outstanding quality and durability.
Last year during lockdown, I gave Chloe the task of transforming our living room into a grown up, relaxed and cosy space. With Chloe's guidance and confidence, she really helped me to embrace colour, texture and fabric like never before. I am so thrilled with our living room makeover, which is why I wanted to tell you all about the amazing work she does! I have also included some images of our upgraded space. I wonder what room I will do next?
Chloe, please start by introducing yourself?
I'm Chloe, proud owner of Willow and Bert Interiors.  I live in Kent with my blended family which includes five kids and two dogs. I worked in the City for ten years before the kids took over and I realised I wanted to do something more creative.
I discovered a passion for upholstery on a City and Guilds course and my love for interior design, and my business, grew from there. Initially, I only offered a soft furnishing service and made everything myself but then I started offering interior design services too and the business really took off.  I couldn't keep up! I'm now supported by a fabulous team so it's lots of fun, and I love helping people fall in love with their homes all over again. Life is incredibly full-on, but I wouldn't have it any other way!
I love the name Willow & Bert Interiors. Where does the name come from?
Willow & Bert Interiors was started with my lovely friend, Nicola, back in 2014. We decided within hours of starting an interior course that we wanted to go into business together. Using our surnames made us sound like a law firm and we wanted something a bit quirkier. Willow is my beloved black labrador and Bert was Nicola's cat; hence, our name was born! Nicola subsequently moved abroad, but I love how the name keeps us together.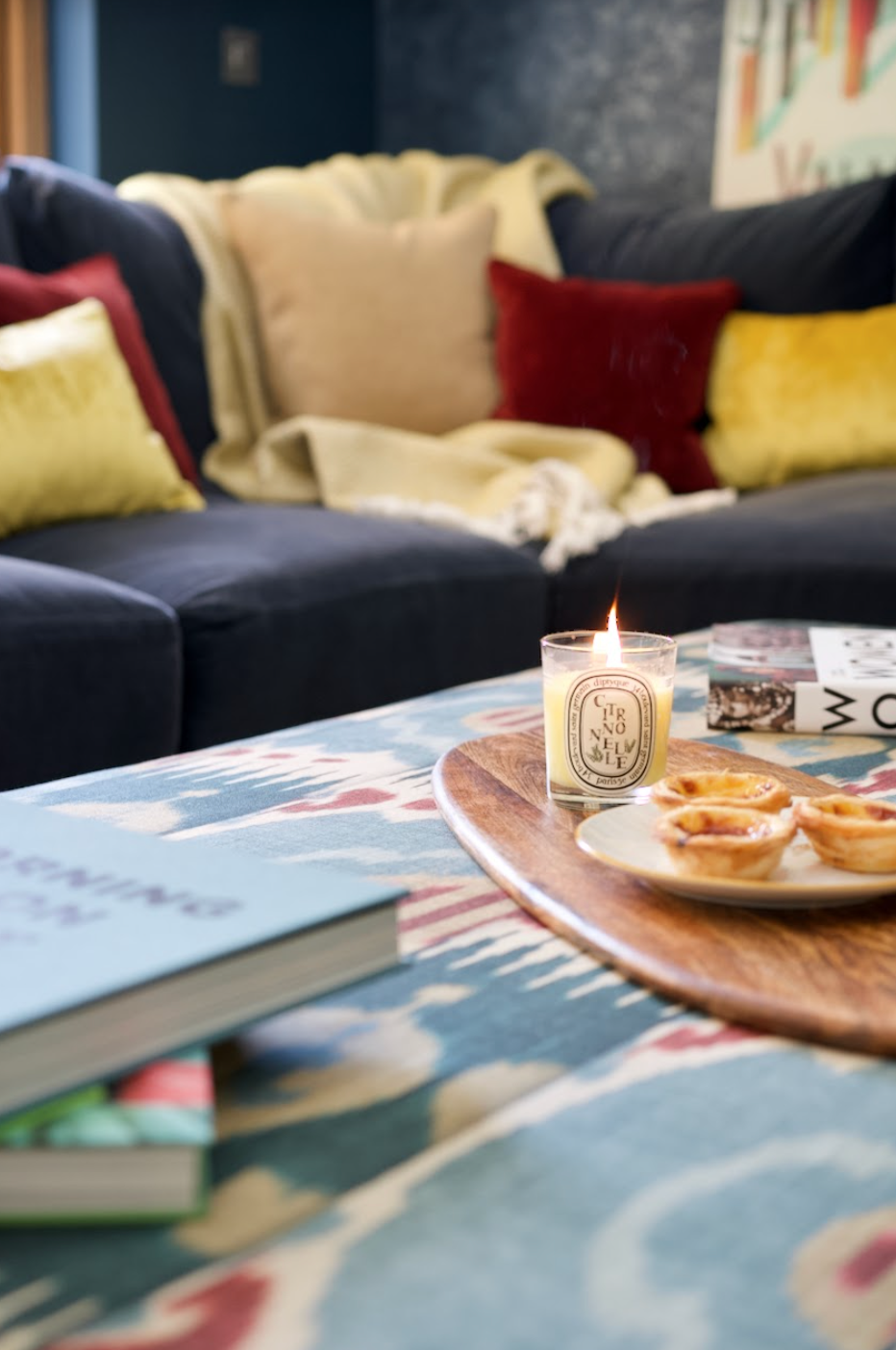 I read somewhere that when it comes to our homes, we should focus on curating a space rather than just decorating it. What does that statement mean to you?
I agree with this, but the idea of 'curation' per se can sound quite museum-y and untouchable. Putting it simply, it means our homes should be filled with things that mean something to us, that have been collected over time and are lovingly arranged.  How we choose to decorate our homes is just the starting point.  We can all decorate a room using, say, Farrow & Ball's Setting Plaster paint. It's what we add to that backdrop afterwards that's important.  Interest, personality, and that sense of 'home' is created with the things we love.
How do you find the balance of bringing in colour, texture and fabrics to clients to accompany their personal taste? Where do you start?
By listening! First and foremost, it's so important to listen to what a client likes and dislikes. This can take time, so often a few meetings or discussions are needed, but it's critical to the success of the project.
Budget is also key, and we work really hard to ensure that costs are adhered to and that our clients never feel they are being pushed to use a product that isn't to their own taste.
Where do you find your inspiration for design and fabric and texture? Especially as you are currently renovating your own home?
Magazines, trade shows and, of course, jolly old Instagram. I'm also constantly inspired by my client's homes. I love working on every type of property, from Grade 2 listed barns to new builds, as each one is unique and has its quirks. I'm also conscious that every building we visit is already a home, and it's a real privilege to be asked to add a touch of Willow and Bert magic to make these spaces extra special.
With my own home – it's A LOT harder and I feel wracked by indecision. It's as if I know too much in terms of what's available fabric-wise, colour, wallpaper and so on. I struggle to make a decision. From talking to my peers, I gather it's not unusual for designers to feel like this in their own home, phew!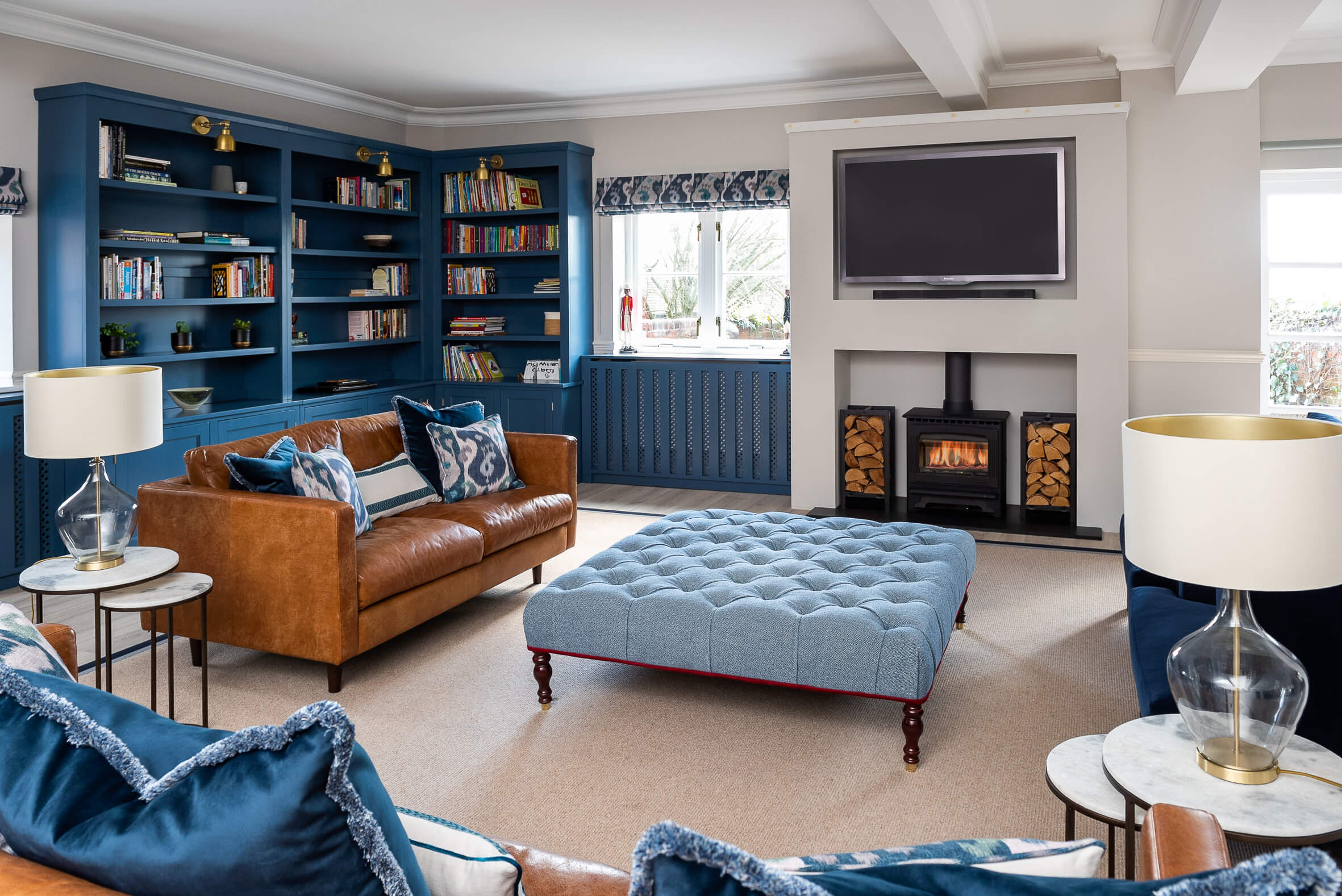 If a student wanted to enter your field of work, what advice would you give them?
Don't be afraid to ask questions of anyone who you feel you can learn from. Read as much as you can, listen to podcasts on the industry and get to the trade shows if possible. I'd also suggest work experience and offering yourself up freely – even if it's just for a few days. You will learn so much when out and about with a designer or even in their workspace helping to tidy the sample drawers.
What exciting projects have you worked on recently or are working on at the moment?
Your sitting room was a cracker of a project – we started with a very plain room in grey and white. The room has a lot of natural light, but it felt quite flat to me. It's now been transformed with the addition of dark wallpaper, bespoke painted cabinetry, new furniture in rich contrasting colours and a really eye-catching footstool that draws you into the room. I love this space now. It feels exciting to be in, it's cosy, and despite the strong colours, there is a softness to it that's been created through the use of textured fabrics and accessories.
What is the most unusual request you have had from a client or could you give us an example where a client has opted for a really bold design?
Quite often the starting point for a design is a painting, a new piece of furniture or a scrap of fabric our client has fallen in love with.  Last year though, we worked on a lovely project that had a slight twist. Our clients had moved into a new home and, instead of wanting to redecorate their rooms to fit the furniture they had brought with them, they asked us to help them choose new furniture and reupholster the old, in order to fit the colour scheme and silk curtains they had inherited.
We helped them choose a new sofa and then re-upholstered some of their old furniture to tie in with the new design. It's amazing how a change of fabric, texture or colour can breathe new life into old pieces and with a few new accessories thrown into the mix, the room now has a fresh new scheme.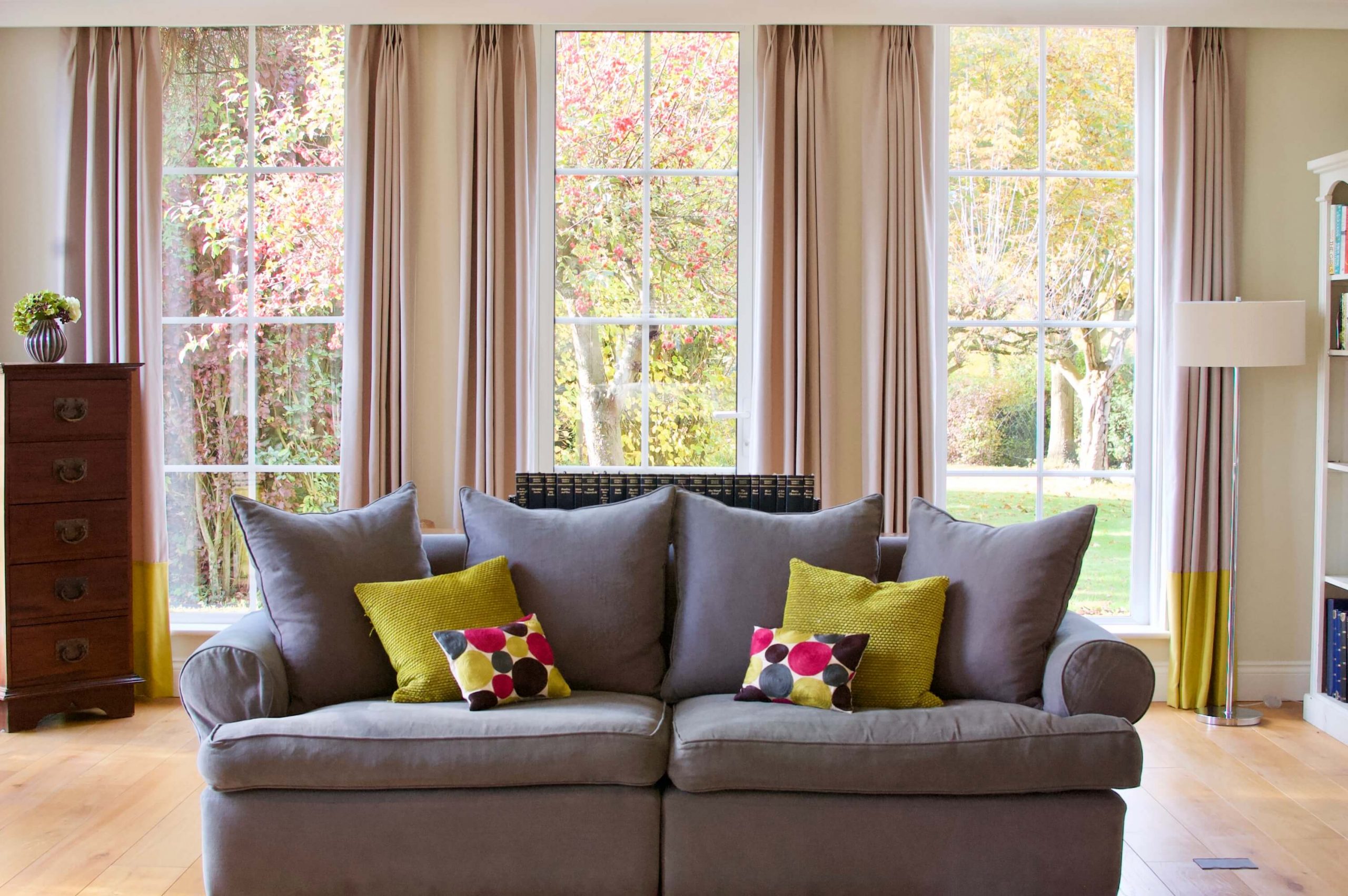 What is your favourite project to date and why?
This is a tricky one. I have genuinely enjoyed all the projects I've worked on. A big family sitting room that we did over the course of lockdown in 2020 stands out though. The room has three doors, five windows (all at differing heights) and a metal pole in the middle of it (structural rather than decorative!). The room had no focal point and was very disparate in terms of colour, furniture and style. We worked with the owners to install a fireplace, build a huge wall of bespoke painted cabinetry, added new flooring and then looked at paint and soft furnishings. Due to the scale of the room, its over 70 square feet, we were able to go with bold patterns and fabrics.
The project unfolded slowly due to COVID but it was a joy to see it come together. The finished scheme ticks all my client's design and practicality boxes and its created a wonderfully cohesive space in which the family can enjoy being together.
And finally, what is the best advice you've ever been given?
Two bits I'd say:
Don't be afraid to throw your hat in the ring. I took a massive gamble (well, it felt like it), reaching out to a few folks on Instagram, people I REALLY admired. It paid off, and I've been able to work with two of the biggest names in interior design: TV presenter and interiors expert Sophie Robinson and Kate Watson-Smyth of 'Mad About The House'.
And switch off your computer! Be really strict with when you want to finish and start your day. I say this because I'm really not like this, and I wish I were.
I hope you enjoyed this interview. Click here to find out more.