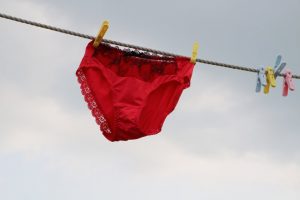 Guilty Mothers – it's official. After decades of discomfort, women have finally cracked. Thongs are out and big pants are back. This is exciting news. No more chafing and I'm so pleased to be a middle aged woman who is bang 'on trend'. It's been a whole year since I wrote one of my favourite blogs entitled 'Parachute Pants', so I thought I would expand (excuse the pun) on that subject once again. Why call them parachute pants? Well, the ones I have been wearing lately are so huge that sometimes I think, if I was in a fire on a second floor of a burning building, I could remove them and use them to parachute myself to safety. See. Parachute pants are not only comfortable; they are smart too. Smarty Pants!
Women right across the country have been buying fewer thongs in favour of more comfortable briefs. The rising waistline has become a fashion statement will full-bottom pants seen on numerous designer catwalks and on celebrities including Beyonce, Daisy Lowe, Taylor Swift, Kate Upton and Rihanna. Over the last twelve months, according to M&S, sales of the G-string are hanging by a thread, accounting for fewer than one in 10 pairs of knickers sold (and they shift upwards of 60 million pairs a year).
After I had my children, I'm not sure what happened, but I have unconsciously migrated from tiny pants to big pants. I tried some full on, high briefs when I came out of hospital clutching my newborn baby and in truth, I never really parted from them. Comfort become king. In fact, the briefs have just become larger and larger. So much so, that I could almost tuck my kids into them when I went out.
Big briefs became the ideal way to feel better about myself, as I tucked in any body parts I wanted to hide. Most of us Guilty Mothers never feel like our bodies exactly 'snapped back' into shape after childbirth. One of my current quotes when meeting people is "yes. I've just had a baby". "Oh how lovely. How old is your child?" they enquire as I gently rub my tummy. "yes…. he's five". Awkward.
Maybe big pants is more of a midlife thing? Who noticed actress Emily Watson, 50, taking off a pair of big black Bridget Jones-style pants while having an affair in the steamy BBC1 drama, Apple Tree Yard. I clocked it straight away and was so pleased they wrote it into the script. Genius. And, ultimately, it didn't seem to stop her getting any action. Well, it almost did after she ended up in the Old Bailey.
In my 20's, for years, I would never dream of wearing big pants like these. Opting instead for a piece of string cutting into me like dental floss. Walking through town I would feel my backside jiggle from side to side as a I walk along the street. The jiggling felt good and I felt confident. I spent a lot of time back then worrying that if I got knocked down by a car, the most important thing was that I had decent underwear on. Yes, decent. Black, lacy. Just nice underwear in case the doctor was like Patrick Dempsey from Greys Anatomy. I thought about that…alot.
But now, at the tender age of 39, I feel like I don't care. Does my husband care how much I am attached to my parachute pants? I'm not sure, but he prefers if I take them off. He'll be lucky. I've got loads of TV to catch up on. I'll still working my way through the last few episodes of Apple Tree Yard.
May the love affair with big pants reign on.