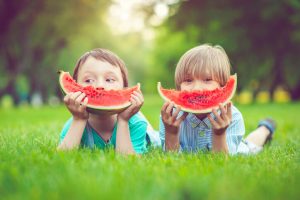 It's fair to say that growing kids often get hungry between meals. Especially when they are tearing around the garden as superheroes.
Sometimes it can feel like a real challenge to find healthy snacks to power our little ones through the day. And although in the past I would offer up a piece of fruit or a packet of crisps, carrying a bag of apples around would often weigh down my rucksack!
So are we Brits eating enough fruit? It's recommended that children – like adults – eat at least five portions of fruit and vegetables every day. But research shows that on average children in England eat only about three portions, with many eating fewer.
In a recent survey carried out for Newsround, around half of all children in the UK aged between seven and 12 do not eat fruit or vegetables every day. Fewer than half of the youngsters interviewed had a daily home cooked meal, while a third admit that they eat unhealthy food more than three times a week. Eating fruit and vegetables every day helps children and teenagers grow and develop, boosts their vitality and can reduce the risk of many chronic diseases – such as heart disease, high blood pressure, some forms of cancer and being overweight or obese.
We all know we can benefit from eating more fruit and veg as the media continue to remind us of this on a daily basis. But sometimes eating more fruit and veg every day can feel like a struggle. Research shows that we're more likely to do so if they're available and ready to eat. So how can we help the kids eat more fruit?…
Time to get googly!
Creating a fun approach to healthy snacks, like Googly Fruit is a great way to offer kids fruit in a creative way. Googly Fruit snacks are made from 100% organic fruit and veg, and you won't find any additives in their products.
Snack time is an ideal opportunity to sneak in some extra nutrients into your child's diet. And with the name, Googly Fruit, it's fun with easy to tear packaging!
Guilty Mother and her tribe have been testing the new range from Googly Fruit and we've been impressed. These snacks are ideal to give the kids the energy they need to keep them moving and are even more fun to eat. And those googly eyes? So fun. I mean, what's not to like?
So it's a big thumbs up from us. The snacks are not only healthy but really delicious with my daughter asking "can I have another strawberry one please mum?"
Where to Buy?
Googly Fruit is now available to buy on Ocado.
https://www.ocado.com/webshop/category/Googly-Fruit/20000-176161