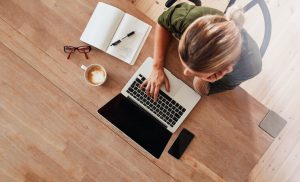 It will come as no surprise that many of us strive for a better work-life balance. In fact, if you are returning to work after having a baby, it can feel like a daunting time. Not only can it affect your confidence, as you'll be feeling like you've been out of the loop for a while, you might also be worried about how to make work – work. You are not alone. Even a few months out of the workplace can leave you fearing that all your skills and experience have deserted you.
On a positive note, having a baby can make us feel superhuman. I believe being a mother has helped me to be more organised, more efficient and trivial things now seem like water off a ducks back. There is an overwhelming amount of female talent out there. I've co-owned a business for over twenty years and we have seen a huge shift in how our employees can work. We are open minded, we are modern. We use technology to make us more productive. In this article, as a mother of two young children, I am sharing my business and personal advice to help more mothers to get back to the workplace, on terms that can work for their family.
According to an annual survey conducted by workingmums.co.uk, the lack of flexible working options, along with childcare costs can prevent mothers from returning to work. A recent survey showed 18% of mums had been forced to leave their work where flexible working was not allowed. But change is happening. According to new analysis published by the TUC, the number of employees who usually work from home has increased by 152,000 last year. Furthermore, the number of women working from home has increased by 10.5% (64,000) over the past year.
On 18th May 2017, I attended a Mamas Meet Up event, hosted by Mums the Word Online. We shared real stories and experiences of how women can get back to work in a way that works for them. Laura and Natalie organised a great panel of speakers. On the panel was Clemmie Telford, a Freelance Creative Strategist at Facebook & Instagram. She writes a successful blog Mother of all Lists. In addition, Gill Munro was in attendance from Digital Mums, who are leading the way with their #WorkThatWorks campaign. Digital Mums offer training and support to enable mums to achieve their perfect work/life balance. Work is increasingly becoming something we do, not somewhere we go. Digital Mums is a great example of how home working can work. In fact, as a team of 30, only a handful have ever travelled to their HQ, only ever needing to communicate via a messaging app and video conferencing.
As I shared with the audience at the Mamas Meet Up, it is not only employees who can benefit from flexible working, organisations can benefit too. Flexible working can increase productivity and enhance employee engagement and loyalty. Some of my team believe they get more done at home than they would if they were sitting in the office, as they don't have the distractions. Flexible working can help retain experienced and skilled staff, particularly our fantastic female talent.
So if you are thinking to returning to work and worried about how to get started, here are my 3 Top Tips for getting Flexible Working: –
1. Be A Flamingo Amongst a Flock of Pigeons
Dig out that old CV. If you're looking to get back into work after having a career break (whether long or short), ensure your CV is glowing with all your best attributes, skills and experience. Don't undersell yourself! Victoria McLean at CityCV can help you re-write your CV to best show your skills, experience and achievements. Enabling you to position yourself to stand out from the competition and help you command the financial value you are worth.
Update your LinkedIn profile and add three or four testimonials from ex-colleagues or clients who always valued what you did in the workplace.
2. Make Sure Flexibility Works Both Ways
Whilst employers have the right to reject a flexible working proposal if they have a good business reason for doing so, employees should explain how technology makes it increasingly easier to work flexibly. Therefore, you are building a valid case of why it makes more sense for more modern thinking businesses to offer it.
Be brave and ask for the flexibility that you need and make sure that it works both ways. Be prepared to give something back to your employer when you can, and make sure you make a good business case for working flexibly. Explain why working more from home, could help you in your role to complete project X, or help you to engage better relationships with your customers. Perhaps you could agree a trial to see if flexible working is successful? The key here is to keep your employer updated with your progress of working differently, such as sending daily round up emails or having a short conference call on what items you have managed to achieve.
3. Finding Work that Works
If you wishing to start a new career on a two, three or four day a week cycle, talk to a recruitment company that specialises in this area. Andrea Starbuck at Ten2Two can help you find high-quality flexible working or part-time professional roles with local businesses. So you can continue your career, whilst balancing it alongside other commitments such as caring for a family. Once again, ensure you scrub up your CV and LinkedIn profile before contacting Ten2Two, so you don't undersell your amazing experience you can offer!
What's Next?
I will be hosting a series of webinars offering help and support on a range of subjects on work and parenting topics, so follow the Guilty Mother Facebook page to keep updated – https://www.facebook.com/guiltymother/