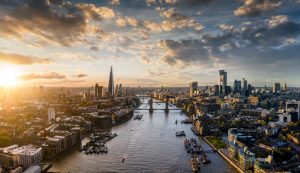 Recent terror events in Manchester and London remind us all how precious life can be. How someone or something so evil can take away someone we love in a heartbeat. I hadn't felt compelled to write this before, but after they had attacked 'my patch', I wanted to get my thoughts down on paper. I walk over London Bridge a few times a week. I have always felt safe. I love to walk over the Bridge. I never get bored of glancing over to see St Pauls Cathedral on the left hand side. London is regarded as one of the safest cities in the world and now, more so than ever, we are at critical threat levels. Messages spread across the world with the statement 'We are not afraid'. However, it's at this moment, I want to put my hand up and say "errrr….sorry to interrupt. I am actually afraid".
As parents, we regularly tell our children that things are 'OK', that we often have to act brave and show them how and why this should try something new and that they shouldn't be afraid. We teach them, guide them, to help them to grow up to be brave. For the first time in a long time, all of a sudden, I don't feel brave. And perhaps there is some solidarity that comes from saying "I'm scared too".
I have purposely avoided going into London for the last week or so. In my heart I know that is wrong. I need to be stronger, defiant and walk across that bridge with my head held high. But part of me feels afraid. For my meeting next week, I had considered getting the underground from London Bridge to Monument. It's one tube stop. The other option is to use a canoe as recommended a friend. Both these options would mean I wouldn't have to walk over the bridge and think about those who had been mowed down by the van. I know in my heart that if I do either of these, the terrorists will be winning. It's what they want. They want to create fear. So yes, before you say it, I know I am being silly. I must walk over the bridge.
Even though I am almost forty years old, I am still allowed to be afraid? Does it mean I am not going to travel anywhere? Of course not. Does it mean I am going to simply not go into London? Of course not. But, I have a sense of fear I didn't have before.
We have a tendency to define fear with weakness but it is really not that simple. Fear is intended to keep us safe. Fear can be a good thing. When our lives are threatened, physiology kicks in to protect us. We are hard wired for self-preservation.
So what about the amazing emergency services who ran towards the terror as so many ran in the other direction? What about the incredible individuals who came forwards to shield others from the attack and risked their own lives to save someone else. Someone else they didn't even know. These types of stories are awe-inspiring. It makes me want to cry. I don't know what I would do in that type of situation. Everyone tells you to just run. But what makes some amazing individuals stop and face the fear? It takes extraordinary courage. Just when you think the world has become a horrible place, you recognise strength, humility, kindness and courage. As a nation we should be incredibly proud.
It's hard to think too hard about what world my children's children will live in. I won't be alive much to witness it anyway. However, if my daughter tells me she's afraid, I'm come to the conclusion that I will tell her that I'm afraid too. And while we need to take care of each other and hug our children just that little bit tighter at the moment, we must not stay in our homes under lock and key. We may face our fears and carry on with our normal lives.
Borough Market is back open for business and one of the restaurants El Pastor appeared in yesterday's newspaper saying, "please come and eat here. We have lovely Tacos" along with a photograph of all their staff. And you know what? I might just have to summon some courage to go and do just that.
So on that note, perhaps, sometimes it is OK to be afraid. We are just human after all and at the end of the day, we all need tacos.
If you would like to make a donation to help victims of terror attacks in the United Kingdom, please follow this link.