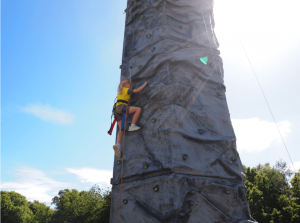 I was delighted when Girlguiding contacted me and asked if I would like to come along with my seven-year-old daughter (a Brownie) to 'Magic and Mayhem'. This is one of Girlguiding's biggest national events for girls between 5 and 10. A fun and adventurous festival in a safe and inclusive environment. I was a Brownie once but I never made it to camp, so perhaps I felt that now, I was re-visiting my youth and doing something I didn't get round to completing. I might be approaching forty years old, but hey, we were now just two Brownies off to guide camp!
Why Girlguiding?
Girlguiding is the leading charity for girls and young women in the UK. They empower nearly half a million girls to be their best and face the challenges of growing up, through adventure, friendship and fun for over 100 years.
Their mission is that whoever they are, wherever they're from, they will empower girls and young women to do amazing things. Girlguiding gives them the opportunity to try things new, to seek out adventure, to find their confidence. At 'Magic and Mayhem', I had the opportunity to witness this for myself.
Watch the Guilty Mother – Guide Camp video – https://youtu.be/CZHLYr4Unns
The mission statement was true. Watching little five-year-old girls staying at camp overnight, away from their parents. Finding their confidence, knowing they were safe and secure and on an adventure they would never forget.
The festival was a circus, science and magic themed event with multiple activities such as learning tricks, circus skills, climbing, dancing and science experiments. The festival took place in a large open field, dominated by a huge red big top. It was quite the centrepiece!
My daughter and I were very excited on the morning on the event. We loaded up the car with a few supplies, I donned my girl power t-shirt and we set off. When we arrived, although my daughter was excited she was anxious as we were turning up to an event without knowing anyone. I reassured her and told her not to worry. For what she didn't know, was that she was about to make a lot of new friends.
On arrival, we started to explore the different 'zones' circled around the big top. Near the fun zone, full of inflatables, I swiftly approached one of the leaders called Mel, who was with a group of Brownies. I mentioned that we were here to film the day and would it be OK if one of her Brownies could play with Erin. We immediately introduced Erin to a young Brownie called Florrie, who took her by the hand and off they went. I asked if we could shadow their group for the day and the three leaders, Mel, Leanne and Karen from 1st Lower Beeding and Nuthurst Brownie Unit very kindly took us under their wing.
We spent the day exploring all the different zones: –
Circus – see professionals demonstrate some mind-boggling circus skills, before getting to try them out and earning their Circus Performer badge.
Magic and making – get messy making, juggling balls and ribbon sticks, and learning magic tricks!
Fun – what it says on the tin – huge inflatables and lots more games!
Dancing – Dance routines so we can all let our inner star shine followed by an evening disco for more freestyling!
Physical – including tunneling, archery, purpose built climbing wall and bungee trampolining.
So what did we learn?
We learnt that Girlguiding reminds us never to undervalue the importance of kindness, friendship and the art of giving something a go – even if you feel a fraction afraid. As I watched many of the girls climb the rock face activity, many of them were fearful and wanted to come back down, but you could see their friends and leaders encouraging them to go to the top.
To come out of their comfort zone to find the confidence to push higher, hence the title of this blog post, raising confident girls – because that's exactly what we are doing. We're saying 'no' to anxiety and 'hello' to new experiences. The rock climbing was the perfect analogy I needed for this piece. We are all working hard to raise confident girls and Girlguiding can be the extra encouragement girls and young women need.
Building self-confidence is actually an act of effort. By feeling more confident in yourself, you will naturally reflect a positive impact on others and make them feel good. My parents encouraged me to be confident, to stand tall, to be kind and to work to my strengths. I am now trying hard to instill these messages in my own children. For my daughter who sometimes doubts herself, I wish for her to grow up to be confident, to not be afraid of putting her hand up and trying something new. Fundamentally, I want her to be a girl who believes in herself.
A girl who will grow into her strengths and know what makes her the person she is. A girl who doesn't try to be someone else but learns to love herself and her flaws. To recognize that it's impossible to be good at everything but to focus on things you are good at. Always wanting to nurture herself, to learn new things and have the confidence to learn something positive when we fail – because it's all part of our confidence journey.
Magic and Mayhem was everything we had hoped for. Erin struck up some lovely friendships and they all played beautifully together. She particularly became close to Chloe and Florrie who became a trio which were inseparable for the day. I had to literally peel Erin from the girls after the evening disco.
As we walked across the field back towards the main car park, it was clear she was sad to leave her new friends. I reminded her that sometimes it's best to leave on a high. To leave when you've had the best time. As we started to walk away, one of the girls turned and said "Oh, Erin's leaving. Look there's a grey cloud forming" and I replied "don't worry girls. When you have a raincloud, you often see a rainbow."
And on that note, we waved goodbye.
Watch the Guilty Mother – Guide Camp video – https://youtu.be/CZHLYr4Unns
For more information on Girlguiding, visit https://www.girlguiding.org.uk
The Girl Power t-shirt (as shown) is available from https://www.fequals.com/