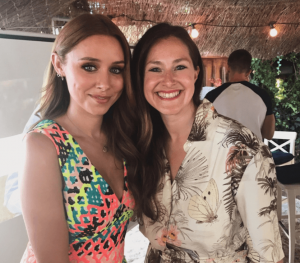 Oh my, this weather. Summer holidays are almost upon us and the last few weeks have been so incredibly warm, sometimes it has felt like it has really caught us off guard.
When we are home in the UK, sometimes we forget to apply sunscreen as much as we would if we were abroad, but UV levels are highest between the start of April and end of September in the UK, so we need to remember to pop the sunscreen and hats in your handbag! I wore a panama hat to the Hampton Court Flower Show earlier this week and it made a huge difference in how I felt as I wandered around the show all afternoon.
Today, I was invited to an event hosted by Cancer Research UK and NIVEA SUN with special guest, Una Healey to help parents teach their kids how to enjoy the sun safely.
I'm sure, many of us, as parents have stories of being sunburnt at some stage in our lives. My most memorable story was falling asleep under a sun lounger in my early twenties, in Greece, with my feet dangling out the bottom in the full afternoon sun. It's fair to say, my feet got very burnt! After a few weeks they did eventually turned brown, however, it looked like I was wearing brown socks for about a month. Not only was it painful, the aftermath of the brown socks made it a highly embarrassing experience. From what I can remember, sunburn can not only look painful, but it causes blisters on your skin which are incredibly uncomfortable. Plus there's more bad news, sunburn can also increase your chance of getting wrinkly when you get older. Quick – grab the anti-wrinkle cream!
Aside from my brown socks episode, being out in the glorious sunshine can be a brilliant opportunity for little ones to break away from the TV and get some much needed fresh air. But all that fun in the sun could put their health at risk if they aren't protected when the sun is strong. That's why Cancer Research UK and NIVEA SUN have teamed up with singer and mum-of-two, Una Healy, to share her experiences of staying in the sun and getting enough sun cream in wriggly children! And, how do we ensure we cover all those nooks and crannies so they don't get sunburnt? It's a constant worry but Nivea UK are here to help.
Just like singer/songwriter Una Healy, I too, have sensitive skin. I'm conscious, now more than ever, of how easily I can often burn in the sun. That means I've been more aware of my risk of skin cancer and the damage UV rays can cause. Una Healey commented "It's so important to help children enjoy the sun safely, by teaching them early on how to protect themselves when the sun is strong. I'd like to think I've instilled a good attitude in my kids and Aoife is very aware of putting on sunscreen, staying in the shade when the sun is strongest and she has a good selection of little hats now!"
Here are some interesting facts I found out today. Around 8 in 10 cases of melanoma could be prevented if we took better care in the sun and it causes 2,500 deaths every year in the UK – that's seven people every day. People who burn more easily are at higher risk so should take more care – so get you know yours and your family's skin and how it reacts in the sun. In addition, children lead by example, and when we spoke to parents, 74 per cent said they always make sure sunscreen of at least factor 15 is applied to their kids, yet only 38 per cent of UK adults with children in their household surveyed always applied it to themselves**. Give them something great to imitate and protect yourself too.
Another important point to remember (which I am guilty of!) is to check the expiry date of sunscreen. It's so tempting to dig out the remains of last years sunscreen but the experts at this event, recommend they should be replaced every year or so. Each bottle should have a symbol on the back saying how long you should use the product once the product is opened for e.g. 12 months. It should also be kept out of direct sunlight.
So by following the expert advice to cover up (t-shirt, hat or sunglasses), aim for shade (when the sun is hottest between 11a,m to 3pm in the UK) and rub on sunscreen generously (at least SPF15). Follow the expert advice and I hope, you will be in for a guilt free, burn free summer. Enjoy!
Find out more here: https://yougov.co.uk/news/2017/05/16/almost-quarter-brits-dont-use-sun-cream-summer/ 16 May 2017
Cancer Research UK and NIVEA SUN's partnership launched in July 2012, with the aim of raising millions for the charity's vital skin cancer research. The partnership offers simple advice to the public to make sure they can enjoy the summer while protecting their skin.
NIVEA SUN, the UK's number one suncare brand is the only suncare brand working in partnership with Cancer Research UK to raise awareness around enjoying the sun safely.