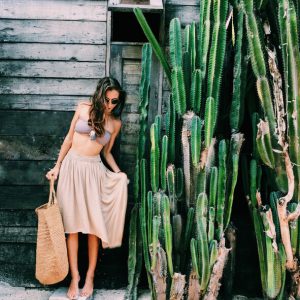 Everybody loves the beach. Remember going to the beach before you had kids? Yep, you just decided what bikini you were going to wear, picked up your towel and sunscreen, and left the house. Oh, so carefree. You might even spend some time pondering where might be nice to stop for leisurely lunch.
But now? With kids in tow, things take a little longer to organise! Between the packing, water, snacks, sun hats and swim/play/rest strategising, there is a degree of planning involved. How many towels should you bring? How will you handle sand-encrusted lunches—or kids? How are you going to get all this stuff from your car onto the beach? Do you have to drag a buggy and swear under your breath as you do so?
Take a deep breath mamas…Guilty Mother is here.
I can't solve all your beach dilemmas, but these are my top 5 family accessories so your beach adventure is shore to be a success.
Microfibre Beach Towels
Avoid packing heavy beach towels in your luggage or waste your money on buying cheap beach towels when you arrive that shred after one season. Invest in these microfibre towels from Duck and Bay. They roll up into a tiny space and the extra-large version means you can wrap two small children in one towel. Genius! And they come in a variety of mum stripes. Seriously, what's not to love.
Buy direct from http://www.dockandbayonline.com or Amazon.
2. Invest in a SwimFin for your little sharks!
If your child is learning to swim, I would recommend investing in a Swimfin. Our son absolutely loved his! It proved to be so much easier for him than using sticky armbands. An innovative design, it is great for boosting their confidence in the water and let's be honest, who wouldn't want to look like a shark in the water? So much fun! A brilliant teaching aid, flotation device and fun water toy all in one. SwimFin is worn on the back and expertly weighted to provide support when needed and encourages a natural swimming position. SwimFin has won many international awards and is endorsed by several swimming governing bodies. SwimFin works for all ages and abilities – ideally from 18 months upwards.
For more information visit www.simfin.co.uk and buy online here –https://www.amazon.co.uk/s/ref=nb_sb_noss_2?url=search-alias%3Daps&field-keywords=swimfin
3. Channel your Balearic Beach Vibes
Take everything in your stride with this chic straw bag with 100% brown leather shoulder straps. The canvas zip on this classic straw beach basket which means that you get the same timeless style but with added security. When it's not required the canvas zip top can be easily folded down along the inside of the basket meaning you get two bags for the price of one!
http://solamante.co.uk/waimea-summer-straw-basket-leather-handles-with-zip-top
Also check out Rae Feather for other similar, gorgeous Balearic styles! Ole!
http://www.raefeather.com/personalisation/personalisation-baskets

4. Little Explorers
The seashore is teeming with interesting creatures and when we go to the beach, our kids are keen to explore the rocks. However, as the rocks can be very slippery, we always take little swimming shoes to help them explore safely when searching for crabs! These handy beach shoes protect their feet from stones and have an anti-slip sole.
Check out some of these handy links: –
https://www.mountainwarehouse.com/swimwear-beachwear/aqua-shoes/kids/
http://www.speedo.com/uk/en/accessories/kids-footwear
http://www.jojomamanbebe.co.uk/childrens-swimming-shoes-b6993.html
Alternatively, if you fancy some retro jelly shoes, this website is a must! www.sunjellies.com
5. Rash Vests are Cool
Rash vests were originally invented in the Seventies to stop surfers chafing their skin on their surfboards, but have recently become a must-have on the beach for the whole family! It's not just for the kids. Rash vests are a great and popular way to protect your skin from the sun and keep you warm in the water. Off­ering sun protection with a UPF rating of 50+, rash vests are a super way to keep little ones cool and safe whatever the weather! Rash vests have become a must have travel accessory for us, especially for the children on days when they need to keep out the sun.
Find a wide range of kids rash vests (mostly unisex) here:
http://www.boden.co.uk/en-gb/boys-swimwear
https://www.johnlewis.com/browse/baby-child/boys-clothes-2+-yrs/boys-swim-beachwear/rash-vest/_/N-8jxZ1z0r7l4
And finally, as a cool mama, if you want to channel your inner Nicole Kidman or supermodel Elle Macpherson by following in their footsteps and wear a stylish rash vest, I spied some pretty ones on http://www.roxy-uk.co.uk/women-rash-vests/
I hope those tips are helpful. If that's not enough, I'm sure you'll pick up plenty of cheap souvenirs from the local supermarkets your kids will persuade you to buy.
I mean really, who doesn't need a poo emoji keyring in their lives? Exactly.