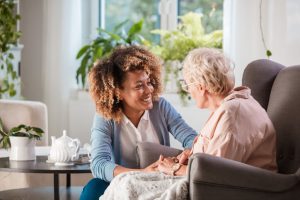 Heard of the Sandwich Generation? Many of us are busy looking after children, school runs, clubs. However, additionally, many of us also care for parents and elderly relatives too. Busy lives mean that committing proper time to care for either, particularly our elderly relatives can leave us wracked with 'guilt' as a result.
Our population is ageing rapidly, and this is now the single most significant driver for changing health and care needs in our society. Between 2005/06 and 2015/16 the total number of people aged 65 or over in England increased by close to 21 per cent, representing nearly 1.7 million extra people. Moreover, the greatest growth in percentage terms has been amongst those aged 85 and over – this age group increased by 31.3 per cent (or more than 300,000 people) over the period.
I've partnered with famil.care as I was impressed by how this technology is helping make life just a little bit easier for us parents. Amongst other features it is designed to automatically alert you via message if a loved one has fallen over, connecting you to your relative via microphone it enables you to send voice messages reminding to take tablets and if your loved one isn't answering the phone, and you are worried, the microphone is activated and you can speak directly to them. As a woman in tech, I hope innovation from companies such as famil.care helps to look after the ones you love the most. famil.Care could be just the start of how to give more support to those who need it most.
What is famil.Care
A technology platform that enables families to help care for and look out for each other, wherever they are in the world. You can manage your senior and junior family members both in everyday life and in case of emergency – giving them more independence and freedom while granting you peace of mind.
It works on a monthly subscription basis and you can tailor your product by choosing the service, the quantity and the duration to suit your needs.
famil.care Key Features
Helps carers and their elderly relatives to feel more connected and in touch with each other, no matter where they are in the world.
1. In case of an emergency (e.g. a fall) with your elderly relative, famil.Care automatically alerts you via a message, shares the GPS location and connects you to your relative via microphone for instant contact
Research showed that being automatically alerted in case of a fall (53%) and emergency button alert (57%) were most appealing features of famil.care; followed by being able to know where a loved one is at any time (47%)
Two most common fears amongst the elderly are a sudden fall (77%) or sudden illness (66%)
2. Allows you to send personal voice reminders of appointments/ taking medicine/ phone battery running low
3. Helping your elderly relatives to use & manage their smartphone if they are not used to it – famil.care simplifies their interface, allows you to update their address book, manage their diary etc.
4. Loud speaker/ microphone – if you call your mum & she doesn't answer; it automatically connects you through to her phone on loudspeakers
With famil.care Senior you can support your loved ones both in everyday life and in case of emergency. famil.care Junior is also available to help you look after the younger members of the family too – so you can feel less guilt knowing that you are a click away from the ones you love.
Please take a look at their website to find out more www.famil.care/gb-en/