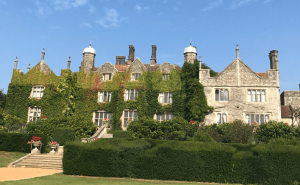 As a lover of technology, I am particularly bad at switching off. In fact, shutting down my brain which is like an excel spreadsheet with twenty tabs open is how I feel most days. There just seems to be a constant list of 'things' to do which can feel utterly exhausting. When life takes over, sometimes we forget what it feels like to – just be. So when I was asked to come and stay overnight at Eastwell Manor with my husband to enjoy the Champneys spa, who was I to say no? This was the perfect excuse I needed to put myself in a situation where I could take a breather.
When it comes to 'me time' I am conscious that although time for myself is important, so is taking time for my relationships – my marriage. It is not something I should take for granted. If relationships take time, effort and commitment, then I was firmly putting Champneys in the diary. Quality time together as a couple can be pretty hard when you have young children. I was recently talking to a few friends on how our social lives seem to have taken a massive downturn. Even if we do get asked out, we often politely refuse as we feel too exhausted to bother to get changed to go out.
So, I ask you, when was the last time you had a night away with your loved one and felt you could totally relax? Finding and cherishing moments like this is tricky, but I had family on hand to have the kids overnight and we swiftly escaped to the beautiful Kent countryside.
Eastwell Manor has now been acquired by Champneys – the UK's original health spa. On arrival, the venue itself is absolutely stunning.
HELLO RELAXATION.
Eastwell manor is an historic Neo-Elizabethan manor house set in sprawling grounds. The inside was beautiful too. Some areas of the hotel were in the middle of an upgrade, so I will look forward to coming again to see the improvements. You can find out more about this upgrade on their website.
We arrived in the afternoon, so after dropping our bags in one of the generously sized, king-size bedrooms, we grabbed our robes and had a leisurely five-minute walk down to the Champneys spa. I haven't been to Eastwell Manor for around ten years, so I was keen to see how much had changed. I was pleasantly surprised. It had changed – a lot. The spa was modern with beautiful interiors to inspire. I came away feeling like I had a duty to introduce the colour teal somewhere around my own house but I have no idea where! It was a wonderfully calm space. We enjoyed a lovely two course lunch and a glass of wine (I probably should have had a smoothie!). Because it's a health spa, the menu was healthy, with fish, chicken and salads which was all delicious. The food was like something served in a London restaurant with all the advantages of being surrounded by outstanding natural beauty in the heart of Kent.
Once lunch had gone down a bit, we slipped into our robes and flip-flops to head upstairs to the main treatment reception. We were warmly welcomed and were swiftly taken to our treatment rooms. It all seemed very organised. My husband and I both chose for a 55-minute full body massage. It was bliss.
After our massages, we were feeling very relaxed. After a five-minute rest and a glass of water, we headed into the main pool area which was surrounded by daybeds if you fancied a snooze or just read a magazine. No mobile phones in sight. After a few lengths in the pool to wake myself up from my treatment, I laid on the daybed and read a magazine while my husband closed his eyes.
We were fortunate to come on a weekend when the weather was beautiful and sunny, so I should mention that Eastwell Manor has an outdoor pool aswell as the indoor pool down at Champneys, so we could use both.
The Champneys spa complex has everything you would hope for including a sauna, steam and Jacuzzi and gym (we used everything to maximize our stay!). The gym was one of the best I have been in for a long time and all the equipment was brand new.
After a thoroughly relaxing day we headed back to the room and got changed for drinks and dinner. By midnight, we were ready for bed. We were up early for the gym at 7:30am, followed by a healthy breakfast and then sadly, it was time to leave.
So, in summary, did I relax? Hell yes. Did I turn off my phone? Yes, other than using it to take the photographs and footage to accompany this article. If you need to recharge your relationship or just have some 'us' time, this was everything I hoped it would be. We reconnected and both felt revitalised.
The perfect weekend. We will definitely be back.
Spa Day Packages (9am to 6pm) start from £99 which includes refreshments, nutritious lunch, full access to the spa facilities and a £40 credit towards spa treatments. If you're the kind of person who can happily stay there for the whole day, it's pretty decent value.
For more information, visit www.eastwellmanor.co.uk