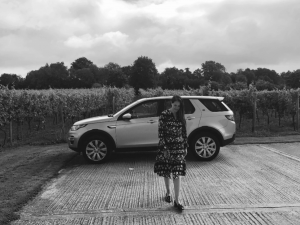 We are big fans of Land Rover in the Guilty Mother household, so when Land Rover asked us to test the new Discovery Sport, we were happy to do so. As a current Discovery driver, I wasn't sure what to expect, other than it seeming like a 'baby' discovery. And, whilst it shares its name with the Land Rover Discovery, it's definitely a different car with a different ride. In fact, the platform feels more like a Range Rover Evoque.
For such a compact SUV, I was fascinated to see if Land Rover could really pack seven seats into this car, which seemed much smaller than my big Discovery. Fortunately, we got to test drive one of their top of the range versions, the HSE Luxury.
The Discovery Sport is a rival to luxurious compact SUVs such as the BMW X3, Porsche Macan, Mercedes GLC and Audi Q5, as well as the Land Rover's sister model, the Jaguar F-Pace. However, none of these rivals offer seven seats, so the Disco Sport has a unique selling point when compared to all of these cars. So how would it compare?
When I received the car, first impressions were good. Quite simply, it's lovely inside; smart, airy and feels more like a Range Rover than the old Freelander. The new touch screen infotainment system was clear and easy to use. An improvement from the current screen in my current Discovery.
Sitting inside the Land Rover Discovery Sport, the seven-seat compact SUV felt extremely spacious and I was fascinated how they manage to pack in seven seats! Styling wise, the almost full panoramic sunroof is stunning and probably my favourite feature of the car. Additional features include a reversing camera and keyless entry to name a few.
There are two engine choices for UK buyers, both of which are based on the 2.0 TD4 Ingenium diesel that also features in the Jaguar XE. The 148bhp TD4 is as close as you'll get to an efficient 'eco' version of the Discovery Sport. All cars come with four-wheel drive and Land Rover's simplified Terrain Response system, which allows you to tailor the 4WD system to suit different off-road situations.
The second engine is the 178bhp TD4. Cars with this engine all have seven seats as standard, and it too comes with a six-speed gearbox, although there is the option to add Land Rover's nine-speed auto. Whichever box you choose, claimed economy is 53.3mpg.
Thanks to the adoption of a compact multi-link rear suspension set-up, engineers have managed to create space at the rear for third row seats. Admittedly, the two rearmost chairs that fold out of the boot are a little cramped for adults, but they're an undeniably useful addition if you were taking out additional kids for the day!
Overall, the Land Rover Discovery Sport is a good choice and for a family car, you can't help but be impressed by just how much is packed into this SUV. To put this into perspective, the seven seater Discovery Sport is shorter than the Audi Q5, which demonstrates just how clever this car really is.
Right, I'm off to go and find some extra children to pop in the back seats, although the dog may have to stay at home!
Brought to you in partnership with Jaguar Land Rover. For more information, visit www.landrover.co.uk