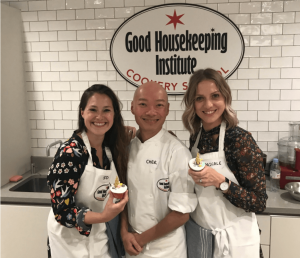 I enjoying cooking at home. I wouldn't say however, that I am terribly good at it, but I am one of those people that can just throw something together and most of the time, it comes out pretty well…and edible! Or so my mother in law tells me anyway. I like to think I would have done very well on Ready, Steady, Cook with Ainsley Harriott.
However, baking or cake decorating is another matter. I am unsure I have the patience or the skill for cake baking. Fortunately, I have a few friends who are amazingly good at it, which often means, I don't have to make the cakes. They do it for me and I'll simply take all the credit (not really) …I would feel too guilty!
I was recently invited for an evening with Good Housekeeping Institute Cookery School, so I wanted to share my experience with my readers. Good Housekeeping has such a fantastic reputation and is, without question, a brand name that has stood the test of time. In fact, it's hard to believe that Good Housekeeping has been published in the UK since 1922. The Institute opened in 1924, shortly followed by the publication of the first illustrated Good Housekeeping cookery books, cementing Good Housekeeping as a trusted household name.
I was invited alongside a selected few other bloggers to their cookery school in central London, for an evening of cake decorating. When I found out we were decorating cakes with unicorns, I thought that I was definitely going to make a right fool of myself. Simply because, I am quite poor at cake decorating. However, I had to remind myself that, if you are not very good at something, there is only one way to get better – and that it to learn. To help me learn these new skills, I brought along my fellow blogging friend, Pascale Banks, also known as Style Mum. She was equally up for the challenge! Thank goodness, I thought; we could make fools of ourselves together.
On arrival, we were warmly welcomed by the cookery school team who were handing out pink cava – always a good start! Not only that, but to ensure the evening would be entertaining and enjoyable, we found ourselves cake decorating with the fantastically amusing Helen and Ellie, also known as the Scummy Mummies. I can't begin to tell you the number of innuendo's that were flying around the room that evening whilst making the unicorn horns. I thought I may need a tena lady. A very funny evening all round!
When I wasn't being distracted by the hilarious scummy mummies (I am easily distracted), the cake decorating was coming on very well. In fact, much better than I had even thought. I was genuinely quite shocked at my own skills! This was mostly down to the patience, guidance and helpfulness of head tutor, Cher Loh, who was an absolute joy to be around. I couldn't think of a nicer bunch of people to spend an evening of cake decorating and pink cava.
I was extremely impressed with myself. My unicorn cakes looked pretty much as they were supposed to. Hurrah! I felt like a fifteen year old back in home economics class. It felt good. I even managed to carefully bring all my cakes back home on the train in one piece. The children were very impressed and I felt very proud of my creations. Well done Guilty Mother! My husband took a little more convincing that I had actually made these. Cheeky.
So, whether you're a kitchen novice keen to learn the basics (like me!) or an experienced home cook who'd like to extend your skills, the Good Housekeeping Institute Cookery School have a course for you.
Guilty Mother is offering 20% off half and full day cookery courses at the GH Cookery School which you can use by entering the code UNICORN20 when you book online (www.goodhousekeeping.co.uk/institute/cookery-school). The 20% off promotion is valid until 31st January 2018. So go for it.
Ready, steady…. bake!
Don't forget to follow me on Instagram www.instagram.com/guiltymother
Or, for inspirational, everyday styling, follow www.instagram.com/style_mum
For parenting hilarities, follow www.instagram.com/scummymummies