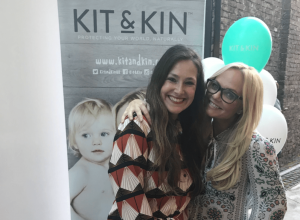 It was my absolute pleasure to be invited along to an exclusive bloggers lunch in London on 22nd September 2017.
Emma Bunton, singer, TV, radio presenter and UNICEF ambassador needs no introduction. As a Spice Girl, they were the ones who pretty much invented Girl Power! My only regret on the day was forgetting to wear my favourite Girl Power t-shirt from www.fequals.com. Hopefully, we may meet again, so I will remember to wear it next time!
I went along to meet Emma Bunton and her business partner, Christopher Money to find out more their eco friendly children's products company, Kit & Kin. Christopher Money, Director of Product Development who brings over 15 years' experience of developing mother and baby products for some of the world's leading brands.
Both Emma's and Chris's children respectively suffered with eczema and they wanted to create a family brand that was gentle on the skin and eco-friendly. They have a gorgeous woodland theme of nappies, wipes and skincare which is truly delightful. When I spent some time chatting to Chris about my son's eczema, he was convinced his products would help and that I wouldn't need to use doublebase cream anymore. I can't wait to try it out!
Award winning, Kit & Kin only use natural, nourishing, eco-friendly ingredients and sustainable materials to offer families a range of safe and effective everyday products via our convenient and hassle-free monthly bundles. All their products are clinically and dermatologically tested to ensure they're mild and kind to use on your skin.
Kit & Kin not only want to be known as the brand that cares for your child's skin, they also want to be known as the brand which is making a difference in the world. Conventional nappies are one of the largest contributors to landfill in the world. In the UK alone we throw away 8 million nappies every day! The majority of their Kit & Kin nappies, including packaging, will biodegrade within only 3 to 6 years. Compare this to conventional nappies that can take up to 500 years to biodegrade. Therefore, Kit & Kin is a sure winner when it comes to the environment.
I interviewed Emma and asked her a few questions and here's what she had to say.
Do you ever feel mum guilt?
Of course! All the time! Getting up very early for the Heart FM breakfast radio show means I am up and out before anyone else in the house. Although I love doing the radio show, of course I feel mum guilt leaving the house whilst the kids are still sleeping. Although, their dad is amazing at getting the kids up, organised and ready for school. I will then FaceTime them before they leave for school and have a quick chat to them about the day ahead, so I don't feel too guilty! I don't think mum guilt ever really goes away. We all just get a little better at managing it.
What was the idea that sparked Kit & Kin to be created?
My son has struggled with eczema and I was frustrated that there wasn't a trusted go-to brand that wasn't full of chemicals. This seeded the initial idea in my head, and inspired by my work with Unicef I wanted to do something about it. This friend also knew that Chris, my co-founder wanted to develop an eco-friendly family brand. With his experience in the industry and entrepreneurial background, coupled with my passion– it was and is the perfect match! The environmental impact was very important, I knew the brand I wanted to develop was one that I could not only feel really passionate about and also importantly, one that was committed to its customers and responsible in its offering. When I learned how many nappies we throw away a year, around 8 million, I was shocked and knew I wanted to do something about it.
Do you have a good formula for juggling work and your family life?
I think many of us are juggling and it's hard to find the perfect work life balance, but I hope, I've got it as balanced as I can! My work is part to me but quality time with my family is the important thing for me. Weekends become really valuable to ensure we spend time with family and give ourselves the time to recharge for the week ahead. But no matter what, my boys will always come first.
What are your aspirations for Kit & Kin?
We are so delighted with the success we have had so far and seeing our brand now available on Ocado is amazing. Of course, we have ambitions to expand the business and we'll continue to do that when the time is right.
In summary, the Kit & Kin brand is doing something different. If my children were babies again, I would definitely use their nappies and wipes as my children have sensitive skin. Talking of skincare, the products smell and look lovely. I've started using the baby oil to massage onto my children's backs before bedtime to help them relax. The baby oil is perfect as it is approved by dermatologists and is without any harsh chemicals or synthetic fragrances. I am pleased to report back that the oil is working and they have been sleeping like a baby (baby Spice – get it)?
Emma Bunton was an absolute pleasure to talk to and as you might expect, it was just like chatting to an old friend. Beautiful, charming, kind and passionate about her business. Congratulations to Emma and Chris on their success so far and I can't wait to see what comes next….
Girl Power indeed. For more information, visit www.kitandkin.com