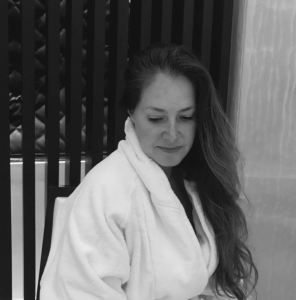 Amongst the hustle and bustle of London lies a beautiful, tranquil hotel full of charm and elegance. It is the five-star, Corinthia Hotel. They very kindly invited me to come and review their spa facilities. I mean, really, who was I to ignore such a thoughtful request? I jumped at the chance and it was added to the diary in a heartbeat.
It is fair to say that many of us love a spa day. Even the very thought of it can make us feel more relaxed. I was trying to think of a good excuse of why I should take a day out the office, but the reality was, I shouldn't need an excuse, nor should I feel guilty about it. Managing our own wellbeing is crucial and in an accelerating world, we are constantly being urged to slow down. But it often feels so hard to slow down, doesn't it? There is always another item to add to the never ending to-do list.
How are we supposed to manage making time for our own wellbeing? In fact, I recognize now, more than ever, that my health and wellbeing is crucial for the health and wellbeing of my children. So, with the date fixed in the diary, I invited my sister in law to enjoy the day in London with me. The Corinthia Hotel, home to the capital's largest urban spa, Espa Life at Corinthia, is located on Whitehall Place, a few minutes' walk from Embankment Tube station.
When I mentioned to a friend I was heading to the Corinthia hotel to use their spa, she promised me that it wouldn't disappoint, and she was right. It is a next generation spa with an aim to combine an integrated, holistic wellness approach with a luxury experience. Founded in 1993, UK company Espa now has 450 spas in 50 countries. The one at the Corinthia is the group's flagship Espa Life facility. I like to think of myself as a fairly well travelled soul, but this was the most incredible spa I have ever experienced. And it was just that – an experience like no other.
On arrival, we made our way to the women's changing rooms and on went our plush robes and slippers (yes, slippers – not flip flops). The changing room had beautiful marble floors, cream leather chairs and was immaculately clean. I was impressed by how everything was laid out for guests in the women's changing facilities, from Espa products, combs, hair straighteners and more. They really had thought of everything.
The spa offers a range of treatments and therapies, which also extends to a selection of mindfulness therapies. These range from a massage and facial to breathing and meditation, sleep and fitness sessions. I opted for a 90-minute personalised massage which included hot stones. Yes, you heard that right, 90 minutes. It was heaven. I did fall asleep near the end as I was so blissfully relaxed. When I woke up I just hoped I hadn't been dribbling. Next time I come, I would definitely like to try one of their mindfulness therapies, so I will review back on that next time.
Before and after our treatments, we were able to enjoy the spa facilities, which are housed across four floors of the hotel. Covering a total of 3,300 sqm, this is a wonderfully luxurious wellness space, including a modern gym area and every facility you could hope to find in a spa. Outside the changing area was a room of "sleep pods" – taking spa relaxation to a new level. The individual pods are full of cushions and blankets where you can take a nap after a treatment.
However, the stand-out floor is the thermal suite on the bottom level. It truly has the wow factor and no photographs can do it justice. If you can, you have to see it for yourself. The interior styling and architecture of this space is outstanding. The steel-lined swimming pool, the vitality pool with massage jets; a mosaic steam room; the ice fountain, relaxation areas and heated loungers. However, the most stunning area is the large glass surrounded sauna offering 360-degree views overlooking the soothing fire feature. It felt like I have been transported back to the Austrian alps after a hard day on the slopes.
Overall, the spa was a tranquil space to relax and enjoy some quality time with my sister in law. We also managed to squeeze in lunch in the spa restaurant, which was delicious. A glass of champagne also made our day feel equally special.
I can honestly say that I had walked into the Corinthia with a tension headache which had been ongoing for four days and I left with no headache and in a happier, calmer mood.
So, if you're still thinking you are far too busy to book a spa day, scrub something out of the calendar, call a friend, or take a loved one – add a spa day to the diary. Yes, you'll be adding something else to your 'to-do' list, but at least it will be one you can't wait to tick off.
OPENING HOURS
6.30am-10pm (from 7.30am on weekends; treatment times from 9am).
Espa Life at Corinthia, Whitehall Place, tel +44 (0) 20 7321 3050