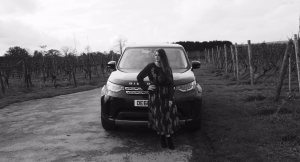 As a current Discovery driver, I recently test drove the Discovery Sport and put it through its paces. And although, it was a good car, I missed my 'big' Discovery. So, when Land Rover approached me to test drive the all new Discovery for a whole week, I jumped at the chance.
More than 10,000 people pre-ordered the new Land Rover Discovery 4X4 – including 2,000 in the UK even before it hit the road. And although I hadn't placed my order (yet), I was keen to get inside the new Discovery and see for myself what was different about the 'all new' design, both internally and externally.
The vehicle is the fifth generation of the model first launched 27 years ago to 1.2million customers. This Discovery is curvier, more flexible and higher-tech than its predecessors.
I test drove the 3.0 litre TD6 turbo-diesel model developing 258 horse-power in HSE Luxury trim. There are three engines available, the other two being: the 240 horse-power 2.0 litre Ingenium Sd4 four-cylinder turbo-diesel, and the 3.0 litre 340 horse-power Si6 super-charged petrol version. There are also four trim levels: S, SE, HSE and HSE Luxury.
School run on Steroids
There's plenty of reasons why I love my previous generation Land Rover Discovery. Mostly because it provides the perfect combination of family space (kids, dog, bikes, scooters), meaning it's comfortable for long journeys across the UK or and down to France for the ski season. We've been stuck in a few heavy snow storms in the French Alps and the Discovery has never let us down with its serious off-roading potential.
Intelligent Seat Fold System
One of the most impressive features of the new Discovery, has to be its intelligent seat-fold system. This means seating can be reconfigured from inside the front or back of the car, from a remote control device, or even from your smartphone anywhere in the world.
In the current Discovery, I have to quietly remember how to change from five seats to seven, which can be a bit of a faff. With this version, the five rear seats, can all be raised and lowered electrically, either by pushing buttons in the boot or via the 10in touchscreen on the dashboard. I could spend all day pressing these buttons (if only I had the time). Watch the video over on my Instagram page!
There's no split tailgate like there was on the old Discovery, but that doesn't matter because part of the boot floor now folds out (with the press of a button), and the overhanging rear bumper acts as a handy perch for taking off kids' wellies or rugby boots. Trust me, we tested it!
A Comfortable, Spacious Family Drive
The drive is steady, quiet and comfortable (when the kids are not bickering in the back). In fact, the interior felt so peaceful and relaxing, it felt more like the Range Rover Sport I had. I would have to gently remind myself that I was indeed in a Discovery and not a Range Rover Sport. Using the testing week, I reverse parked next to a Range Rover Sport and next to each other, from the front, they almost looked like the same car. When I returned to my car with my shopping, I had to double take which one was my loaned Discovery.
The Discovery is very spacious inside and felt more so, than my current Discovery. Apparently it has more headroom than its rivals, the Audi Q7 or the Volvo XC90. Boot space depends on how many passengers you have onboard at the time, but whichever of the 21 different seating configurations you've chosen, the Discovery is a close match for its rivals.
Was it what we hoped for?
Overall, the new Land Rover Discovery is a brilliant all-round SUV. I was genuinely sad when they came to collect it to take it back. Stepping back into my current Discovery suddenly felt like stepping into a time warp. Everything felt dated even though I never thought that before.
There were a couple of things that didn't quite hit the mark, but these are fairly small things. Firstly, the DAB radio was sometimes dipping in and out which was frustrating, but that might have just been the areas we were in. Some of my friends commented that they were not over sold on the tailgate design of the car. I think we have all been used to the 'boxy' shape of the Discovery which has now been curvaceously smoothed out.
And finally, for those of us with a level of OCD, the rear number plate is off center, which for some, was too much to handle. I get it. For some, it's a quirky design, but for others, it's an OCD nightmare. The jury is out on that one, but I wouldn't want the number plate to over shadow all the amazing things this family SUV can deliver. It really is an exceptional car.
Will I buy one? Well, I think I might test drive the Land Rover Velar. You know, just to check out the number plate situation…
N.B: Blog in collaboration with Jaguar Land Rover. Dress from Boden Clothing.