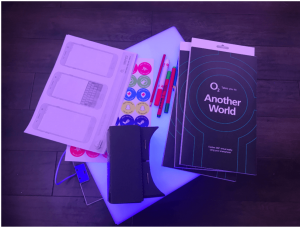 You reach a certain point in your life when you realise you would quite like new slippers for Christmas. That or a bottle of gin would make a considerate present. Although; if you are teenager, then I would have a wild guess, that perhaps, smartphones or tablet devices would be high on their Christmas lists. In fact, a bunch of recent surveys I have read show that teens really want an iPhone X. That's a cheeky ask for a gadget that starts at an eye watering £999.
Earlier this month, the children and I were invited to an event hosted by O2 and NSPCC, held at The O2 arena in London. At this exclusive event, we were invited to learn about online safety as well as trying out some fun and unique experiences – from virtual reality to creating our very own app prototype. O2 and NSPCC have joined together in a partnership to support parents to keep their kids safe online by combining O2's technical expertise and NSPCC's child protection knowledge.
As a woman in tech and a parenting blogger, I almost feel like I want to wait as long as possible before handing my children their own mobile phone (they will probably be 18), but…children are now growing up with technology and sometimes can be more savvy on digital devices than we are. My daughter has helped her granddad with his iPad a few times! As a parent, it can be difficult to keep up with the many different websites, apps and games our tech-savvy children know so well. The internet helps us find information for homework and so much more fantastic stuff. My children even do part of their mathematics homework online. So, the question is, how can parents actively participate in helping their children to stay safe online?
First and foremost, let's look at the numbers *: –
90% of children aged 5-15 are online
40% of 5-15 year olds have their own tablet (15% are 3-4 year olds)
76% of 12-15 year olds have a social networking profile (23% are 8-11 year olds)
What's also quite worrying is that findings of an NSPCC study show that 78% of children surveyed have accessed social media sites before reaching the minimum age of 13 and 50% of children reported seeing inappropriate content while using popular sites.
At the event, we were shown a number of social media icons and the children waved their hands in the air as they easily identified them. Snapchat, Instagram, Minecraft…but then so many others that hardly any of us in the room knew. There was a variety of additional social platforms I had never heard of. Not only that, but when quizzed on the spot what the age rating or minimum age to sign up to a social media platform was, most of us got the answer wrong! It least we were in the perfect place to learn.
NSPCC spoke about how, together with O2, they want to help educate parents, so we can talk to our children regularly about being safe online. If you want to find out more about the most popular social networks, sites and apps children are seeing, you can now visit 'Net Aware' – the O2 and NSPCC's guide for parents. It has some really useful information, including how to remove content on different apps and sites, block people and report abuse.
If you also need support setting up parental controls, you can visit www.internetmatters.org. This will help you set filters on search engines, or use the website's privacy settings to prevent children seeing unsuitable content.
Virtual Reality
Aside from the education piece of our day at The O2, the children had so much fun trying out some VR. It genuinely blew my son's mind! The virtual rollercoaster was brilliant and he has the whole O2 Guru team in fits of laughter as he screamed on the VR rollercoaster. After learning and creating their own app prototype, we all headed home after a brilliant day. O2 and NSPCC struck a smart balance of using the event to educate parents and give the children a super fun day out.
I hope this information helps support you in learning how to protect your children online and if you need more help, please visit the websites mentioned in this blog or call this helpline – 0808 800 5002. The helpline offers advice on having a conversation with children about online safety. Alternatively, you can pop into an O2 store and chat to an O2 Guru.
Thanks to O2 and the children's charity NSPCC for a fantastic day at their digital playground event. I'm so pleased we can now share what we have learnt with the lovely Guilty Mother followers.
For more information, visit www.nspcc.org.uk/onlinesafety
*Ofcom (2015). Children and Parents