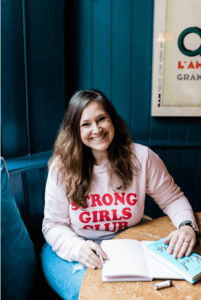 Can we please talk about Girl Power? When I think about today's girls, I wonder, how do they feel and think about themselves? Girls certainly face a number of challenges in today's world, but if there is one thing they all benefit from, it is the feeling of empowerment and finding inspiration around us. Whether it is from someone we know, or someone we don't, we seek inspiration from everywhere.
In a speech by Michelle Obama, she said something that stuck with me. She reminded us that it's important to surround ourselves with people who help us claim our own power and inspire us to share our power with others. I believe in girl power. Do you?
At the end of January 2018, we marked 100 years of women finally gaining the right to vote. Girl Power? I should say so! It was a momentous anniversary and social media was alight with the world sharing views on this topic. Can you ever imagine a time when we were not permitted to vote, just because we were women? And whilst I reflect on how far we have come in 100 years, I am gently reminded how far we still have to go.
I wanted to say thank you to all those women who risked their own safety to stand up for what they believed in. Women such as Emmeline Pankhurst and Emily Wilding Davison. Emily had run out onto the track in the path of the horses in her protest. She was knocked down and later died in hospital.
If those women were alive today they would tell us to continue their fight. We owe it to the suffragettes to use the power they fought for. So, I ask, how do we achieve full gender equality for women the world? According to the World Economic Forum, the gender gap won't close until 2186. This topic will be raised boldly on March 8, which is International Women's Day. A day to call for a better, more inclusive working world and to celebrate the achievements of inspiring women throughout history. It is my favourite day and I will spend the majority of the day delivering talks to women in London.
When I recently delivered a keynote talk at The Future Assistant conference on London, some of the audience asked me what inspiring books I enjoy reading. So I have put together my list of my top 10 great reads for inspiration and female empowerment. I hope you enjoy them as much as I do.
1. A Good Time to be a Girl by Helena Morrissey
In A Good Time to be a Girl, Helena Morrissey sets out how we might achieve the next big breakthrough towards a truly inclusive modern society. Drawing on her experience as a City CEO, mother of nine, and founder of the influential 30% Club which campaigns for gender-balanced UK company boards, her manifesto for new ways of working, living, loving and raising families is for everyone, not just women. Making a powerful case for diversity and difference in any workplace, she shows how, together, we can develop smarter thinking and broader definitions of success. Gender balance, in her view, is an essential driver of economic prosperity and part of the solution to the many problems we face today. It is a powerful read.
2. The Confidence Code by Katty Kay and Claire Shipman
If you want to continue to climb the corporate ladder, confidence is key. This book taps leading psychologists, who claim that anyone can become more confident and offer effective ways to do so. In The Confidence Code, journalists Katty Kay and Claire Shipman travel to the frontiers of neuroscience on a hunt for the confidence gene and reveal surprising new research on its roots in our brains.
They visit the world's leading psychologists who explain how we can all chose to become more confident simply by taking action and courting risk, and how those actions change our physical wiring. They interview women leaders from the worlds of politics, sports, the military, and the arts to learn how they have tapped into this elemental resource. They examine how a lack of confidence impacts our leadership, success, and fulfilment.
3. Thrive by Arianna Huffington
There's more to being successful than an impressive salary and title. Arianna Huffington's personal wake-up call came in the form of a broken cheekbone and a nasty gash over her eye–the result of a fall brought on by exhaustion and lack of sleep.
As the cofounder and editor-in-chief of the Huffington Post Media Group–one of the fastest growing media companies in the world–celebrated as one of the world's most influential women, and gracing the covers of magazines, she was, by any traditional measure, extraordinarily successful. In this deeply personal book, Arianna talks candidly about her own challenges with managing time and prioritizing the demands of a career and raising two daughters–of juggling business deadlines and family in this fab book. A great investment book!
4. The Million Dollar Blog by Natasha Courtenay-Smith
I often get asked what books are helpful if you are writing a blog or thinking of starting a blog. This is a great read and I had the pleasure of meeting Natasha in person last year. Natasha offers practical tips, insightful stories of success and much more to help you get started and to stand out!
Through a combination of practical advice and interviews with some of the world's leading bloggers, vloggers and content strategists, including Seth Godin, Lily Pebbles, Grant Cardone and Madeleine Shaw, entrepreneur and digital strategist Natasha Courtenay Smith shows you how to build a blog that will increase your profile, create new opportunities, earn money and change your life.
5. We Should All Be Feminists by Chimamanda Ngozi Adichie
This is one of my all time favourtie books and I hope everyone gets to read it. This books is small but mighty with just fifty pages. The book is a short adaptation of the TED talk by Chimamanda Ngozi Adichie of the same name. She talks of her experience of sexism growing up in Nigeria and how it has effected her life. It discusses why we still need feminism and why each and every person should be a feminist.
This book is powerful, insightful and thought provoking. I highly recommend this to teenagers and young adults who are just being introduced to the concept of feminism, but equally anyone with an interest in the subject would also love it.
6. Lean In: Women, Work and the Will to Lead by Sheryl Sandberg
Sheryl Sandberg, Facebook COO hit a nerve with working women everywhere when she published 'Lean In' in 2013. Her candid observations about inequality in the workplace make this an important and influential read. I personally really enjoyed this book and would recommend it.
Sheryl draws on her own experience of working in some of the world's most successful businesses and looks at what women can do to help themselves, and make the small changes in their life that can effect change on a more universal scale.
7. I Am Malala: The Girl Who Stood Up for Education and was Shot by the Taliban by Malala Yousafzai
On October 9, 2012, when Malala was fifteen, she almost paid the ultimate price. She was shot in the head at point-blank range while riding the bus home from school, and few expected her to survive. Instead, Malala's miraculous recovery has taken her on an extraordinary journey from a remote valley in northern Pakistan to the halls of the United Nations in New York. At sixteen, she has become a global symbol of peaceful protest and the youngest-ever Nobel Peace Prize laureate.
I Am Malala is the remarkable tale of a family uprooted by global terrorism, of the fight for girls' education, of a father who, himself a school owner, championed and encouraged his daughter to write and attend school. Malala's courage, determination and indestructible confidence is admirable. This is the bestselling memoir of youngest ever nobel prize winner. Is there anything more inspiring than that?
8. In the Company of Women: Inspiration and Advice from over 100 Makers, Artists, and Entrepreneurs by Grace Bonney
An incredible collection of powerhouse women, by Grace Bonney (founder of Design Sponge), who are disrupting their industries and making waves in the creative community.
They share their secrets of success, their brushes with failure, and their everyday rituals — all which have helped them cultivate beautiful, exceptional lives. Immerse yourself in the day-to-day struggles and triumphs of these women and let them inspire your own journey.
9. The Meaning of Michelle: 16 Writers on the Iconic First Lady and How Her Journey Inspires Our Own by Veronica Chambers
Michelle Obama is unlike any other First Lady in American History – she's my hero. From her first moments on the public stage, she has challenged traditional American notions about what it means to be beautiful, strong, healthy, mother and to be partner to the most powerful man in the world. Did you see her doing press ups on the The Ellen DeGeneres Show? Have you ever seen a first lady do that? At 52, Michelle is getting started. She is fiercely passionate about the importance of education and talks about how 62 million girls worldwide aren't in school right now. Something Michelle Obama is passionate about changing. She says "Solving this problem will take generations," said the mother of two teenage-aged daughters. "It's going to take the work your children and your grandchildren. But we can never give up." This is a a timely read that reinforces that one person — one woman — can inspire millions.
10. ​Good Night Stories for Rebel Girls by Elena Favilli and Francesca Cavalo
This amazing book shows young girls they can be anything they want. Featuring spies, pirates, astronauts, activists, scientists, writers, sports stars and more, many of the stories are so thrilling and uplifting your child's heart may beat a little faster, her mind racing with possibilities. If she leaps out of bed to get to work, blame the authors! Modern and fundamentally feminist, this rebel reinvention of the fairytale is so inspiring adults are also reading it too. I love it!
If you have a daughter, please go buy this for her right now!
This article is in no way associated with Amazon, but it felt like the easiest way for women with busy lives to pick up a copy! In other news, who has time to read all these books? I suggest taking a copy in the bath with you!