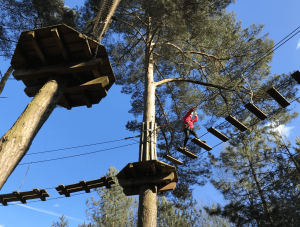 Bedgebury Pinetum is one of my favorite places to go at weekends and school holidays. Nestled in the beautiful Kent countryside, it is home to one of the world's finest conifer collections and a centre for International conifer conservation. Bedgebury is the ideal place for walks, runs, picnics, cycling, play and also home to Go Ape.
On arrival, we were greeted by Site Manager Jonny Cox. I was interested to find out about the history of Go Ape and Jonny informed me that the origins of Go Ape lie in France, which I had no idea! Back in 2001, Tris and Becs Mayhew were on holiday in the Auvergne with their baby and came across a French family swinging through the trees. From the looks on their faces, it was clear both the kids and their parents were having the time of their lives. It was at that moment that Tris and Becs saw an opportunity to start a business, quit their jobs and began the Go Ape adventure. 31 courses later, they've built one of the fastest growing companies in the country and have plans to take the Go Ape message all over the UK and beyond.
There are two Go Ape courses at Bedgebury, the Tree Top Adventure for ages 10 and over, whereas the Tree Top Junior course is aimed for children aged 6 or over (or over one-metre-tall). If the children are over one-metre-tall, then they can complete the course without an adult, who can supervise from the ground (which is what I did).
Upon arrival, we checked in at the Go Ape office and the kids had to read the Go Ape rules. We then walked over the boardwalk to reach the main Go Ape Junior course area. One of the Go Ape team, Ben welcomed us with a smile and fitted the kids with their safety harnesses. After that, Ben gave the children some safety instructions along with a fun 'recap' quiz to ensure they had their listening ears switched on!
Although I would have loved to have gone up on the Go Ape with them, I was keen to see how the children would do on their own and how they would tackle their tree top adventure, so I watched from the ground. Once the kids were clipped on to a wire, they remain attached throughout their experience and were very safe. The course involves all sorts of climbing, balancing and jumping obstacles, with two levels – the first is lower, and all on one level, then kids can (if they choose) progress to a second, higher level that's more challenging.
On the first level, my daughter went ahead and her confidence was soaring. My son was doing really well until he had a confidence wobble and said he wanted to come down. Ollie from Go Ape sped into action to reach my son, calm him down and guide him through the next part of the course. A little guidance and support was all he needed to complete the next section of the course and he soon re-found his confidence. I also talked to him from the ground, giving my son plenty of extra encouragement. The zip wire is the last part of the course, which was a big hit and any previous nerves were soon whooshed away.
After completing the course, the first time, both the children asked to go round again! As part of their one-hour slot, they can go round as many times as they wish. Throughout the adventure, the staff were patient and attentive with the children as well as giving them plenty of encouragement.
As the children's confidence started to grow, the children progressed to level 2 of the course, which is slightly more challenging. Despite some initial nerves, I was so impressed and proud of how my children tackled the course.
Overall, it was a really great morning at Go Ape and after all the rain we have had over the last few weeks, we picked a perfect, sunny day to come along for our tree top adventure. There are lots of different ways to build children's confidence, and I would really recommend Go Ape as a great start.
Thanks to Jonny, Ben and Ollie for a fantastic day at Go Ape. The wobbly crossings and zip wire adventure was the perfect way to end a fun packed half term. We'll be back again very soon. So, go forth, release your Mini-Tarzans and watch them reach new heights.

10% discount per person with Guilty Mother. Book here and enter discount code: GMOTH18 at checkout.
This post is in collaboration with Go Ape. All views are Guilty Mother's own. Terms apply. Exc. Saturdays. Valid until 31st December 2018.