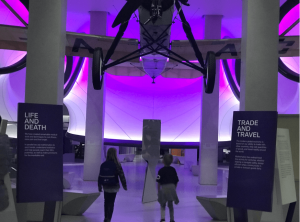 Sometimes when we think about museums, you might be inclined to think it might be old fashioned. You might visualise the kids standing around looking at dusty old books and odd looking statues. But, museums can be much more than that. We went along to the Science Museum to see what was on offer as heard it would be, well…fun. I'm embarrassed to say I had never visited the Science Museum before, despite living just an hour outside London.
My parents said as kids, we were too busy hanging out on our BMX bikes to ever make it to a museum. It was a fair point. As a parent now myself, I am very fond of a museum or two. A visit to a museum can be far more than just a learning experience. They can leave last lasting memories.
Over the next decade, the Science Museum have big ambitions to take the experience to another level to inspire future generations. They are building new world-class galleries, digitising our stored collection for the nation to access, and reaching millions of young people across the UK with dynamic live science shows and tailored school trips. So, if there is one thing I would recommend you do, please take a trip to The Science Museum. In particular, please do go check out the Wonderlab gallery.
This huge new gallery is dedicated to communicating the wondrous properties and principles of the physical world by encouraging you to play with them. The Science Museum is in an easy to access location and only a five-minute walk from South Kensington tube station. Wonderlab is packed with over 50 hands-on experiments and experiences, so there's plenty to discover and feed curiosity. It is genuinely wonderful and here are some the highlights: –
A Science Playground
All the principles demonstrated here can be easily grasped by anyone because they're meant to be touched. You can blow tiny dry ice hurricanes across a lake. Pop your head in a box of fun mirrors to see infinite reflections. Lie on a roundabout next to the earth and spin round beneath a canopy of star lights curated by the European space agency and much more. It's is the ultimate science playground.
The Chemistry Bar
The chemistry bar, covered in tiles cleverly illustrates the periodic places. It's home to live experiments where 'Explainers' get messy with crystals, dry ice, bubble volcanoes and non-Newtonian fluids.
We thoroughly enjoyed the hands-on exhibits, where their team demonstrate the power of electricity and sending lightning bolts live across the gallery. Our Explainer, Esther was brilliantly engaging and fun with the children. Many kids raised their hands to take part in some of her experiments and I was so proud of my two for putting their hands in the air each time. My daughter was thrilled when she was chosen to come down and take part in an explosive experiment (safely, of course).
Power UP
If your kids love games consoles then this week could be the best time to visit. With 80 consoles and 40 years of gaming, enter the 'Power UP' event which is running until 15th April 2018.
They have filled a whole area of the museum to the brim with all the essential retro games and consoles. From Pong to Pacman and Minecraft to Mario, there's something for everyone, whether you're a retro games fan, a serious gamer or just want to beat your family at Mario Kart!
Kids Love Variety
In my opinion, the best thing about The Science Museum is the variety of things to do and see. Both my children zipped around the place as so many things were drawing their attention. In fact, I had quite a task trying to keep my eye on them both as they darted in different directions! My daughter loved making spiky crystals out of magnetic liquid and my son loved creating patterns and solving puzzles. The 'Making of the Modern World' hall was a big hit with the kids, as was exploring the space gallery. I feel like I could go on forever telling you about this wonderful place, but I suppose I should leave the rest for you to explore for yourself! The Science Museum doesn't disappoint.
In summary, the Science Museum is a great way to ignite children's curiosity and inspire their creativity. And, to top it all off, there's even an ice cream parlour (Shake Bar). What's not to love?
This blog post is brought to you in collaboration with Science Museum but all opinions and photographs are my own. The Science Museum is open daily 10:00 – 18:00.
Science Museum, Exhibition Road, London, SW7 2DD
Read more about and Power UP here
For more information, visit www.sciencemuseum.org.uk