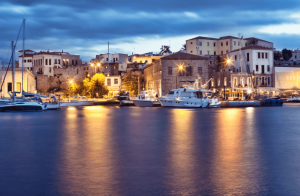 When you think of a holiday in Greece, what springs to mind? Ancient monuments, Greek salad, feta cheese, ouzo, sparkling seas and beautiful beaches. Well, you would be right and soon enough, Guilty Mother will be heading this this Island to explore Crete further. I've never been to Crete before, so I wanted to explore what makes this a great location for the perfect family holiday. In this blog, I am sharing some information of why this looks like a great place to escape this summer.
Why Crete?
I've heard wonderful things of Greece's largest island with pretty harbours and sandy beaches aswell as a landscape is slashed with gorges, dominated by mountains. And if that's not enough to get you thinking, we should mention Crete's ancient history. The whole island is dotted with incredible landmarks from the (relatively) more recent past too.
The main cities of Crete are Chania (see Chania's beautiful Marnia above) and Heraklion were fortified with huge walls encircling and protecting the city. The walls of both cities are still standing (and still very sturdy!), and exploring the giant stones and ancient winding streets within them is a great way to time travel!
Recently in The Sunday Times, Crete was named as having one of the Best Beaches in the World. The beautiful pink beaches, located here are one of only a few scattered around the world. They owe their exquisite colour to tiny oysters named Foraminifera, which are red shells that are crushed in the sand, giving it a pink colour. I really hope we get to go and see them on this trip.
It takes a full six hours to drive across Crete, so it's perfect to rent a car and buzz around the Island to explore further. The east has the best archaeological sites, the capital, Iraklion, and the spectacular, Riviera-like Mirabello Gulf, rimmed by lively Agios Nikolaos and swanky Elounda — but avoid the overbuilt strip around Malia. Further east, towards Sitia, the spirit of Old Greece lives on.
Western Crete, home to the island's most beautiful cities, including Chania which is where we are heading. The landscapes here are covered with cypress, olive and citrus groves; wild, sandy beaches line the far west coast. Over the mountains, the Libyan Sea coast has few roads and an end-of-the-world feel, which you may like best of all. The possibilities for families in Crete are endless. Every day small boats take visitors to the most famous remote beaches of the island, among them Balos, Preveli and the beaches around Sfakia.
The Kiani Beach Resort from Seacrete Hotels located in Chania offers a great range of facilities for children that will help you to try and relax on your family holiday. This all-inclusive family resort in Chania is right on the award winning blue flag beach of Kiani Akti, just outside of Kalyves village in Crete.
All of us strive to find the right balance on family holidays. You need keep the children entertained without thoroughly exhausting yourself at the same time. It's an art! This Chania resort by the sea offers an amazing retreat for families with young children. Parents can enjoy a relaxing swim while children safely splash around the specially designed kid's pool. Designed with families in mind, Kiani Beach Resort offers all that is required for an enjoyable family vacation drenched in luxury. Sound good?
Getting There
The international airports, Chania and Heraklion, have direct flights from the UK from late March to the end of October; in low season, you may have to fly via Athens but check with your travel operator. EasyJet and Jet2 fly to Heraklion from most UK airports, while Ryanair flies to Chania from seven airports, including, Birmingham. British Airways also have services to Crete.
Crete seems to tick so many boxes for us, stunning beaches, laid back life style, amazing amenities – but it is so big that you can easily go off the beaten path and do your own exploring. We'll tell you all about our travels in next month's blog.
Where are you heading off to this year? Let me know by commenting on my Facebook page. Or, if you have information on great places you have visited you can share with me, do drop me a line.
For more information, visit https://www.seacretehotels.com/kianibeachresort/