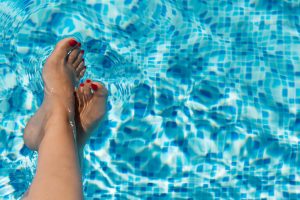 The sun is finally out and it's time for me to swap my duvet for a spa robe and flip-flops. Hurrah! A spa day with an old school friend had been in the diary for months. When I pitched the idea, she was delighted and immediately gave me a few dates to choose from. When the date finally arrived, we headed to the luxury Champneys Spa and Gym at Eastwell Manor in the rolling Kent countryside.
Set within 3,000 acres of spectacular parkland, the 11th-century Eastwell Manor, it was the perfect, relaxing spot to get away from it all. Exuding early Renaissance history in the heart of the Kent countryside, this stately home and its secluded outhouse cottages combine country elegance with modern comforts.
We were blessed with the most beautiful of sunny days, which made us feel like we were more on a Mediterranean holiday. With both an indoor and outdoor pool, loungers and jacuzzis, we were spoilt for choice. All we could hear was the tranquil sounds of water. It was bliss. We sat around, exploring the space and listening to each other as we giggled like school children sharing an old joke.
After our morning coffee, we started the spa day with a Champneys collagen gold facial. This is a 'hands on' facial and my therapist, Catherine, who had worked at Champneys for seventeen years, hydrated and nourished my skin using a luxurious gold mask. After fifty minutes of pure pampering (no mum-guilt required), my skin looked brighter and plumper, with moisture restored. Hurrah!
We then spent a few hours relaxing in the spa, where we lounged on the comfy day beds, read magazines (which felt like a luxury in itself) with a swim between. Before we knew it, it was time for lunch. Where had the morning gone?
The lunch menu looked delicious. We munched on corn-fed chicken dish which was washed down with a glass of fizz, of course! Although, not for my friend, who is heavily pregnant, so she opted for a lemonade.
With growing family and work commitments, it's often hard to make a lot of time for a best friend. We cherished the time we had together and made the most of the time we had. We were very well looked after at Champneys. Our spa day felt like a mini-holiday, an intense shot of friendship, which we both agreed to make it a regular thing. I came away rejuvenated, de-stressed and smiling from ear to ear and ready for the weekend.
A spa day with a good friend could just be the medicine we all need. The perfect way to restore your faith in humanity and yourself. It's a no-brainer. Champneys….we'll be back soon
This article is brought to you in collaboration with Champneys, but all views and opinions are my own. Go to https://www.champneys.com to view their special offers. Bring a friend for free (available for stays in May, June and July 2018). Terms apply.