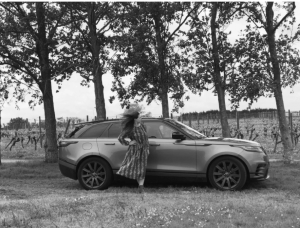 We recently enjoyed a family holiday in Crete and one of our most favourite days was walking along by the Chania port. As we walked alongside Chania's Venetian harbour which was built in the 14th century, the area is known for it's natural beauty. As we look towards the water, we admire the beautiful lines of the boats, watching them glide across the still water. Some of the boats moored at the port where being so delicately cleaned. Being washed down as if they were precious stones.
When I think of the luxurious yachts and sailing boats in the port, I now think of the new Range Rover Velar. It feels like luxury cruising across the tarmac instead of on the water. Perhaps that's where it gets its name from. Apparently, Velar is a Latin word meaning sail or veiled, which was the badging on all 26 prototypes of the original 1970 Range Rover – a clever way to revive the name.
So, could this be the most beautiful car Land Rover have ever built? With an intriguing and handsome design, the Velar seems to put some other SUVs in the shade. My Discovery often looks like we are going off to get work done. The Velar makes me feel like I should be cruising down to France (St Tropez in the summer, the Alps for winter of course).
The Velar is all about style. Its stunning aluminium body is cleverly positioned to squeeze in between the Evoque and an entry level Range Rover Sport. It's lower and longer than its Range Rover family, with a lower roof height and longer wheelbase relative to its 4.8-metre length. Like many things with style, we pay more to get the real thing. You can always spot those fake Gucci belts a mile off, so if you want real style, the Velar is the one. No imitations here but it comes at a price. With four engine types available, the Land Rover Velar starting price is around £44,830 but can go up to £85,450.
With its short front and long rear overhangs and gently sloping roof, it's one of the most complete pieces of design since the 1998 TT rolled out of Volkswagen's Californian design studio (I had one of those too). And it does look truly stunning both on the inside and out. We tested the Range Rover Velar R-Dynamic HSE 300 at £70,530 as it had almost every possible 'extra' on it we could think of. I must say, it looked stunning in Bryon Blue. A colour I would consider for future Land Rovers instead of the traditional silver or grey.
Much like the interior of a luxury liner, the Velar has beautiful sleek lines, a modern entertainment system and driving functionality screens. If you go for SE models and above you will get a 12.3-inch screen to replace the analogue dials, which are all touchscreen. The second screen is for adjusting the air conditioning and various off road driving modes.
The new high-quality fabric upholstery option is a first from furniture company Kavadrat, providing a novel and comfortable seating feel. However, as luxurious as it looked, I was already concerned about how the cream interior cloth might survive long term with young kids. I wouldn't have chosen the cream interior for myself, primarily, just because of the children. They are not completely feral these days, but you wouldn't want a Robinsons Fruit Shoot in sight in the Velar. First world problems, I hear you say.
On the road, the drive is smooth and effortless. I can tackle most surfaces with ease and in this respect, it feels much more like the Range Rover we have come to love. The steering is light but accurate, which gives a feeling of confidence.
In the back seats, there is a plenty of space for the children who said it was a "comfortable and relaxing ride". There are some USB ports in the arm seat in the back seat which is handy so the children can charge their tablet devices on long journeys. The back seats also recline which is fantastic if the kids want a little snooze.
The boot capacity is equally generous and you'll easily find space for family luggage. It's boot space is quoted at 632 litres which is bigger than the Porsche Macan. The rear seats can also go flat when you need that extra space after a dash to B&Q! As well as boost space, when it comes to family safety, the Velar picked up a full five stars from Euro NCAP for safety in the event of a crash. As a parent who does a fair amount of driving, that information is important, so I'm already sold.
So, in summary, for an SUV, the Velar is a family car with an edge. It feels more like I'm getting a drivers' car back. I suddenly feel like a cool mum, not just a slightly stressed school mum. The Velar is an incredibly handsome and stylish car to look at. I feel slightly smug when I drive it into the school gates as it is abit of a head turner for all the right reasons. When I park up and walk away, it's hard not to be tempted to turn around and just look at it one more time.
I dare you to turn away…
For more information, visit www.landrover.co.uk