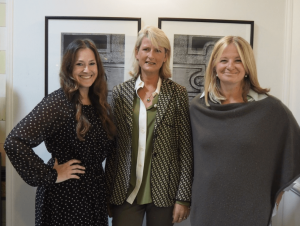 I had the pleasure of interviewing the founders of Micro Scooters UK. Anna Gibson and Philippa Gogarty founded the company back in 2004 after spotting one in their local park when Anna had spotted another mother and child with a flashy-looking new scooter. Her two-year-old son had a go and was hooked. Made from aluminium and plastic, the Swiss-made 'mini-micro' scooter weighed next to nothing, Gibson thought this was a brilliant design.
After buying the Swiss made scooter for her son, Anna was soon being regularly stopped in the park by other mothers asking where she'd got it from. Seeing this as a business opportunity, Anna created her first advert was putting her mobile number on the bottom of her son's Micro Scooter, so parents could get in touch if they wanted to buy one for themselves.
Anna and Philippa met in the baby weigh in clinic and they got chatting about the Micro Scooter; which is when they decided to start the business together as a distributor in the UK. For parents, the appeal is obvious. Children often don't feel like walking, to put it mildly. A scooter is a fun distraction that allows a child to travel at an adult's pace. After flying to Switzerland, they persuaded the Swiss maker to give them distribution rights to sell its products in the UK and Ireland.
Their big break came in 2005 when they landed a meeting with the toy buyer at John Lewis, which agreed to take an order of 100. After winning major contracts with various retailers, their confidence soared and the business was transformed into a multi-million-pound distributor. At the time, both Anna and Philippa had six children under five between them, so it's been quite an incredible business journey! They said it gives them so much joy to see so many children and adults on their scooters.
Anna and Philippa are a fantastic example of juggling business life and parenthood. Micro Scooters UK, which is based near Colchester in Essex, now has a clientele which includes Prince George, Samantha Cameron and the Beckham family to name a few. I should add Guilty Mother to that client list (of course we own at least two Micro Scooters in our household). Who doesn't have one these days?
I asked the ladies some questions about their business journey and how we can inspire some other women to go on and set up their own business. "Going over to Switzerland was key" said Philippa "even though we felt like we were 'winging it' but having the confidence to start something new and not be afraid of failure."
The constant juggle of having a career and raising children is always a burning question. I asked how they find balance. "Now we are a team of 35 staff" said Philippa "the juggle is really interesting. When my son Dominic was younger, I was always late for the school run which had me racked with mum guilt." Philippa went on to say "when my daughter came to assess what she wanted to do for her future (she is at university), I was so pleased when she felt she could turn to me for business and career advice. I think as she's grown up with me working around her, she isn't afraid of working outside of the office or trying something different."
It would seem appropriate that if we talk about Micro Scooters, we should talk about balance. Anna mentioned how many of us struggle to find balance and I would agree, even though we both commented how modern technology is helping more of us to do more on the move.
Micro scooters talked about how they offer flexible working to their own employees as both mums and dads are striving to find a better work-life balance. Dads want to play an active part in their children's school activities as much as the mums. Philippa commented "Flexibility is really important to us as that is how we started our own business. Organisations in the UK need to be flexible in their approach. There is so much female talent out there. It's our response to not only as a boss, but as a mother."
On the subject of getting back into the workplace, Anna added "confidence can often take a dip after having a baby. Especially when you've been out of the business for a while, but it's just about going for it and you'll soon find your feet again. There's a wealth of experience out there, Women are so good at organizing and giving 100% to their role. Mothers have a fantastic ability to prioritize and organize. The skills of mothers are fantastic."
If you can't find work to fit around your family, it could be a great time to set up your business. Anna and Philippa said they would actively encourage women to find something they are passionate about and just go for it! What great advice. I love the passion and spirit of these two incredible entrepreneurs.
Philippa said "It doesn't matter if you make lots of mistakes along the way. Learn from those and there is so much you can achieve from running your own business. It's so easy to download software or set up a website. When we started our business it took us months just to set our website up. Things are so much easier now."
Child obesity is on the rise and in my opinion, Micro scooters can do so much good. On a final note, Philippa commented "we've had the child obesity for the last fifteen years. The Micro Scooter is probably the first taster of exercise that a child can get. That feeling of exhilaration and happiness for them to enjoy in their everyday lives. Not to mention how it helps to improve their fine motor skills and balance. Being active and outdoors is so important and I love how the scooter makes children feel."
Their key messages for the interviews were to 'do what you love. Do it with passion and don't forget about self-care. Philippa summarised our interview by commenting "we need to try and put mum guilt to one side and not put ourselves at the bottom of the list. We all have those moments were we feel like we are not good enough. When you are up against it, many of us can feel like are not doing a good job. It's important for us to take a step back, gain some perspective as we are good enough and we are all going a good job".
It was my absolute pleasure to interview Anna and Philippa as I'm certain my readers will enjoy hearing amazing business story. Thank you to Cow PR for arranging the interview.
Micro has a wide range of Micro Scooters and Kickboards for all age groups. From 18 months to grown-ups they help everyone to move faster through their daily routines! Have you seen their range of scooters for adults? I've got my eye on their new electric one.
For more information, visit www.micro-scooters.co.uk