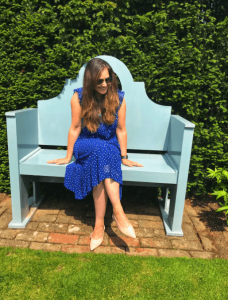 Who's feeling inspired after watching The RHS Chelsea Flower Show? I definitely am. I feel like I need to run outside and get my poor herb garden restored to good health. It's such a sorry state.
I'll be honest, I used to go to Chelsea Flower Show most years, but sadly I stopped attending after it started to get 'too busy'. It was easier for me to watch it on the telly with a peppermint tea in hand. Rock and roll, I know! Thirty-nine going on eighty-nine….
I now delight in The Hampton Court Flower Show in July instead as my flower show of choice. I just love the wide open spaces and Hampton Court makes the most wonderful of backdrops of course. And there's pop up gin trailers everywhere. Why wouldn't you?
During May half term, we headed to Penshurst Place near Tonbridge in Kent. As a lover of peonies, I heard there was a 100-metre peony border which erupts into colour between late May and early June. I didn't want to miss the opportunity to take a peek. The border showcases four different hues of beautiful pink peonies, which just remind me of my wedding bouquet, bringing back floods of wonderful memories. It's easy to see why so many people flock here every year.
Penshurst Place a brilliant place for a family day out and I needed to make sure there was other things to entertain the children. When I mentioned I wanted to go and see the peony border, the kids just rolled their eyes in disappointment. Fortunately, I managed to bribe them by telling them that there was plenty of other fun activities to do at Penshurst Place too. We made a deal. I got to look around the gardens (especially the peony border) and they got to get something for £2 from the gift shop. We shook hands and a deal was secured. Doesn't every child love a gift shop? I knew we would have to walk through the gift shop at the exit anyway, so in all honesty, there was no escape.
It is not very often that you can combine a history lesson and family fun (which isn't a castle), so I think Penshurst Place near Tonbridge is a special please. There is a vast medieval house with sumptuous gardens, an excellent adventure playground, toy museum, craft barn, a wheat field maze (I always get terribly lost) and a nature walk. The gardens are organised into yew-lined sections, with an explosion of colour. I was just in heaven.
Paths are mostly wheelchair / buggy friendly and everything is just about big enough to fill an entire afternoon of exploration. The house is rich with history and I was really impressed by how much our eight-year-old daughter wanted to understand about who lived there all those years ago. She also added "mummy, can we please live in a house like this?"
Penshurst Place has been owned by the Sidney family since 1552, after passing through the hands of two of Henry IV's sons, followed by Henry VIII who used it as a hunting lodge. More recently, it was used as a filming location in 2014 for BBC2's programme Wolf Hall. It was the perfect spot to take some photographs for my collaboration with Boden Clothing. Here are two great pieces to take you from daytime to evening cocktails in one go!
Both dresses in this blog article are gifted from Boden Clothing. This blue spotty dress with ruffle detail is the 'ELISE DRESS', product code W0102. Available in four different patterns and so beautiful to wear. I love it.
The red spotty is the 'ANTONIA WRAP DRESS' product code W0162 (also available in blue). The wrap detail is very slimming and why not show a little leg? Saucy. Perfect for the garden centre.
Get swept away with feel good dresses at www.bodenclothing.co.uk
Penshurst Place is open every day 10:30 – 18:00 (Last entry 60 minutes before closing time)