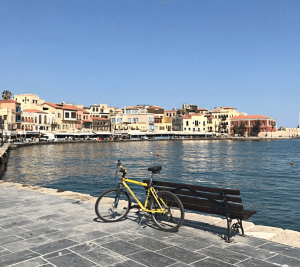 It did not take us long to fall in love with Chania, There is something so mesmerising about the historic city of Chania.
We visited Crete back in April 2018. We enjoyed lazy strolls along the old Venetian harbour, which are full of buzzing cafes and waterfront restaurants perfect for family. But nothing prepared us for the beauty of the old town which lay behind. Enchanting, colourful streets which left us wanting more.
Crete offers ancient history and a range of family-friendly hotels making the island also makes for a wonderful family destination. Europe's oldest civilisation built palaces decorated with magnificent frescos and enjoyed the curious sport of bull leaping on Crete from 3000BC to 1400BC.
The magnificent Chania old town is the most photographed spot of the city. With a long history, a spectacular old city that surrounds the Venetian harbor, and located in the best part of Crete for daytrips to beautiful beaches, the famous gorges and scenic mountain villages, Chania is the place I recommend staying for anyone who is including Crete in their itinerary of Greece.
This Cretan harbour town has a lot going for it: small local shops, waterside restaurants and lots of little alleys to get lost in. The best part is the historical old town as most of the sights are located there. Here are a few of my top things to do in Chania :-
Walk to the Venetian lighthouse
The harbour of Chania was built by the Venetians in the 14th century. A lot has changed since then, but the Venetian lighthouse is still standing proudly. It's one of the oldest lighthouses in the world and was renovated in 2006, but it isn't operational anymore. Visitors aren't allowed in, but you can get to it by walking along the pier of the old harbour.
Go shopping at the old market hall
When it comes to food, if you would ike to try out some more typical Cretan food, head to the market hall. Here you'll find olives, meat and typical Cretan pastries like kalitsounia, a salty or sweet cheese pie. Be sure to stop at Cretan Nature, where they sell delicious mountain tea. We bought most of our souvenirs here

Walk along the Venetian harbour
The Venetian harbour was built by the Venetians between 1320 and 1356. It doesn't serve as a port for the large ships anymore now, you will find only fishing boats, yachts and sailing boats. There are many restaurants and cafes around the harbour where you can sit and enjoy the breathtaking sunset.
Explore the Old Town
The narrow, labyrinthine alleyways are dated dating from different periods. Enjoy a leisurely stroll through the old buildings which most of them have been transformed into small hotels, shops and even homes that people still live in.
Nature Trails
If you love nature, you'll love the natural beauty of Chania. I enjoyed some very pleasant short walks with my children where we looked for fish, collected sticks and walked over little bridges. A great way to tire out the little ones before tea time.
Family Travel – Kiani Beach Resort
Thinking about where to stay? As a family of four, we stayed at the Kiani Beach Resort. An all-inclusive family resort in Chania on the award winning blue flag beach. This exceptional resort by the sea offers a wonderful retreat for families. It has been specifically designed with young children in mind, so everyone can rest and re-charge during their stay. Kiani Beach Resort has a wide range of exceptional facilities and services provided for all ages ensure a truly relaxing family vacation in Crete. Whatever the age of your children, there's something for everyone at this luxury 5-star resort in Chania.
The Kiani Beach Resort is currently having an exciting expansion which will be finished this summer. We are looking forward to visiting again in 2019. I've had a quick peak online at the new rooms and they look fantastic.
Go to their Facebook page to see some photos –
https://www.facebook.com/KianiBeachResort/
In summary, Chania is a wonderful, family friendly city. The people were so welcoming and friendly. Have you been to Chania? Do you have any other suggestion on this to do in Chania, Crete?
This blog post is in collaboration with Seacrete Hotels but all content, opinions and photography is my own.