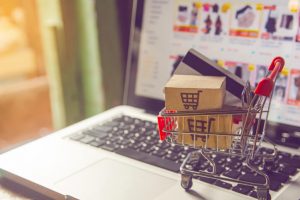 You know you hit middle age when your conversations mostly revolve around how to get better deals on your TV subscriptions. I rang up Sky TV and told them we needed to have a chat. Yep, we were breaking up. Not completely, but costs just seemed to be increasing and we need to be smarter with our television costs. The Sky TV 'add-on's for sport and movies were bringing our monthly Sky TV payments to around £100 a month! Anyone else feeling this pain right now?
I wanted to talk to you guys about Amazon Prime, which has seriously made my life so much easier. Amazon Prime is awesome. I joined a few years ago, a tiny bit apprehensive of the annual fee (it's roughly £6.58 month – or £79 paid annually). The best part is that new members can try Prime for 30 days for free. Amazon Prime Free Trial members enjoy all the same delivery, video, and music benefits as paid members.
As you don't have to pay additional delivery charges on UK orders, in my opinion, the service pays for itself a hundred times over every year. I can't believe that anyone wouldn't sign up. Those last-minute requirements for a Harry Potter fancy dress costume…that much needed pirate hat for the school play tomorrow? We've all been there. Amazon Prime – you have saved me so many times!
But wait, Amazon Prime is so much more than super fast deliveries and I can't believe I have just caught onto this earlier. Where have I been? I think Amazon Prime is the coolest thing since sliced bread and here's five great reasons why:-
1. Super-Fast Delivery
I've been an Amazon Prime member for about as long as the program has existed. I am now so used to their two day delivery of anything that I couldn't imagine waiting up to five days for a parcel. Amazon Prime offers Super-fast shipping on tens of millions of items with flexible delivery options to fit your life. Most items, I find arrive next day, so even before their two day timescale.
2. Listen to Music
Amazon Prime members can take advantage of Prime Music, a collection of over 2 million ad-free and on-demand songs. Prime Music includes access to non-stop music channels and curated playlists that are perfect for playing at barbecues, parties, or just as background music during your work day. Access Prime Music through your computer browser, or download the Amazon Music app on your smartphone.
3. Stream your favourite Movies & Shows
Amazon's video streaming service has gotten a major facelift in the past couple of years. Prime Video is now competing with major streaming services like Netflix and Hulu, and that competition means great things for Prime members! You can watch hundreds of thousands of movies, TV shows, and digital shorts for free, simply by being an Amazon Prime member. I'm no longer paying for movie downloads on iTunes and I have cancelled my Sky Movies subscription as, being a Prime member, we can watch thousands of popular movies and TV shows at no extra cost. You can watch on your TV, computer, tablet, or mobile device. Stream online or download for offline watching. So much money saved!!

4. Read for Free
As a Prime member, you can read as much as you like from over a thousand top Kindle books, magazines, short works, books with Audible narration, comics, children's books and more—all at no additional cost. Each month, Prime members can download one of six editors' picks for free–before the official publication date. Downloaded titles are yours to keep. Who knew?
5. Prime Rewards
Eligible Prime members can earn 5% back at Amazon.com using the Amazon Prime Rewards Visa Card or the Amazon Prime Store card. All Prime members earn 2% rewards with Amazon Prime Reload.
So, in summary, I love Amazon Prime and I hope this article is helpful. Say goodbye to movie costs on iTunes and Sky Movies as in my view, this is the way forward for families.
If you haven't joined yet, just click this link to get started. All opinions in this blog are honest and my own. I write about the things I love and sometimes I receive a small amount of money for collaborating with brands, like Amazon Prime.