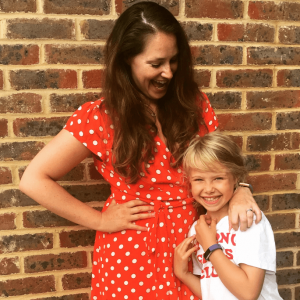 My daughter had been bugging me for months and months about getting a Fitbit. I wasn't even sure where the idea had come from, but she told me that quite a few of her friends at running club had them.
To be honest, I have two very active and sporty children so I would probably rather they ask me for a Fitbit wearable device rather than a games console (which they have never asked for…yet). And because we know kids are spending more time on screens, we know that in general, activity levels are going down. So maybe this wasn't such a bad request.
When strangely out of the blue, Fitbit contacted us and asked if we would kindly review their new Fitbit Ace for kids aged 8+, it was like they knew I was being badgered about this! I kept it a surprise from my daughter until they arrived. As you can tell from the photograph above…she was thrilled.
It is fair to say that good health and eating habits start from home which is why Fitbit created Fitbit Ace—the company's first fitness tracker for kids aged eight and above. Rather than be a distraction, Ace is the type of screen that will help motivate kids to get moving and get your entire family to adopt a healthy lifestyle together.
My daughter shrieked with delight when she saw the Ace come out of the packaging. It comes in two interchangeable wristband colours—Electric Blue and Power Purple—that are sized smaller than normal Fitbit accessories and can quickly be adjusted for a perfect fit. Here are some of the great benefits: –
Multiple Clock Faces – Kids can pick a clock face as unique as they are. There are 10 to choose from in the Fitbit app that display date, time, goal progress, and more.
Activity Tracker – Your kid can see how much they move each day by tracking steps, active minutes, and sleep stats. On Ace, the active-minutes goal is 60 minutes by default—which is the minimum amount of physical activity the CDC recommends kids get daily—but both this, the step goal, and a sleep goal can be customized.
Group Challenges – Kids can compete against their family in daily and weekend Challenges or via Family Faceoff, a brand new 5-day step challenge that allows members in a family account to compete against each other (coming soon). Winner gets a fun virtual trophy. Keep the motivation stoked by cheering and direct messaging each other within the app. Soon, kids will also be able to add their friends to do the same, but with control over who your kids connect with on the platform, you can feel confident knowing that they are only connecting with people you approve.

Rewards a Job Well Done – The Ace device will buzz with celebratory messages each time your child achieves a goal and reward them with fun, collectible badges. Kids can see their stats, badges, and progress toward their goals and more in the Fitbit app on their (or your) phone.
Long Lasting Battery – Ace can last up to 5 days on a single charge.
On a personal note, I had the original Fitbit Flex which I purchased in 2013, which tracks movement and sleep patterns. The Flex was 'OK' but felt the screen was quite small and it wasn't overly comfortable to wear, so I often found myself taking it on and off.
When FitBit sent me the new Fitbit Charge 2, it felt like a significant upgrade. Design-wise, the Fitbit Charge 2 is much the same as other Fitbit devices, and feels a little like the lovechild of the Charge HR and the Fitbit Surge. There's a much larger screen and felt more comfortable compared to my previous FitBit device which now made it a lot easier to wear throughout the day.
The Fitbit Charge 2 isn't waterproof but it is water-resistant, meaning it can handle a few splashes while you do the washing up or helping give the kids a bath! With exercise, sleep, heart rate tracking and more, the Charge 2 has a fantastic spec, making it a great wearable that won't break the bank.
Once the devices were up and running, we could set up a Fitbit family account. We simply add our family members and create a child account, so we can toggle between "parent view" and "kid view" on our phone by entering a password. Parent view gives us control and an insight into their day along with checking their activity, sleep, and progress.
So, there you have it. We have officially become a Fitbit family and it feels great! Would you get your child a Fitbit device if it encouraged them to get moving more? I'd love to hear your thoughts.
This article is brought to you in collaboration with Fitbit but all content and views are my own. Fitbit specialises in accessible and easy to use fitness trackers, rather than more complicated running and fitness technology.
For more information, visit https://www.fitbit.com/uk/home