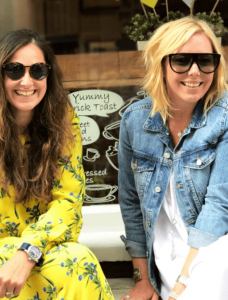 Everyone's favourite family of superheroes is back in "Incredibles 2" – but this time Helen (voice of Holly Hunter) is in the spotlight, leaving Bob (voice of Craig T. Nelson) at home with Violet (voice of Sarah Vowell) and Dash (voice of Huck Milner) to navigate the day-to-day life of running a family and a home, along with the completely adorable baby Jack-Jack.
We were invited by PR company, Good Relations to a special screening of the movie at The Soho Hotel in London last weekend. I headed into town along with my friend and personal stylist, Victoria Genevieve Styling with the kids in tow. Good Relations did a fabulous job of putting on some activities for the children with face-painting, games and "The Incredibles' game on PS4.
If you enjoyed 'The Incredibles' you'll love this sequel. It has been smashing box office records and there's no wonder why. We've seen it and it is – really, really good.
The sequel puts fan-favourite Elastigirl (Helen) front and centre, while Mr. Incredible (Bob) takes the role as being a 'stay-at-home' dad while Helen is out at work. And we definitely can't forget Jack-Jack, who completely steals the show. It's a tough transition for everyone, made tougher by the fact that the family is still unaware of baby Jack-Jack's emerging superpowers.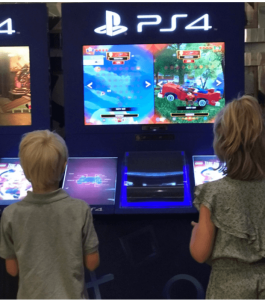 When a new villain on the loose, hypnotising people, the family and Frozone (voice of Samuel L. Jackson) must find a way to work together again. Incredibles 2 is just as much fun as the original. It's thrillingly paced and beautifully detailed, with toddler Jack-Jack nearly stealing the whole thing while feeling out his newfound powers. As Helen leaps from building to building chasing down the villain, Bob goes on superhero mission of his own: being a stay-at-home dad, which is no easy task.
The movie does a good job to show just how tiring it can be when you're outnumbered and with three children – all with different needs. He's exasperated by the math methods of Dash's (Huck Milner) homework, which have shifted since he learned them as a child. The truth is, we all love Bob in this movie and like most of us, he just needs someone to remind him that he's doing a great job.
Despite the rising phenomenon of dads working more from home or choosing to be a stay-at-home dad, it still faces some stigmas from strangers and friends alike. They endure skepticism from other men who perceive at-home fatherhood as a temporary measure, which can be perceived as unfair.
The Incredibles 2 could launch an interrogation of these hang-ups. Stay-at-home dads are no different than the mums that are doing it. They are just as valuable. Not only are men capable of being caretakers of their own children — they're capable of supporting their partners' professional goals. "I have to succeed so she succeeds," Mr. Incredible says in the movie.
So it's fitting, in a way, that the most high-profile depiction of modern at-home fatherhood is being brought to the table by a superhero — figures who have been, so often, male role models. If Mr. Incredible sets the example, we might listen. Superheroes represent our aspirations. They have the abilities, ambition and perhaps most importantly – empathy. So when we see Mr. Incredible take a step back and say, 'I'm going to take care of this kid and allow my wife to go off and pursue her career,' if he can do it, anyone can do it." In the world of The Incredibles, being a parent will be a job fit for a hero. As Edna Mode tells Bob in the trailer, "Done properly, parenting is a heroic act."
If that wasn't enough to wet your appetite for a fabulous family movie, enjoy the Pixar short film called 'Bao' being shown before the Incredibles 2 movie begins. I loved it but be warned, it might bring a tear to your eye!
Incredibles 2 is in cinemas now. Watch the trailer here.