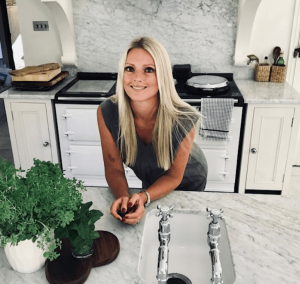 I am very excited to announce a series of inspiring interviews on the Guilty Mother blog. I will be interviewing men and women from all over the globe who I think are doing some really great stuff, so that's exactly what you'll see in this series! Whether they are creating a business, overcome health/personal difficulties or just have an inspiring story to share – you'll find them here on the blog.
In my first interview, I met with Mandy Miller-Simmonds who is making and creating some incredible food and I mean…incredible. What I love about Mandy is how she shares all her recipes on her Instagram feed, so you can create them yourself at home. We talked about how she creates meals to fit her family and shares her advice for getting kids to 'try something new', which I think most of us can agree, can be a battle at times!
1. Tell us a bit more about Simply Food by Mandy and how it all started?
Simply Food By Mandy started on a small scale using social media to spread my recipes further afield than merely sharing with family and friends. I now share healthy, balanced, home cooked, meals that are appealing but incredibly achievable using Instagram and Facebook.
2. Where does your passion for food come from and why do you enjoy sharing your recipes with others?
I was born into a foodie family. My parents are both excellent cooks and food has always played a huge part in my life. I have fond memories of eating delicious meals both home and abroad and developed a passion for flavour from a young age.
I absolutely love sharing my recipes as the feedback I receive is always so positive and I like to feel I help others who lack imagination in the kitchen or are open to trying something new I cannot explain the pride and joy I feel when people try my recipes and they not only work, but become regular features on their weekly menu.
3. There's been a huge shift in how we eat. So many people are going vegan and eating plant-based – from athletes to celebrities to everyday people. Where do you think this change comes from and how would you encourage everyday people to change the way they approach food?
There has been a huge shift in the way people eat and look after themselves. I think we are much more aware and better educated now as to how we should eat and how to look after our planet. In the UK a shift towards veganism stems from the "What the health" documentary which persuaded many to rethink their diets and adopt a vegan way of life. I agree that we should bear all these things in mind and try not to rely on meat with every meal, but I don't believe in eliminating any one food group. Veganism can be super healthy but I feel strongly in the motto everything in moderation. A balanced diet needs to include protein, carbohydrates, fats, vitamins, minerals and fibre, and obviously a lot of water.
4. All your pictures on Instagram make me want to dive into the kitchen and try something new. What gives you the inspiration for your receipts and where do your ideas come from?
I cook using seasonal produce and during a week try to create a balanced menu. I want my page to look colourful and inviting, so I include as many colours as possible, which in turn adds nutrients to a meal. For example, stirring through fresh spinach at the end in a casserole, looks pretty but tastes even better, Fresh chilli and herbs are another great example.
I aim to include: –
*1 vegan or vegetarian meal
*1 fish dish
*1 pasta or rice dish
*1 minimal washing up meal
*1 curry
*1 family sharing platter
*The odd treat now and again
5. As a busy mum, what top tips can you give us for rustling up the perfect 'easy' summer sharing dish for family and friends?
My top tip would be to keep things simple. I make an Asian chicken or prawn noodle salad, which is enjoyed by children and adults, you can tweak it to your taste. If you want to cook your own chicken then of course you must, but you can make your life easier by using good quality shop bought cooked chicken. The salad will still taste amazing as the dressing is key. Its ok to cheat here and there, then you can enjoy your time with family and friends. My other top cheating tip is using precooked, lentils and grains, there are so many delicious healthy salads that can be made with these.
6. We know that health and nutrition in our children's diet is so important. What is your advice for getting kids to 'try something new' without turning their noses up? Surely, we have to move away from tomato pasta at some point?
My advice is they will come around eventually if they see you or older siblings trying various foods. I don't agree on pushing children, but a good way is to always put a little of something new on the side of their plate with every meal and being offered something repeatedly. I believe eating as a family really helps. My husband and I have taken our children out to eat from a very early age and I feel this also plays a huge part in children becoming more adventurous.
Great side vegetables that are appealing to children, even if they are an accompaniment to the tomato pasta –
Red/orange/ Yellow pepper Slices
Edamame beans in their pods (its good fun getting them out)
Cherry tomatoes
Mini corn
Raw mangetout
Raw sugar snaps
7. What's your 'winning' family dinner all your children enjoy that's healthy and nutritious?
My go-to meal are my satay chicken or pork skewers. The base for the marinade is peanut butter, soy and garlic. You can then (as children get more adventurous) add ginger, sesame seeds and oil and maybe chilli. I serve it with edamame beans (kids love them, and they are full of protein) and noodles or a rainbow rice (rice with sautéed onions, red peppers and peas)
8. What can we expect to see next from Simply Food by Mandy and can people do if they want to get in touch for expert advice?
I am thoroughly enjoying sharing my recipes through social media. Currently, I am continuing with the growth my social media accounts. Eventually I would love to feature my recipes in newspapers, magazines or even a book. If anyone would like to contact me then I would be happy to help via direct Instagram messages or email [email protected]
To see more of Mandy's amazing recipes, follow her on Instagram- @simplyfoodbymandy