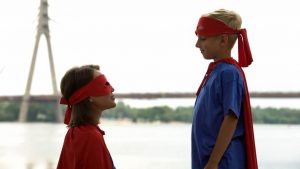 Keeping the children busy through the summer holidays can be a challenge many parents face. And whilst we try to have an amount of structure around what activities the children will do, how much is free play? Giving children the time to spread the wings of their imagination and let their little minds soar is an important part of their personal growth.
If you are anything like me, we seem to run from activity to activity and 'free play' tends to be a case of "can I have my iPad for an hour please mum" – yes…guilty as charged. And, while many households have rules about screen time, 31% of children spend up to an hour with a screen daily; 7% spend up to three solid hours watching TV or playing computer games. Whoops.
I'm working with Petits Filous' to help us free children's imaginations a little more. We ask the question – how do we cut back some of the scheduling and add in an extra dollop of free play? And, indeed, why is free play so important?
Several neuro scientific studies highlighted in this report, have found that free play is a 'central mechanism' in learning. Playful behaviour, practiced by all small mammals, leads to synaptic growth, furthering connections in the brain — particularly the frontal cortex, which governs higher mental functions like decision making and planning. In fact, research has proved, many times over, that free play develops key skills, including critical thinking, problem-solving and social skills.
Children's brains are designed to learn through play, to prepare them for life – whether that's investigating social structures by playing 'families,' exploring their environment on a cardboard pirate ship, or testing their strength and motor skills by running and jumping.
It is so tempting for parents to jump in to help a child when they are making or creating something in case they do it wrong, but I suppose, allowing them to 'free play' and go through that creation process on their own is all part of the process? How can they learn if we regularly do it for them? Don't get me wrong, my children often ask me to help them put something together for arts and craft. Free play is shaped by the available materials in the child's environment — such as dressing up clothes, pots and cardboard as well as the culture of the home they grow up in. Children often love to imitate their parents' lifestyles and jobs. I know mine do!
Petits Filous' survey discovered that many parents misunderstand what 'free play' means, with 10% thinking it's a planned playtime, 17% assuming a task or challenge must be involved and 50% believing it means that children can pick whatever they want to play with; including screens or specific toys.
The benefits of free play include: –
Allows kids to use their creativity and develop their imagination, dexterity, and other strengths.
Encourages kids to interact with the world around them
Helps kids conquer their fears and build their confidence
Teaches kids to work in groups so they learn to share and resolve conflicts
Helps kids practice decision-making skills
Physical activity helps build active, healthy bodies
Helps kids develop social skills and understand emotions
The joy of a cardboard box
It's clear from the studies I have read that free play is essential for growing happy, healthy, curious children. Imagination is the key to free playing; if children can use their imagination freely, they build confidence in their own creativity, test ideas without fearing failure, and enjoy following wherever it takes them.
Petits Filous is truly committed to ensuring free play is a regular part of every child's life and together, we are pledging to both champion and facilitate free, imaginative play in the UK. To support this and help parents across the UK encourage their children to play freely every day, Petits Filous is partnering with Amazon Pantry to transform every cardboard box into an opportunity to play. The collaboration, which will span July and August of this year, will see 200,000 Amazon Pantry boxes sent out to consumers with inspiring, play- promoting ideas created by Petits Filous.
Petits Filous have also produced 28 million fromage frais pots with free play ideas printed on the underside of each label. The playful pots – coupled with an imagination- ring TV campaign – will work together to mobilise parents, grandparents and carers alike to Peel, Lick and Play Free this summer! Who better than those who grew-up without the trappings of tablets and screen time to point our little rascals in the right direction about how to make the most of this precious time to play free.
The partnership is a reminder that free, imaginative play doesn't need to be expensive…in fact, with just a simple cardboard box and some empty pots, children can build some brilliant things! My daughter made two houses (one was purple and the other was yellow) and used the Petits Filous pots as a bin on the street to encourage people to recycle their rubbish. I loved her idea!
Isn't it amazing what can start from a humble cardboard box. Are you ready?
Read the full The Future of Imagination report here. #ad