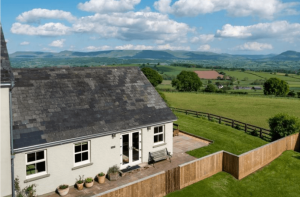 Blessed with the prospect of beautiful weather over the start of the summer holidays, we enjoyed a week's stay near Brecon in South Wales. Brecon Cottages kindly asked us to review one of their three-bedroom holiday rental cottages, Ty-Vern. We were only too happy to oblige.
Being a quarter Welsh, Brecon will always have a special place in my heart. I've been coming to Brecon for family holidays since I was born. At one stage, my parents owned a little cottage in the centre of Brecon. Gosh! I will they still owned that now as would have been a perfect holiday rental.
We have extended family here, so we are always welcomed with open arms. I love coming back to Brecon. I can't explain it, but there's something very calming about the Brecon Beacons. It is the perfect landscape to look out to if you have a normally busy or hectic lifestyle. It feels like a world away from the bustling streets of Kent and London where everyone is always in a hurry.
Now it was time for me to start bringing my own family to South Wales to experience the Beacons in all its glory. Yes, I prepared them that we will probably require anoraks. Ever the optimist, but sometimes it feels like it always rains when we come to Brecon. It's an ongoing joke. Rain is all part of its charm.
Unfortunately, we had a longer than expected journey down to Brecon in the car, but that was down to Friday M25/M4 traffic. But, I couldn't complain; the kids were very well behaved in the car and I didn't have too many questions of "are we there yet?".
On arrival, my sister-in-law had already arrived with her two daughters, so we had a lovely welcome of 'hooray! they are finally here!' as we pulled into the drive. The four cousins were delighted to be re-united.
The location of the property couldn't really have been more perfect. It was down a country track giving us the feeling of remoteness and the views of the hills from here were simply stunning.
We could walk just five minutes up the country lane to an open area to walk and ramble at our leisure. Let's just say from the above image, that it can get a little windy up on the hills! We blew the cobwebs away…and then some! After our walk we had built up a good appetite and it is just a ten-minute drive to Brecon town where you can find a Morrisons superstore. Ideal for picking up emergency supplies of pasta, biscuits and wine!
Inside the three-bedroom cottage, there was plenty of space for the six of us. Three bedrooms with twin beds all with en-suite (very useful) with a good sized, open plan kitchen/diner and lounge. There was also a separate snug area which my sister in law retreated to, most evenings, to read her book whilst admiring the view of the hills.
Awaking on the Saturday morning, as predicted…the heavens opened. Yep…we will require anoraks. As the rain arrived, we had booked to take the children to the Llangorse Multi Activity Centre, which has both indoor and outdoor climbing activities. Brilliant for building the kids confidence. The rain kindly paused while they did their outdoor climb which was perfect timing! They absolutely loved it!
The troops were a little tired after their day of climbing, so we agreed to have a lazy Sunday morning followed by a delicious roast dinner at The Felin Fach Griffin. This was a great find, just a few miles from the cottage, which we would highly recommend. Very welcoming and family friendly. We would definitely go back!
Soon enough, it was Monday and as it was a dry morning, we headed to the Small Breeds Farm and Owl Centre in Hereford, which we visited last year and loved it. It was an easy thirty minute drive and the children were so excited to go back to see the pygmy goats along with a variety of other animals and owls. The pygmy goats were delighted to see my son. Let's just call him the goat whisperer!
It's so difficult to leave without wanting to take a pygmy goat home with you! Without doubt, the children said this was their favourite day of the holiday.
The next few days included a trip to The National Botanic Gardens of Wales which is set in the beautiful Carmarthenshire countryside. I was very impressed to hear that the great glasshouse here was designed by the world-famous architect, Norman Foster. It seems we are in good company!
The gardens and grounds are glorious along with plenty of family activities to keep little ones occupied. Most of the area is very buggy and wheelchair friendly. We enjoyed an animal education show from DWEAC, where the kids could get up close and personal with a variety of exotic animals, including baby meercats…yes, baby meercats!
We also enjoyed the Tropical Butterfly House, birds of prey and the straw maze. There was so much to do here, we didn't have time to explore it all, so that is always a good reason to come back.
On the final few days, we enjoyed the natural beauty of the Brecon Beacons, with plenty of fantastic walks complimented with stunning panoramic views. The children loved it. Not an iPad in sight. Hoorah!
In summary, the Ty-Vern cottage proved to be an excellent base for the six of us to play, chill and relax. No matter what the weather, we always found something fun to do. Most evenings were spent playing UNO along with some good old fashioned postcard writing. Yes, postcards! It is safe to say that we loved our week in our holiday home from Brecon Cottages.
The friendly team at Brecon Cottages are very knowledgeable and helpful. We've used them for the last eight years and are a loyal customer. If you need help with your booking or what location to stay, do give them a call or drop them an email. You can rent Ty-Vern from £482 per week.
For more information, visit www.breconcottages.com.